Poland is villain in EU drama as bungling Brussels bean counters award it €16bn in aid despite least economic damage in Europe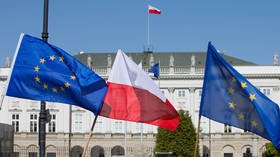 The EU's inefficiency is on show, with members decrying Poland's rescue package as "unfair" when it has had fewer than 1,500 Covid-19 deaths. Italy, with 24 times more dead, will get just €6bn more to revive its decimated economy.
The row that has broken out in Europe over who takes what from the massive rescue fund for the economic victims of the global Covid-19 outbreak has cast Poland as the villain, an undeserving case taking grants and loans to which it should not be entitled.
But despite the unseemly clamour, resulting from documents doing the round in Brussels detailing how the money will be divided up between nations, things are unlikely to change.
Early on in the pandemic, as European nations squabbled over PPE, slammed their borders shut and fought to get to grips with the coronavirus pandemic on their own terms, European Commission President Ursula von der Leyen admitted that money was the most effective tool at the EU's disposal in this time of crisis.
What followed later was a huge fanfare about the economic rescue fund, topping €750 billion, that was being put together to rescue those economies that had been mercilessly gutted by the effects of the global pandemic.
Ask anyone in any piazza, plaza or rynek across the continent, and nine out of ten would declare Italy to be the hardest hit of all the European nations.
In the grimmest league table ever devised, Italy tops the Covid-19 death toll of EU members, with 34,738 (and counting) deaths so far. France is nearly 5,000 behind that figure, Spain another 1,500 behind them, and Poland… well, Poland has only seen 1,438 deaths. In total.
Yep, that's 24 times LESS than Italy.
So you have to wonder who's hitting the silly sauce at the EU when it determines that Poland can cash out of the fund, set up to help those in trouble, with a surplus of €16 billion when its economy has hardly noticed any detrimental effect from the pandemic. Sure, they will be asked to pay in €21 billion – all EU member nations will be expected to make a contribution – but they will be taking out €37 billion. That's the sort of magic piggy bank we all wish we had.
Italy, meanwhile, will end up with grants and loans of €22 billion, for an economy in tatters and a death toll to make even the Grim Reaper shudder.
The disparity undermines the whole well-intentioned exercise for the bean counters of Brussels and is likely to make July 17 pretty uncomfortable for the EU's now-27 heads of state and government as they attempt to reach some consensus on doling out the rescue packages to member nations.
For despite the yawning gap between what is fair and what is reality, Poland is already sitting on the naughty step. Its ruling Law and Justice Party (PiS) upset the EU by making the appointment of judges a political issue, pressing ahead with election plans during the pandemic and stirring up controversy in dealing with LGBT issues, earning it a scolding from the European Parliament for exhibiting"anti-European values".
Also on rt.com
Brussels, we got a problem! 30 years after collapse of communism, Eastern Europe is losing its faith in Liberal Democracy
That rebuke, it will come as little surprise, had absolutely no effect.
As we have seen so many times before, the unelected officials of Brussels struggle in times when political power is needed, so they normally use the threat of turning off the money tap to chasten its errant members when needed.
Not in this case.
Poland might be considered out of line by some, but it's still going to get a shedload of moolah to help resolve economic problems that it doesn't really have. Among EU nations, the Poles are expected to suffer the smallest hit of all this year, with a GDP at -4.3% – compared with Italy on -9.5 and Spain on -9.4%.
And while the Danish Prime Minister Mette Frederiksen and former Romanian leader Dacian Ciolos, who now sits in the European Parliament, might moan about rewarding Poland at a time when it should be punished, it is highly likely that they will make no difference whatsoever, even if other national leaders join their ranks with anti-Polish sentiment.
It's like children sitting at a table arguing over who had the biggest slice of cake. The cake is eaten. Gone. Arguing will not make it reappear for a more equitable distribution; just try and do better next time. Or make another cake.
Hats off to Warsaw. They've played this one well. They know what the odds are of their 26 EU colleagues all agreeing as one to claw back the €16 billion to redistribute it elsewhere.
Even on the naughty step, if Poland keeps schtum the reality is that it will keep its reward. Deserved or not.
Think your friends would be interested? Share this story!
The statements, views and opinions expressed in this column are solely those of the author and do not necessarily represent those of RT.
You can share this story on social media: