Why is the Uffizi using a TikTok video featuring a rap song that calls women 'c**t bitches' to promote its art? It's moronic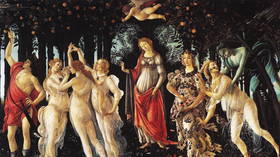 Many museum curators do not believe in high art anymore and are too ashamed to present our culture honestly. But pretending to be cool, and using pop culture to try to woo the young, betrays the values they should defend.
This month the Uffizi Gallery, the leading museum of classical painting in Florence, released a video that shows just how tone deaf today's museum administrators – or their publicity departments – have become in their outreach programmes.
The short TikTok video animates a Renaissance painting to 'Nails, Hair, Hips, Heels', a rap song by Todrick Hall. Using quick cuts, flips and zooms, the video focuses on parts of female anatomies with the greatest sex appeal, imitating dancing in music videos. The singer addresses a woman as a "b*tch" and a "c**t b*tch" and demands she strips and dances for him. The full lyrics are available here.
The animation is of Primavera, a picture painted by Sandro Botticelli in around 1482. It was part of the culture of humanist learning that flourished at the court of the Medici, in which Botticelli served. Partly inspired by Ovid, the artist took as his subject an invented meeting of mythological persons, intended to represent the coming of spring. The billowing semi-transparent garments that the Three Graces on the left wear are actually a concession to modesty, as they were usually represented nude. Interpretations of the exact meaning of the enigmatic painting have varied, but it is considered a highlight of the Florentine High Renaissance and one of the best examples of mythological classical art.
Also on rt.com
Destroy EVERYTHING! Will culture police keen to purge historical racism turn to museums, galleries and libraries next?
This is the latest attempt to use new social media platforms to promote high culture. While this has proven highly effective when posting longer videos explaining art, or allowing people to tour museums and exhibitions and attend lectures, in short forms it is very unsuccessful.
Art demands concentration and contemplation. Of course, the Uffizi is not suggesting that a TikTok video replaces viewing of the painting, but it does give a misleading and incomplete impression. By luring in visitors on the promise that paintings are flashy, tawdry and full of action, the Uffizi is setting them up for disappointment.
The museum of classical art is the opposite of a nightclub. For those who do not perform public worship, art galleries are the last public spaces where quietness, decorum and consideration for others are expected.
There have been irreverent takes on Botticelli before, starting with the surrealists in the 1920s, right through to Monty Python in the 1970s and beyond. However, the point was that viewers would be familiar with the iconic painting already. It was amusing and startling to see such a picture subverted, because the audience knew the art and enjoyed the mockery, but understanding and respect were retained. Terry Gilliam could afford to be sardonic because in 1972 there was a body of dedicated specialists able (in ways insightful and serious) to explain the real meaning of Botticelli. Today, the situation is different.
Also on rt.com
Tables at Europe's finest restaurants, seats at La Scala & top West End shows – post-Covid-19 life's looking fine & dandy
The young are used to being bombarded with undemanding material that is action-packed and dumbed-down, and they have suffered from the lack of a good introduction to high culture. Many museum curators do not believe in high art anymore. 'High art' sounds elitist to them. Younger museum staff were taught postmodernism, which sets out to undermine informed cultural discrimination.
Postmodernism states there is no difference in quality or meaning between a classical painting and a rap song. One was created through weeks of careful craft, combining expert knowledge of art, poetry and mythology in a distillation of intricate culture, and the other is a jumble of profanity and borrowed music – yet postmodernist teachers tell us not to value the former higher than the latter. Museums are rapidly losing faith in the cultural values their artefacts embody.
Whatever spurred the Uffizi to approve the video, it was misguided. High culture and great art are the two things that museums have in abundance. It is almost as if they were designed for that purpose. Pretending to be cool, borrowing pop culture, chopping up great art into fridge magnet-sized pieces and distancing institutions from classical learning is not only a betrayal of the values that museums must hold and defend, it also lets down the younger generation, which is crying out for serious meaning and tough challenges.
How can museums promote cultural diversity when they are too ashamed to present our own culture honestly? Being afraid to present our history and culture in all its complexity, contradictions and remarkable sophistication makes us ignorant of our society and history.
Museums, leave the rap music on the internet and get on with the business of explaining high culture.
Think your friends would be interested? Share this story!
The statements, views and opinions expressed in this column are solely those of the author and do not necessarily represent those of RT.
You can share this story on social media: