Rebecca Long-Bailey's sacking is UNJUST and symptomatic of a culture where questioning Israel is equated to anti-Semitism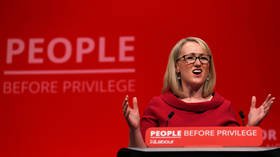 Labour leader Sir Keir Starmer couldn't wait to dismiss Long-Bailey from the shadow cabinet. But the sacking smacks of a party desperate to appease public opinion rather than a decision based on common-sense.
It won't be long before people are receiving danger money to even discuss Israel. The country and its politics seem to have ascended to untouchable status.
That was proven by the tidal wave of overreaction which crashed into Westminster and saw the sacking of one of Labour's most popular figures, Rebecca Long-Bailey, from her role as shadow education secretary.
And what was her offence? Sharing an article on Twitter containing an "anti-Semitic conspiracy theory."
Within hours, the jury of woke public opinion had found her guilty, so executioner and party leader Sir Keir Starmer dropped the guillotine. It felt like he couldn't wait to get rid of her following long-standing accusations of anti-Semitism towards Labour under Jeremy Corbyn.
Plenty of mainstream commentators had their say from the gallows. The last thing that we can tolerate is hateful views, particularity if they're voiced by a prominent individual.
Except that's not the case here.
Long-Bailey's offending post was of a 1,758-word interview with actress Maxine Peake, in which her only mention of anything that comes close to the charge was: "Systemic racism is a global issue. The tactics used by the police in America, kneeling on George Floyd's neck, that was learnt from seminars with Israeli secret services."
The piece also included an acknowledgement that an Israeli police spokesman denied the claim. For clarity, Peake has subsequently tweeted: "When talking to The Independent, I was inaccurate in my assumption of American Police training & its sources."
However, it is a fact that American cops travel to Israel for training. This has been publicized by Amnesty.
Its report states that other human rights organisations and even the US Department of State have cited Israeli police "for carrying out ill treatment and torture…and excessive use of force against peaceful protestors."
There are multiple other articles discussing the similarity of how American forces deal with situations and the questionable conduct of the Israeli Defense Forces.
There are also pictures circulating of Palestinian protesters being held down by Israeli officers, using their knee against their necks.
As soon as Long-Bailey had endorsed Peake's interview, the wolves smelt blood for easy prey. The Jewish Chronicle ran an article under the headline "Long-Bailey praises article in which George Floyd killing is linked to Israel."
It went on to make sure everyone knew Peake was a member of the Communist Party in her youth.
The article continued: "The theory that Israel is responsible for tactics deployed by their American counterparts and that the police officers involved in George Floyd's death had received Israeli training has gained currency among certain fringe circles since Mr Floyd's death."
But are the police force of Durham Council in North Carolina, the state where George Floyd came from, considered 'fringe'?
In 2018, it banned its officers from being trained in Israel following a unanimous vote.
Among its concerns were "racial profiling" and "its subsequent harms to communities of color."
That year, another two forces from New England, Vermont State Police and the Northampton Police Department in Massachusetts, withdrew from a training trip to Israel.
So, to label the topic "a conspiracy theory" being propagated by swivel-eyed haters is frankly, ludicrous.
The issue has been discussed from every possible viewpoint across the internet and in print. What Maxine Peake said is by no means the product of a cabal of evil schemers, even if it was, in her own words, "inaccurate."
And so Rebecca Long-Bailey has done absolutely nothing to merit any backlash or loss of employment.
The second half of the charge of being "anti-Semitic" is an even bigger travesty.
The definition of such behavior is "hostility to, prejudice, or discrimination against Jews."
When did Israel become the embodiment of everything Jewish? It's a country, but to criticize, comment or praise its politics does not reflect on the religion. They are separate elements and always have been.
It's an affront to our society that offering a shred of dissent is distorted into hating a religion. It needs to end, as the Israeli chilling effect has gone way too far.
Think your friends would be interested? Share this story!
The statements, views and opinions expressed in this column are solely those of the author and do not necessarily represent those of RT.
You can share this story on social media: