Bring a baby into this perilous post-Covid world? I don't think so, and I'm not alone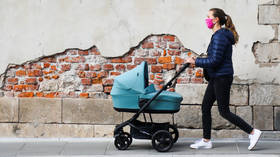 Like many, I had great plans for 2020. A jubilant wedding, a first property. And, hopefully, a pregnancy. But if our best-laid plans are laughed at by the gods, then this year has surely left heaven in hysterics.
For now, my wedding is postponed indefinitely as I wait for my immediate family stuck in Australia to be able to fly out of the country. Meanwhile, with my 37th birthday approaching this September, I do not have fertile time on my side. I could have been persuaded to put the baby before the wedding band, even though as a child of multiple divorces, I'd personally rather be married first. But that was always the luxurious part of the problem. Now, the global economic slump and precariousness of livelihood has brought with it genuine issues. Call me cowardly or selfish, but I simply don't want to risk having a baby in such a perilous climate. And I'm not the only one.
In fact, a whole generation of us has been put off starting a family because of Covid and its destabilising ramifications. At the beginning of lockdown, research conducted by the London School of Economics, of 6,000 people aged 18 to 34 across France, Germany, Spain, Italy and the UK, asked about their plans to have a baby. The research found that more than 50 percent in France, Germany and Britain are postponing their plans, while up to a fifth of Britons have now decided not to have a child at all.
It's well-established that in times of Western economic strain, the birth rate usually drops. With the Bank of England predicting the economy will shrink by a quarter and that unemployment will double, leading to the greatest recession for more than 300 years, it's little wonder that millennials are thinking twice about procreating – and we aren't just talking about the middle class. Whether or not a housing market crash is on the cards, with jobs so unstable, it's a terrible time for most to try and negotiate a mortgage, and that's if they're lucky enough to have savings for a deposit.
Even if you forgo trying to buy a house for the moment and simply focus on having a child, the financial obstacles remain. Rents remain extortionate and some of the highest in Europe,
wage growth has slowed to its lowest rate in five years, while the Office for National Statistics reports that 1.6 million more people have claimed some form of benefits since March, whether they are working or not. And don't even mention the cost of childcare which prices so many, particularly women, out of working at all, with the Telegraph reporting that prices may rise by up to 10 per cent yet again because of the pandemic.
And it's not just the economic climate that is waylaying us – it's the very shaking of our social structures that support us having kids. Should this be the first of several lockdowns, I don't want my child to grow up in semi-isolation and away from our family and friends who can support us in our caring endeavours. I wouldn't have the first clue where to start with home-schooling, and the prospect of having to play tutor as well as caretaker and colleague boggles me.
Also on rt.com
It's a BRAIN-VIRUS! Young Covid-19 victims suffer psychosis, fatigue and anxiety side-effects – or is it just all in the mind?
During lockdown, I've watched friends with new babies deal with the pain and strain of bringing a new life into being without community support – no wonder rates of post-natal depression are nearly three times higher than before lockdown, according to the University of Alberta. From the cancelled health worker appointments and the absence of parent and baby groups, to the first meetings with grandparents by Zoom alone, if it takes a village to raise a child, then it needs to be a village that isn't quarantined.
So what, the naysayers might say, if we lose a generation of children? Earth is overpopulated as it is, maybe this will give it the Malthusian break it needs. Besides, can't you just adopt? But adopting isn't a solution to living in the most isolated of nuclear family units, under the most precarious economic circumstances since the 18th century. Adopting isn't a solution to the pain, strain and worry of trying to raise a child in a world without a vaccine.
Make no mistake, I never took for granted my future would feature a family. But if a whole generation doesn't have the resources to raise a new one, Covid's legacy will be more than the thousands of lives lost to infection – it will be the thousands of lives never realised.
Think your friends would be interested? Share this story!
The statements, views and opinions expressed in this column are solely those of the author and do not necessarily represent those of RT.
You can share this story on social media: