Galloway on a very British scandal: How Boris Johnson's housing minister pulled the strings for a Tory billionaire donor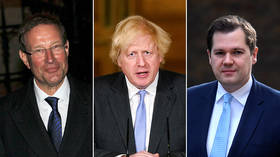 A dodgy deal to fast-track planning consent for a luxury housing development in East London is the latest example of the skullduggery that now blights UK politics. Why are ethics and morals so low on the agenda?
I grew up in an era when corruption was rare in Britain, or at least unrevealed. I well remember my late father explaining to me that Italian politics - and by extension Europe, generally - was infested by corrupt payments, favours for donors, brown envelopes and dodgy deals.
It was, on reflection, a paean of praise for the British civil service and political class where such things, we believed, rarely happened.
Also on rt.com
Galloway's Rogues Gallery: Boris Johnson, a champagne-swilling cad who routed political opponents only to be sunk low by Covid-19
Around the same time, the Secretary of State for War – there were no euphemisms in those days - John Profumo, a potential prime minister in waiting, resigned from the cabinet, Parliament and public life all on the same day. He'd been found to have lied to the House of Commons, and then about his private life rather than any public or policy malfeasance. How distant these times seem now.
The Prime Minister co-habits with his girlfriend and their child, conceived out of wedlock and when he was still married to his cancer-stricken second wife.
Cabinet ministers are discovered to have pornography downloaded on their parliamentary computers.
Parliamentarians pretend tiny constituency flats are their 'main home' while manor houses amid rolling acres are designated as their second homes, all to squeeze the last penny out of the long-suffering taxpayer-funded parliamentary allowances. And when it comes to selling either dwelling, they are flipped to avoid having to pay tax on the proceeds.
Expenses claims
When the Daily Telegraph published a stolen disk of expenses claims some years ago, it was revealed that literally hundreds of British parliamentarians had been cheating the system. (I was an MP at the time and imagine the disappointment of some when I turned out to be the exception). Some had been charging the taxpayer thousands for heating their stables, building duck houses and feathering their publicly funded beds.
All of which pales into insignificance compared to the scandal engulfing the Housing Secretary Robert Jenrick.
Enough is already in the public domain about Mr Jenrick's sleazy relationship with the well-known British pornographer - and Tory donor - Richard Desmond to render speculation unnecessary (which hasn't stopped it).
Also on rt.com
UK business minister suggests voters who want 'access' to govt politicians should attend Tory dinner events, prompting outrage
By one of those strange quirks which follow me, I have history with some of the main players in this drama.
I was in parliament so long, I can remember when the porn king Desmond was not a Tory donor, but a prodigious funder of Tony Blair's Labour Party.
After he had given £100,000 to Blair's Labour, I asked the Leader of the House, again strangely the wife of the Labour Party Treasurer, who had received the donation, how she could be sure this money came from Mr Desmond's profits from his newspapers - the Daily Express and the Daily Star - and not his heated stable of filth.
I thus was almost certainly the only person to utter the words "Spunk-Loving Sluts", "Asian Babes" and something unrepeatable involving grannies in the history of Parliament, those being the flagships of Mr Desmond's magazine empire.
Planning consent
Anyway last year, Mr Desmond was frantically trying to get planning consent for his new venture - Westferry Printworks - in east London, in one of my old parliamentary constituencies in Tower Hamlets. It is one of the poorest areas in the country and now devastated by Covid-19, yet barely ten minutes from Westminster itself.
The borough is home to a huge Bengali Muslim population, as it had previously been to a large number of European Jews fleeing pogrom and hunger in the previous century.
Also on rt.com
Galloway's Rogues' Gallery: Latest Labour leader Sir Keir Starmer – so wooden, birds try to nest in him
The reason for the hurry was that if not approved by 15 January this year, Desmond would have had to pay the cash-strapped Tower Hamlets Council up to £50million.
And so, before Christmas, Mr Desmond coincidentally attended a Conservative Party high-net-worth fund-raising dinner, and even more coincidentally found himself seated right next to Robert Jenrick, coincidentally the very minister who had to sign off his planning consent and the only man alive who could have ensured it was done in record quick time!
In another remarkable coincidence, Mr Desmond donated thousands of pounds to the Conservative Party.
Dodgy duo
In a series of excruciating texts and E-mails now released and published, Desmond and Jenrick are revealed to be engaged in a dodgy duet to cheat one of England's poorest boroughs of desperately needed revenue by cutting every corner in Westminster.
Most damningly, in one civil service E-mail, it is revealed by Jenrick's officials that the minister is "insistent" that the decision be announced "tomorrow" to avoid the windfall to Tower Hamlets Council. And so, concidentally, it came to pass.
Also on rt.com
British politicians. Galloway's view: 3 nails in Corbyn's leadership coffin are anti-Semitism, appeasement & attitude to Brexit
Imagine how many brown envelopes you could fill with £50million if you were in Italy.
So far, both Boris Johnson and the opposition Labour leader Sir Keir Starmer have refrained from calling for Mr Jenrick's resignation.
But I have called upon Scotland Yard and the Metropolitan Police to launch an inquiry into potentially corrupt conduct in the Jenrick-Desmond Affair. This story makes the most pornographic tales of Desmond's dirty magazines read like Hans Christian Anderson.
Think your friends would be interested? Share this story!
The statements, views and opinions expressed in this column are solely those of the author and do not necessarily represent those of RT.
You can share this story on social media: