Women want so-called 'male jobs' because they're better paid, NOT because adverts are being reworded to lose their gender bias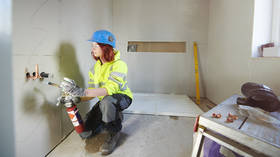 Working-class women are increasingly seeking jobs once considered the preserve of men. It's little surprise they want to escape the servitude of soul-destroying retail roles.
Recent reports are showing a rise in women applying for jobs that not so long ago were considered "masculine" work. Some might argue that new workers are being attracted as a consequence of employers using fairer and less gender-biased language in their adverts.
Indeed, Jacqui Hunt of human rights charity Equality Now believes that language which shows gender bias can subconsciously influence the way individuals view each other.
I have another take on this, though, which is grounded in my work as a sociologist with working class people. And that is quite simply that if independent women want to survive, they need a "man's wage."
Language matters – of course it does. And calling firemen and policemen "officers" definitely helps to stop the gender bias of who belongs in what public space. However, for the working class – and for working class women in particular – what matters more than language are the material conditions of their lives.
Also on rt.com
Covid-19 is killing the GHOST WORKERS of Britain that even the working class doesn't care about
When I started work in 1984, I did so-called "women's work," making tights from 7.30am until 4.30pm every day. The work was hard and soul destroying, but if you were fast and dedicated to earning money – fully supported by union representatives who worked alongside you and knew the job – it was possible to earn a decent wage.
In nearly 40 years since then, "women's work" has become less autonomous. I can't believe that I am arguing here that factory work was more autonomous than the work we are expected to do now. But the fact is it was.
These days, "women's work," or work that working class women do, is mainly in the service sector – in retail, in the leisure industries, in low-level office work and caring.
These industries heavily regulate their workers, with tight and draconian rules of what they can wear, how they look, even down to how often they smile and whether or not that smile is good enough.
Also on rt.com
The working class should be hailed as Covid-19 heroes for enabling all our comfy quarantines
These jobs have become jobs of servitude. They rarely pay above the minimum wage, and if you talk to anyone working in this type of industry, they will tell you stories of being micromanaged, working a proportion of their hours without pay and having no trade unions to lean on for support.
In a strange turn of fortune, many "male jobs" - plumbers, lorry drivers, sewage treatment workers, for example, which have been traditionally seen as far too masculine for women – are far better roles than the service sector can offer.
They are better paid, offer some type of autonomy and are skilled. So maybe, just maybe, the rise in women applying for what we have previously known as "men's work" is about them needing a wage that pays and can facilitate an independent life? No one can live alone on the poverty wages of retail.
The future looks difficult to say the least. Retail and the service sector are being hit hard by Covid-19, and there are approximately a million workers furloughed that face the prospect of being made redundant in the next few weeks.
We need "New Deals" where education and re-training are freely available and the worthless jobs are reduced in number, allowing us all to make a contribution to our society.
Isn't it time we went beyond the ideas of "women's work" and "men's work" and started looking to a future and a new economy where we can all work and live our lives with dignity and security, and without servitude?
Think your friends would be interested? Share this story!
The statements, views and opinions expressed in this column are solely those of the author and do not necessarily represent those of RT.
You can share this story on social media: