BoJo risks Trump's anger by standing up to Israel: Prick of conscience or a geopolitical masterplan?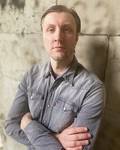 Chris Sweeney
Chris Sweeney is an author and columnist who has written for newspapers such as The Times, Daily Express, The Sun and Daily Record, along with several international-selling magazines. Follow him on Twitter @Writes_Sweeney
Chris Sweeney is an author and columnist who has written for newspapers such as The Times, Daily Express, The Sun and Daily Record, along with several international-selling magazines. Follow him on Twitter @Writes_Sweeney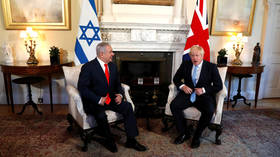 Standing up for humanitarian causes isn't UK Prime Minister Boris Johnson's default setting, so questions are being asked as to why he has slammed Israel and risked the wrath of the US's super-sensitive president, Donald Trump.
On Wednesday, the PM broke with tradition in the House of Commons by nailing his colors to the mast on an issue. When Conservative MP Crispin Blunt broached the subject of the planned Israeli annexation of Palestine, Johnson shot back:
I believe that what is purposed by Israel would amount to a breach of international law, and we strongly object to it... We believe profoundly in a two-state solution and will continue to make that case.
This marked a turnaround from what Johnson said in February, when he expressed support for Trump's "peace plan." Despite the name, very few described it as that, because it leaves Palestine with 15 percent of their historic land.
It also sees Israel gain complete control of Jerusalem, while Palestine's capital would be a suburb of the city, called East Jerusalem.
Also on rt.com
Want a free trade deal with the US? Then align with Washington not Brussels on foreign policy, former Trump aide tells BoJo
More importantly, the controversial process of 600,000 Israeli settlers living and building homes in Palestine's West Bank would be legalized, with those areas permanently annexed.
Almost 50 UN human-rights experts have called it "a vision of a 21st-century apartheid."
Israeli PM Benjamin Netanyahu has intimated that the annexation will begin in the next few weeks.
While whether that deadline will be met remains to be seen, it will be intriguing to see if Johnson continues to stand firm. Either way, it won't go unnoticed in the White House.
Given Trump's notoriously thin-skinned mentality, it won't have escaped Downing Street's notice that, with a plethora of free-trade deals to be done, any statements on an issue so dear to Donald's heart will carry weight.
Trump is massively pro-Israel and bends any situation in that country's favor, so one could envisage Britain's negotiating trade team arriving in Washington to discover their appointment with the President's representatives has been cancelled. Trump won't flinch when it comes to embarrassing UK officials, if it means giving Johnson a bloody nose for speaking out against him. It could well mark the end of what remains of the transatlantic partnership.
Maybe Johnson felt he had to show his teeth after Trump ignored pleas to return Anne Sacoolas. The wife of a US diplomat, she illegally claimed diplomatic immunity, having killed a British teenager when driving on the wrong side of the road, and fled back to the US to escape arrest.
Or it could be that Bold Boris has appeared because of Rupert Murdoch's prediction about the upcoming US election, after a source reported that "Rupert thinks Trump is going to crash and burn." Murdoch's Fox News is Trump's mass-market mouthpiece, and if it were to desert him, he would be crippled.
Trump has made a complete mess of handling Covid-19 and the Black Lives Matter protests, sending his national approval rating down to 39 percent.
However, Johnson could also be using the Israel debate as a proxy. Stick the knife into the dying king now and win the approval of his successor, Joe Biden.
Also on rt.com
Comrade Boris? Netanyahu tells cabinet how he met British PM... Yeltsin (VIDEO)
It has to be some kind of power play, as Britain no longer has the standing to have its words echoing around the global corridors of power. Tony Blair was the last prime minister to have that reach, and with Brexit going full steam ahead to happen by the end of 2020, Britain is an island in more ways than one.
It's hard to envisage Netanyahu taking any notice, either. He's a man who embodies the metaphor 'having a brass neck'. Being universally shamed doesn't faze him – all he cares about is a green light from Washington, which, right now, he has.
So, to come out and slam a move you can't prevent and, in the process, annoy the two most vindictive leaders on the planet – why?
Johnson is no humanitarian. He's not doing it for the millions of starving and impoverished Palestinians. He's not alone in that, though – no major leader is genuinely fighting their cause.
The other option is that Johnson realizes that, with the UK expected to enter its worst recession in 300 years, Rule Britannia is an obsolete notion.
He could be subtly laying the groundwork to curry favor with progressive leaders such as Justin Trudeau in Canada and New Zealand's Jacinda Ardern, willing them to sign trade deals and back him with their allies.
But is Johnson smart enough to compute all this? He may well have gone to Oxford, be adept at Latin and an author, but you'd be hard pushed to argue BoJo is intelligent. Most of his actions in a professional capacity indicate exactly the opposite.
He's playing with fire.
If this gamble unravels and Trump rallies to a second term, the UK could be left twisting in the wind and having to scramble for even a sub-par trade deal. The much-used example of American chlorinated chickens lowering British food standards will be a reality.
Also on rt.com
UK lashes out at Washington for threatening ICC with sanctions, says justice must be done impartially & without fear
Netanyahu will annex away, and Johnson will be parked in a cul-de-sac.
There's a lot riding on those two sentences he proclaimed.
They were the morally right and proper views to express, and, for that, he deserves praise.
Let's just hope he hasn't played the wrong card at the wrong time in this game of high-stakes poker.
Think your friends would be interested? Share this story!
The statements, views and opinions expressed in this column are solely those of the author and do not necessarily represent those of RT.