BLM comes for DIGITAL statues: Marvel's Avengers forced to APOLOGIZE for defaced statue of Captain America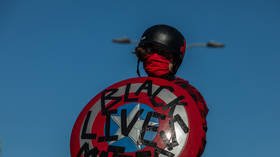 A conglomerate of people that often beg for video games and comic books to be more political are upset that a company did just that. Whoops!
In a now deleted tweet published yesterday, the twitter account behind the upcoming Marvel's Avengers game revealed a downloadable video conference background display that depicts an in-game photo of a defaced Captain America statue.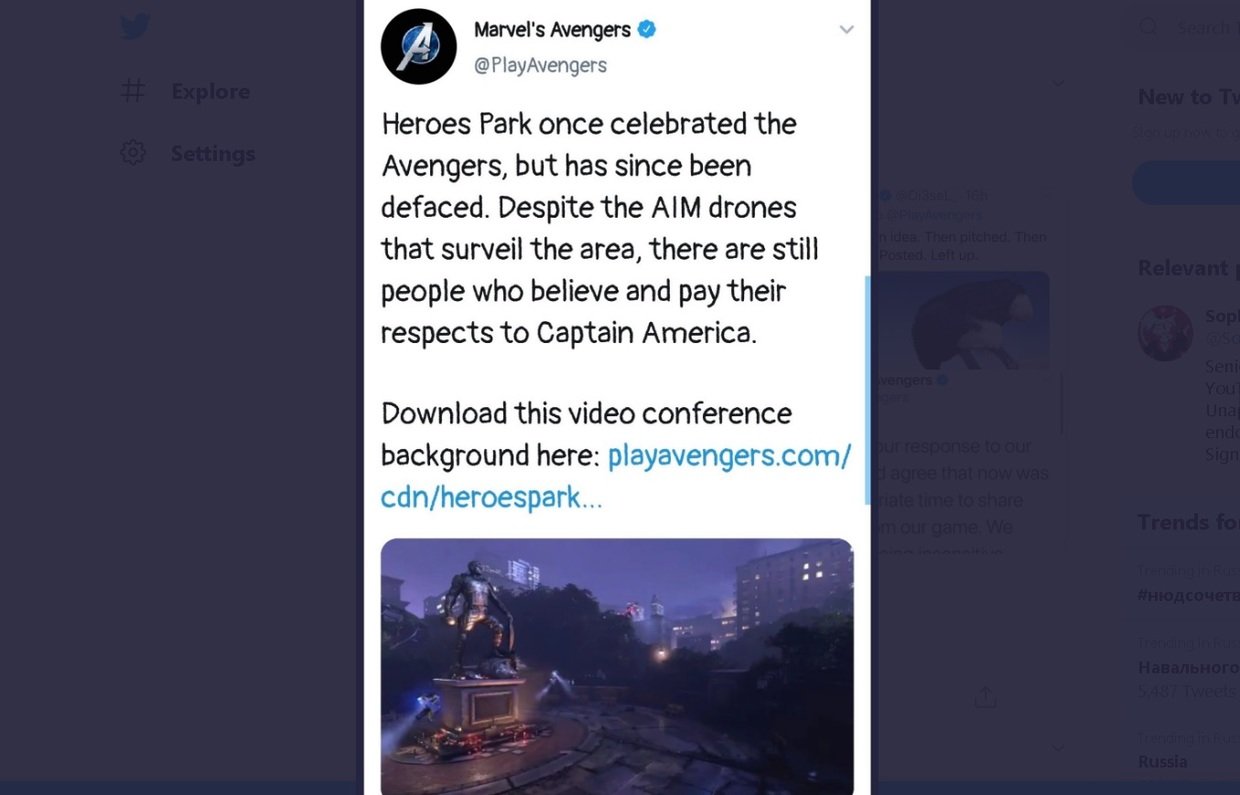 Within the upcoming title's lore, the gang of superheroes are frowned upon after a major terrorist attack leads to the supposed death of the Cap, and the disbandment of the crime-fighting group after they are blamed for the incident.
Within comic book plotting, it's well-trodden ground. But as has quickly become the new norm, the perpetually offended got well… offended, and lashed out at the company for publishing content that in today's environment is too political.
you can write a comic book but not read the room?

— Emily of the State (@EmilyGorcenski) June 16, 2020
Throughout the world, Black Lives Matters protests have been raging. An intense situation of high emotions that has led to the destruction and/or vandalism of countless statues. Something the developers behind the Avengers game are no doubt aware of, and possibly due to the timely nature of it all, they went forward with their plan and published the image described above.
We've heard your response to our recent post and agree that now was not the appropriate time to share this content from our game. We apologize for being insensitive.

— Marvel's Avengers (@PlayAvengers) June 16, 2020
Keep in mind that the game has been in development for years, with its story already well established, and that it's in the last leg of its development, meaning that the statue and lore behind it was already well established before the recent protests. The mob, as per usual, decided to forgo any logic and reasoning and forced the company into deleting the tweet and apologizing.
It's a modern tale as old as time, but the sweet kicker here is that for years comic book fans and gamers have been mocked and derided by many of these same people, all because some within nerd culture have chosen to fight back against overbearing political commentary within the hobbies they love.
By a certain cast of ideologically aligned bad faith actors, this pushback by some against often just frankly bad writing has been misrepresented to portray all gamers or comic book readers as unintelligent simpletons who don't realize that many of the most popular series of all time are rife with political messaging.
I've also been told by a number of gamers that the franchise is not political.

— Daniel Ahmad (@ZhugeEX) December 9, 2019
Spoiler alert, most gamers are well aware of this fact, and vastly popular classics such as Metal Gear Solid and Bioshock are testament to this. To the always offended, it's still become a misguided point of mockery, and often articles or tweets are published that argue about how "all art is political."
gamers be like "I don't see why games have to be political" but their favorite games are FFVII (ecoterrorism), the witcher (very thinly veiled racism analogy), and fallout (critique of capitalism)

— Carolyn Wang (@caro_irl) April 28, 2020
So it's pretty effing hilarious that such netizens are now crying because a game has parallels to our hyper-politicized current day environment.
Who knew, they only like certain politics in games! Don't they know, "all art is political"? Maybe they should just shut up and accept it, at least until they decide not to be such hypocrites about it.
The statements, views and opinions expressed in this column are solely those of the author and do not necessarily represent those of RT.
You can share this story on social media: