Yes, the George Floyd video is distressing. But allowing 'traumatized' students who've seen it to get better exam grades is a joke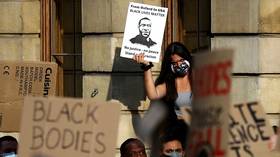 Oxford University's nutty plan to offer students special dispensation if they underperform in exams as a result of Floyd's death is a bizarre moveand insults the black students there.
"May you live in interesting times," goes the so-called Chinese curse, which is eerily apt now in light of Covid-19 and George Floyd. But there's no denying things are also getting stranger and crazier by the day at the moment.
As a seasoned journalist, I'm almost immune to any off-the-wall stories, but even I was left flabbergasted when I read about Oxford University now telling all their students – either black, white or other – that they can claim "mitigating circumstances" if they feel their performances in exams suffered because of the video of George Floyd's death.
Yes, you read that right: in other words, students there can look to profit with higher grades if they claim they've been left "traumatized" by the distressing footage of the new face of the BLM movement being cruelly choked to death. This, in my book, is an utterly ridiculous idea.
The whole foolish thing is apparently the brainchild of a student campaign that "called for university leaders to recognise that black students have been left feeling 'traumatised' by watching videos of Floyd's last moments. In particular, they called for Oxford's black students to be granted mitigating circumstances in their exams," according to the Daily Telegraph on Tuesday.
Also on rt.com
When will Irish lives matter, too?
But it now appears – so as not to be accused of any discrimination against other students – that Oxford is going one step further and is allowingall of its students to appeal their grades if they claim they were in any way distressed by Floyd's death.
In a letter apparently sent to all students and not targeting any specific ethnic minority, Oxford's vice-chancellor, Professor Louise Richardson, actually refers to black students in it, suggesting this is really being aimed mostly at them. She said the university is "determined to support our black students in every way possible" – ie, offer better grades here because of the brutal killing.
She stated that students that"feel their performance has been affected" should submit an explanation after they've taken their exams in order to see if their grades can be improved, on a "case by case" basis. But it's certainly hard to imagine any professors going easy on whitey in sucha scenario, isn't it?
And if the ambiguous letter really was aimed at black students, it is really belittling their intelligence. A Manchester-born black woman named Dominique Samuels put it perfectly when she tweeted: "Does Oxford realise how insulting this is to black students? As if a death that occurred thousands of miles away should be an excuse for black students to be treated differently to their white peers. Anyone who entertains this nonsense is a fool."
And – sorry for asking – forget about just black British students here for a moment, but why would any students at Oxford – be they white, or other ethnic minorities like those of Asian or Jamaican heritage, or whoever – be offered such special treatment here when it's apparently not even being floated in Floyd's home state of Minnesota?
Also on rt.com
#BLM protesters should be taking a knee at Churchill statue, not defacing it. Here's why
I would certainly understand this peculiar arrangement if Floyd had happened to be studying at Oxford and other students had been on-the-spotwitnesses to his cruel death. But this all occurred 4,000 miles away in a different country, in a completely different continent, where, unfortunately, the black community there is subjected to such disgusting racism on a regular basis.
At a stretch, I could perhaps also understand the university wishing to go easy on exceptional cases involving a student – of any color or race –from Floyd's actual hometown of Minneapolis. But why should British students believe that they've been so profoundly affected by Floyd's deaththat they couldn't study properly? Even the flakiest of snowflakes might find it hard to argue that.
I'd perhaps better understand if the letter was written by one nutty professor doing a solo run in a misguided effort to genuinely help, because their heart was in the right place, or whatever – in the same way that we're now hearing of white Americans bizarrely offering gifts and cash to black acquaintances because they're on some kind of nonsensical guilt trip.
But the letter was signed by (count them) 35 principals of Oxford's colleges – all of whom really should've known better than to bow to pressurefrom some students wanting the university to go easy on black colleagues during the exams. Even worse still, apparently other British universities are planning now to follow suit.
Look, there is no disputing that viewing Floyd's death on video is almost as bad as watching a snuff movie, which is basically the view echoed by Desmond Tutu's daughter Nontombi Naomi Tutu on this podcast. But under any other normal circumstances, it's nothing but an asinine idea to offer Oxford students this get out of jail free card without any valid reason closely related to matters at home.
It opens a can of worms, because it begs the question: why can't white students, going forward, not claim something similar the next time a white Western hostage is decapitated by ISIS? You could genuinely argue that British journalism students could be also traumatized by the death of a jobbing reporter being captured on film, just as with the gruesome death of American journalist James Foley, couldn't they?
Also on rt.com
George Floyd didn't deserve to die, but it's WRONG that he's being hailed as some sort of saint
I don't mean to be facetious here, but the bizarre decision reminds me of the Friends episode called "The One with Joey's Award" where Professor Ross Geller changes the grade of one of his male students after he brazenly lies about failing his midterm exam because he's in lovewith him!
Sorry, but I strongly feel any British student attempting to improve their grade off the back of Floyd's death should be eternally ashamed of themselves. As excuses go, it's not only worse than using the old cliché, "The dog ate my homework" – but it feels immoral too.
Anybody tugging at the heartstrings here, in an effort to cajole universities into making this stupid move in the first place, should hang their heads in shame, because all they're doing here is desecrating the memory of Floyd with this ridiculous carry-on.
Think your friends would be interested? Share this story!
The statements, views and opinions expressed in this column are solely those of the author and do not necessarily represent those of RT.
You can share this story on social media: