National flags cause more problems than they're worth. Is it time to get rid of them?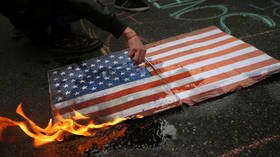 Countries all over the world are enacting laws to protect their flags and anthems. But if we're really evolving towards a borderless global utopia, why haven't we moved beyond such primitive talismans?
A flag might simultaneously evoke national pride and the sorrowful baggage of every bad thing a country has ever done, cramming centuries of history into an unassuming colorful rectangle.
If we're really trying to move beyond nationalism – as globalist doctrine declares we must in the name of progress – surely ditching them altogether is the logical next step, right?
But while global crises like the coronavirus pandemic have tested the integrity of globalist pacts and found them wanting, individual countries have prioritized protecting their national symbols over mending fractured international ties.
On Thursday, Hong Kong became the latest to cement its national identity in law, passing a measure that criminalizes mocking China's national anthem and whacks violators with a fine and three years in jail.
Germany already punishes flag-burners with five years in prison, and last month its parliament voted to ban the burning of foreign states' flags. Public flag-burning, flag-ripping, and "denigration of national anthems" became punishable by a fine and three years' imprisonment.
In criminalizing such acts, Germany joined France, Spain, Italy, and Greece, 'liberal democracies' whose liberalism stops short of spitting in the face of patriotism – literally, in Spain's case. Comedian Dani Mateo blew his nose on a Spanish flag on television in 2018 as part of a skit and was smacked with hate crime charges for his trouble.
Also on rt.com
Iowa man gets 16 years for stealing church's pride flag & burning it outside STRIP CLUB
While these nations demand ever more respect for national symbols, the US has turned on its own. Last week, a Portland man was assailed by a crowd after refusing to hand over the large American flag he'd brought to a demonstration against police brutality, eerily echoing an earlier attack in the same city.
Their denunciation of the flag as a racist symbol echoed an increasingly popular liberal canard – hundreds of students and dozens of professors signed a petition to remove American and other flags from the University of California at Irvine in 2015, claiming US nationalism "contributes to racism and xenophobia."
While that initiative fizzled, Nike's decision last year to nix a shoe featuring the modern flag's colonial predecessor may have set the stage for the American flag to follow its long-demonized Confederate cousin into the dustbin of history. Under the harsh critical glare of neurotic American liberalism, displaying a flag is equated with standing for every atrocity committed under its banner.
On the one hand, a 'liberal democracy' bristling at the desecration of its flag serves as an early-warning alarm that it might be drifting away from the warm fuzzy tolerance that we're told characterizes a borderless government. Such a system must open its arms wide to all comers, including those who would see its national banner as a large, colorful snot-rag.
On the other hand, scuffles over the sanctity of flags and other national symbols suggest the world isn't quite ready to scrap the idea of borders and declare itself one big happy melting pot.
Also on rt.com
Global human development to decline for first time in 30 years due to Covid-19, warns UN
There's a wide gulf between tolerating differences and forcibly sanding them off, and governments' reflexive embrace of their national symbols in times of crisis is more of a defense against the latter than an assault on the former. Doing away with a symbol is no substitute for failing to address the evils it is used to represent.
Think your friends would be interested? Share this story!
The statements, views and opinions expressed in this column are solely those of the author and do not necessarily represent those of RT.
You can share this story on social media: