The media hates Lance Armstrong for being a liar & a cheat, and conveniently forget they enabled his lying & cheating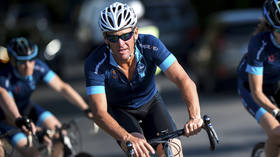 ESPN's documentary exposes former cyclist Lance Armstrong to be petulant, bitter, self-pitying and entirely incapable of self-reflection, which makes him exactly like the media that catapulted him to stardom in the first place.
Lance, the fantastically compelling two-part documentary on disgraced American cyclist Lance Armstrong that concludes Sunday night, makes up for years of sports media coddling by finally holding its subject's feet to the fire.
Lance Armstrong is a proven fraud and the adversarial attitude animating this documentary is exactly what was missing in the coverage of Armstrong during his deceitful heyday.
Even at the height of his popularity, I was never a Lance Armstrong fan. I was always dubious of his success and the manufactured narrative within which the media gently cloaked him.
The reason I like the documentary is because it not only exposes Armstrong's duplicitous nature, but also unintentionally reinforces my long held belief regarding the American media's malignant malfeasance.
For years Lance was able to pedal through the journalistic raindrops, and due to the establishment media's starry-eyed compliance and Armstrong's near sociopathic ability to lie, he never got wet.
The media swooning over Lance in the wake of his meteoric rise from the ashes of near-death from cancer to the podium of the Tour de France, was absurd to the point of journalistic travesty.
The press consistently chose to tell the story they wanted about Armstrong, instead of the story that was actually there. As a result, they shamelessly enabled Lance's diabolical duplicity.
For instance, the media made Armstrong into an American inspiration for surviving testicular cancer in 1997 while completely ignoring the possibility, if not the probability, that Lance's cancer was a direct result of the use of performance-enhancing drugs, a notion that Lance himself does not discount in the documentary.
The press also set aside all skepticism and made Lance into an American icon when he "miraculously" won the Tour de France seven consecutive times from 1999-2005.
The American media then wrapped Lance in the flag and relentlessly marketed him to the public as the perfect symbol of America – a resilient, ambitious, determined and courageous underdog that overcame the odds and dominated the competition. This flag waving idiocy made him extremely desirable to corporate America and very wealthy.
Also on rt.com
US government sues Lance Armstrong for being 'unjustly enriched'
Even now after Lance has been exposed as an unadulterated fraud, the media still use him as an avatar upon which they can project whatever fantasies they need in order to tell the story they want, as opposed to the story that is actually there.
For example, Aaron Timms of the Guardian, who apparently watched the documentary with his woke goggles on, sees Armstrong as a malevolent symbol of toxic male rage who, "was practically marinating in insensitivity from the womb."
Timms contorts the documentary beyond recognition and concludes that it shows that Armstrong is not just a liar, cheat and bully, but the poster child for "men in general: their incurable ambition and violence, the fragility of their morals."
I guess when you're a woke media hammer, the whole world looks like a toxically masculine nail.
What is so fascinating to me in regards to the media's response to Lance, is that they couldn't get enough of Armstrong when he was telling them what they wanted to hear while lying through his teeth, but now that he is speaking some semblance of the truth, they want him to shut up.
For instance, in reaction to Lance USA Today writer Christine Brennan wrote an article titled, "enough is enough, let this be the end of the Lance Armstrong story."
Brennan declares, "Armstrong never was just another rider, or athlete. He was far more than a sports hero. After beating testicular cancer, he transcended sports and became the world's most famous cancer survivor."
What Brennan fails to acknowledge is that it wasn't Armstrong who made himself more than another "rider, athlete or sports hero"…it was the mainstream media. Armstrong certainly exploited the endlessly deferential coverage of him, but he didn't create it.
Also on rt.com
'A ruthless desire to win at all costs was my biggest flaw' - Armstrong
Brennan continues, "He was an international icon, bringing his too-good-to-be-true story of survival and triumph to schools and banquets and hospitals, where patients read his books for inspiration as chemo dripped into their arms….This was a ruse for the ages."
Let's be clear, Lance Armstrong is entirely to blame for all of his numerous misdeeds, but when Brennan says his story was "too good to be true" she unintentionally indicts her entire profession. If something is "too good to be true"…which Lance's narrative certainly was… then that is exactly when reporters should sink their teeth into a story to find the truth instead of journalistically genuflecting before their new American hero.
And Brennan is correct, this was a "ruse for the ages," but she leaves out that the negligent and gullible media were directly complicit in that ruse and shamelessly aided and abetted Lance's despicable deception.
Brennan concludes by stating, "Armstrong is the worst of us; a lying, cheating, vindictive scoundrel."
This is also true, but another truth is that by choosing to elevate and exult the scoundrel Lance Armstrong, instead of say…Greg LeMond, an equally compelling figure and an even better cyclist of impeccable moral character, the media made themselves just as guilty as the man they now love to hate. (Watch the ESPN documentary Slaying the Badger to learn more on LeMond).
In conclusion, the media hates Lance Armstrong for being a liar and a cheat, but conveniently forget they enabled his lying and cheating.
Think your friends would be interested? Share this story!
The statements, views and opinions expressed in this column are solely those of the author and do not necessarily represent those of RT.
You can share this story on social media: