Horrifying high-tech hazmat suit promoted as the future of post-Covid clubbing – but hey, you can vape in it!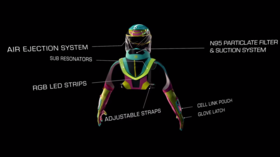 The pandemic has forced everyone to socially distance – and one invention aims to let you keep doing it forever. The Micrashell is, in essence, a human hamster ball, but is billed as the future of gigs and parties.
After enduring months of lockdown, we can all get back to safely spending hours in sweaty nightclubs, dancing the night away with friends, and making memories that we'll laugh about when we're old and grey. Well, as long as you don't mind doing it while looking like RoboCop and forgoing all the intangible emotion of what it means to be human, that is.
Covid-19 has gripped the globe in a vice-like embrace, and the faceless enemy has spirited away our brothers and sisters by the thousands. But if the antidote to our enforced social isolation is the Micrashell, then the worst could be yet to come.
It's been conceived with socializing safely in mind, specifically addressing the desire for people to get back into nightclubs and attend concerts again.
Social distancing, epidemiologists are advising, is here to stay. Cinemas could reopen with patrons spaced sporadically around the room. Some airlines have devised plans to fly with the entire middle row left free.
But the Micrashell's creators have answered the question no right-minded individual was asking: how are we going to get our Saturday Night Fever mojo going when we're oceans apart?
The suit is made of high-performance resistance fabric. It's sleek and, though it's based on a hazmat suit, it's far more fitting and flattering.
Also on rt.com
Slavoj Zizek: The Schmidt-Cuomo digital future is a highway to the Matrix
To put it on, you stand in your underwear, which is optional, but is probably recommended for hygiene and comfort reasons. Then you don the gloves, which have a magnetic latch, so you don't have to touch the outside getting in and out of it.
Once in, it's airtight and the helmet is transparent, so eye contact – again, a necessary part of the nightclub experience – is possible. You'll be able to breathe, thanks to the air being sucked in by the filter system, which also freshens it before directing it towards your face.
So, let's set the scene: you've stripped off and got suited up. It's time to party. You slip inside the disco and can hear the DJ's work in crystal-clear sound, due to the Micrashell's in-built speakers.
Before storming the dance floor, you hit the bar and order a drink. But how do you sip a Malibu and Coke while in a hazmat suit? The designers are one step ahead. At the front of the helmet are a pair of ports: one for drinks and the other for vaping. They're connected to a couple of supply nozzles you can grab with your mouth.
There's a hauntingly pathetic wireless communication system between suits that works on proximity, so there'll be no opening-line nerves, given that you're basically talking to yourself in the hope that another living soul does the same. If they don't, you won't be left red-faced as your friends laugh at your failed flirting attempts, like they did back in the days when we actually spoke and connected as humans.
However, if they do, the old "Can I call you sometime?" scheme is still on, thanks to the Micrashell's on-sleeve pouch for your mobile phone, and gloves that are coated so you can still use the screen.
Nightclubs are hotbeds of embarrassing pictures and drunken selfies. The Micrashell has that covered, too, because there's a camera at the base of the helmet, so you'll still be able to nurse a hangover while regretting that decision to do the Funky Chicken. You're also free to party all through the night, as it's powered by two lithium-ion batteries that can be replaced easily without taking it off.
But there's one feature that's the absolute pièce de résistance. We've all stumbled along some busy road in the small hours and ended up eating a kabob made of meat of debatable origin. The Micrashell's creators are planning to launch canisters of liquid meals too, so you can pop out the drinks one and get your greasy fast-food fix to end the night in style.
Also on rt.com
Dystopian and disturbing: Big Tech censorship lumps together conspiracy loons and proper scientists
An all-round awesome invention. Let's hope it never gets off the design pages. Of all the ways Covid-19 has crippled human interaction, this is a hamster ball we would be happy to walk into ourselves, if we accept Micrashell as "the future of gigs and festivals" – or even as an inconsequential fun concept without an underlying shift in mentality. If it catches on, it'll be the first step in the destruction of human interaction.
But wait till you discover the Microshell's "at home" adaptation. You can zip off the suit and leave the helmet on, so your face is still enclosed. That's because, in the words of the creators, it allows you to "engage in intercourse without being exposed to respiratory risks."
So, we've had Baby Boomers, Generation X and Millennials. Coming soon could be the Protected Pandemic-ers. How's that for a post-apocalypse.
If you like this story, share it with a friend!
The statements, views and opinions expressed in this column are solely those of the author and do not necessarily represent those of RT.
You can share this story on social media: