Bishops bashing Cummings show Church of England is more concerned with pandering to liberals than preaching to its flock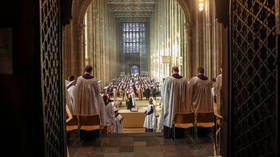 Thirteen bishops showed their less-than-forgiving side when they damned Boris Johnson's right-hand man for breaking lockdown. Why do these left-leaning 'Guardian Angels' believe people care what they think?
During the never-ending cycle of blame, bile and vitriol surrounding the travel arrangements of Dominic Cummings that consumed the mainstream British media over the weekend, you may have noticed that the clergy rediscovered their medieval penchant for witch-hunts.
More than a dozen Church of England bishops held forth on whether or not Boris Johnson's top adviser should stay in his post, and they unanimously called for his excommunication from 10 Downing Street. Apparently, the Vote Leave mastermind's continued employment did not prove as divisive an issue as female bishops or transubstantiation. All the bishops agreed that Cummings should be given the boot for committing the deadly sin of 'driving to Durham.'
I must have missed the section in the Bible pertaining to travel during lockdown. Presumably somewhere in the Book of Exodus there is a passage dictating 'thou shalt not drive up the A1 whilst pestilence doth ravage the land.' It's strange enough that bishops even felt their view should be aired on the subject, let alone that they all seemed to be singing from the same hymn sheet on such a nakedly politicized event. But for anyone who has been paying attention of late, neither of these developments was surprising.
Echoing the liberal elite
On virtually all of the big issues of the last few years, the Church of England has taken the same view as the metropolitan liberal elite. C of E clergymen have never really been fire-and-brimstone-style preachers, but recently they seem to have traded the communion wafers and sacramental wine for quinoa and flat whites. It would appear the views expressed at the Church's general synod are virtually indistinguishable from those at an editorial meeting of the Guardian.
Last September, for example, more than 100 C of E bishops blasted Boris Johnson for branding a proposal to stop Britain leaving the EU without a deal as a "surrender act." They said his language was "unacceptable" and "not worthy of our country," an interesting interpretation from people whose job it is to preach from a book that advocates capital punishment for adultery.
Or what about their views on Donald Trump? Archbishop of Canterbury Justin Welby has previously described the president as part of a "fascist tradition of politics," and the Bishop of Liverpool, Paul Bayes, described the Donald as "toxic and dangerous." Now many have said they will "refuse to work with the government" after the PM failed to dismiss Cummings. The bishops of Leeds, Manchester, Ripon, Worcester, Willesden, Liverpool, Durham, Newcastle, Sheffield, Reading, Truro, Penrith and Bristol all felt the need to publicly vent their displeasure over the spad's continued employment.
Why is this any of their concern? Should they not be focusing more on the fact that every church in England has been forced to close for the first time in 800 years? You would think that at a time of national crisis they would be pushing harder than ever to spread the word and trying to reopen chapels for the faithful.
Less relevant than garden centers
Surely in a time of pan-national pestilence, Christians would want to seek sanctuary in the bosom of their Lord and Savior more than ever, not have the church doors slammed in their face? It says a lot about how far the Church's standing has fallen in the UK that garden centers have been allowed to re-open before them. How devout can you really claim to be if you stand idly by while the government declares the right to buy compost more essential than eternal salvation?
Just like the academy, the civil service and the mainstream media, the Church of England has fallen victim to the soft-left's long march through the institutions. There is now barely a cigarette paper's width of difference between the opinions held in Lambeth Palace to those held in New Broadcasting House and Whitehall.
The one subject on which there remains any divergence of opinion is on gay and pre-marital sex, which the C of E can only bring itself to address apologetically. In January of this year, the Church reaffirmed its guidance that sex was only for "married heterosexual couples," something that is made explicitly clear in the Bible. However, the Archbishops of Canterbury and York said that they were "very sorry and recognized the division and hurt" caused by their decision to uphold this God-given teaching. Forgive me, father, for wondering, but should you not be more concerned with defending the faith of your flock than worrying about the potentially hurt feelings of fornicators?
Devout Anglicans have long been frustrated at the spinelessness and liberal mores displayed by the high priests of their faith. A church that was once so sure of itself it saw fit to split from Rome can now barely bring itself to hold a fete without apologizing for its lack of 'inclusivity' over failing to book the local Hare Krishna branch as the musical act and not having a drag queen deliver the Bible reading.
The bishops' intervention in the Cummings saga is just further confirmation that they are far more concerned about getting a favorable write-up in the Guardian and being invited on Radio 4 than they are about actually filling the pews on a Sunday. Rather ironically, the converted seem to be the only section of the population to whom they are failing to preach.
If you like this story, share it with a friend!
The statements, views and opinions expressed in this column are solely those of the author and do not necessarily represent those of RT.
You can share this story on social media: