I've seen too many families kicked out of their homes. It's why I despair about the tsunami of evictions that's coming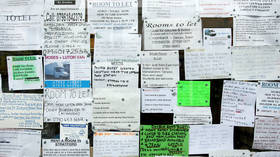 The UK government's been helping businesses, and people with mortgages, but has done nothing for the 4.6 million families who rent from private landlords. The looming Covid-19 recession will be disastrous for them.
Recently there have been growing calls in Britain for rent strikes, not least from Labour MPs and supporters, to combat the problem of people being unable to afford to keep up with the payments, either because they've lost their jobs or are on reduced wages due to the lockdown.
This actually makes my blood boil. Not because I have any sympathy with the landlords. Far from it. Let me explain why I'm so angry with it.
Also on rt.com
Mishandling of Black Death 640 years ago led to the Peasants' Revolt. It's time we modern-day peasants rebelled over Covid-19
Since the 2008 banking crash, where hundreds of thousands of working class people around the world lost their homes to those very banks who caused the crash in the first place (how we let such a disgrace happen, I don't know), rentier capitalism has thrived. This is not really capitalism at all – to own a property and then rent it out takes no skill, no business acumen, and no production – it takes money and a broken and skewed housing system and – boom – there you have it: one class that owns property and another one that doesn't and needs somewhere to live.
Even a columnist for the capitalist's favourite newspaper, The Financial Times, agrees with me on this point (which may be a first).
I have been researching housing and working class communities in the UK for more than 15 years, and it is clear that people do not live in private rented accommodation out of choice, but out of necessity. There is simply not enough social housing, where the rent is genuinely affordable, being provided for working class people in the UK.
Consequently, they have two choices. They can find a landlord that will let them a substandard property at what we call a social rent. These properties and landlords usually own hundreds of homes in poor places with few transport links, away from business, schools, and industrial hubs. They are most likely to be in places that have been de-industrialised and forgotten. The landlord's business model – piling people into run down properties – has sprung from the failure of local councils and capitalism to provide accommodation or work that provides for even the most meagre life.
The second choice for working class people is to rent from buy-to-let landlords – landlords that typically have one or two properties to let in more prosperous areas of cities and which are mostly run and managed by vulture estate agents always looking for new and greater yields.
These properties are closer to employment and transport hubs, but usually cost way over what a working class family can reasonably afford to pay. They are forced into spending 60 percent, 70 percent, or even 80 percent of their income on rent. Around half of those renting from private landlords have a weekly income of £199 or less; that puts most of them below the official poverty line in the UK.
Also on rt.com
I don't want to return to normal when this is all over... Normal is s**t
The housing situation for working class people in the UK has been out of control for generations, and has always been the key indicator in relation to poverty. People need a safe, and an affordable home – without that they cannot build anything else into their lives.
During Covid-19 most groups have been offered some kind of support, either through the furlough schemes and cheap business loans, while homeowners have been given a three-month mortgage holiday with no penalty.
But renters have been given nothing – no rent holiday, no support with their rents. Landlords have been advised by the government to have "empathy" and to listen to their tenants. While courts will not hold eviction hearings until the end of June, tenants are being advised by the government to "pay their rent as normal."
This is nonsense. Tenants are already paying well over what is affordable. If they are furloughed on 80 percent of their wages, that 20 percent loss in earnings means they will now have to pay between 80 percent and 100 percent of their income on rent – and many will now be left in a situation where their rent alone exceeds their incomes. The government welfare system – Universal Credit – is a living nightmare of crashed online forms, never enough ID and, even if you manage to get it, offers only a very meagre amount of support; a fraction of what's needed to live on.
By this summer, millions of people in the UK will be made redundant. They will be in arrears on their housing and eviction notices will start to be served.
Rentier capitalism all over the world has seen cities turned into dystopian cradles of chrome and glass penisies reaching violently into the sky, surrounded by an army of cranes, as the need for the world's wealthy to park their money into buy-to-leave empty luxury apartments.
Local and national politicians of all colours have birthed these dystopian cities and band-aided the broken housing system, and opened the door to landlordism in the name of profit and a glittering new building for the council HQ.
The worst of these politicians have undoubtedly been of the Labour hue – working class people are more likely to live in an area with a Labour council, a Labour mayor, and a Labour MP. Yet these very same working class people are also more likely to be in desperate need of affordable housing.
But Labour-run cities, like London, Manchester, Liverpool, and Nottingham that are Labour politician-saturated, have rolled out the red carpet for those property developers, landlordism and rentier capitalism. And now they have the gall to call for a rent strike?
I know that rent strikes have worked for working class people in the past. In 1915, women led a strike in Glasgow that was successful, holding meetings, standing on picket lines, campaigning against local politicians, and physically preventing evictions from taking place. It led to rent controls across Britain that endured until Thatcher came along.
But I am extremely nervous now about the calls for rent strikes. Do we have a solid movement to ensure that when people can't pay their rent and the bailiffs move in, that there will be enough people to physically stop these bullies and the police from evicting a family? Sadly, I know we haven't.
Also on rt.com
Cambridge University's degree of separation: The 'new normal' is an abnormal world where we never learn to socialise
I have been a housing campaigner for many years, and I have sat in courtrooms with desperate families with small children begging judges not to allow a landlord to throw them onto the streets. I have sat in meetings with mothers at the housing office as the official explains to her that if she doesn't take the privately rented property 300 miles away that the council has sourced for her – then her children will be taken immediately into care.
These are heartbreaking and harrowing situations. The fear of homelessness, of families being broken up, have always been real to working class people.
In theory, I know we need a rent strike – the housing market, landlordism, and rentier capitalism needs to be shaken from its greedy roots – but I will not risk working class families and children being split up and forced onto the streets while we have no movement that can protect them.
Like this story? Share it with a friend!
The statements, views and opinions expressed in this column are solely those of the author and do not necessarily represent those of RT.
You can share this story on social media: