Cambridge University's degree of separation: The 'new normal' is an abnormal world where we never learn to socialise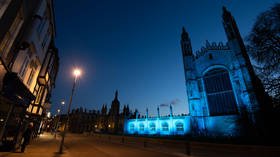 Cambridge University's announcement that it is moving all its lectures online for the 2020/21 academic year is deeply worrying, as it seems to be an acceptance that social distancing is here to stay.
How ironic that Florian Schneider, co-founder of the brilliant, pioneering electronic music group Kraftwerk should die during the Covid-19 pandemic. The band's classic 1981 track 'Computer Love' foresaw the alienation in a world where technology had helped create an atomised society of isolated individuals.
"Another lonely night, lonely night
Stare at the TV screen, the TV screen
I don't know what to do, what to do
I need a rendezvous, rendezvous"
Well, if you do "need a rendezvous" in 2020, or even 2021, it's likely that unless you wake up and smell the coffee pretty soon, you're going to have to make do with an online one. Think I'm exaggerating?
Last week UK Home Secretary Priti Patel said the most chilling thing that any leading British politician has ever said. In a television interview, she stated "I think we all recognise now that social distancing is here to stay."
Note that Patel didn't say "for as long as we're getting a certain number of Covid-19 deaths," or "for as long as the 'R' number is close to 1," but simply that social distancing was "here to stay." It would be the 'new normal', even after Covid-19 has run its course.
Right on cue, Cambridge University has become the first UK educational institution to declare that they will be operating social distancing until at least the start of the 2021 Michaelmas term.
Welcome to the ´New Normal', folks. Think of what the students will miss in terms of social interaction. Think too of the impact on the Cambridge economy. https://t.co/Yp2U026UVk

— Neil Clark (@NeilClark66) 20 мая 2020 г.
Now, distance learning is nothing new: in the UK, the Open University has been in existence for over 50 years and has done a fantastic job in allowing mature students and people with jobs to study for degrees. But do we want all our universities to follow a similar model?
University isn't just about ingesting information from lectures and writing up essays the night before the deadline. It's about social interaction with fellow students, professors and college staff. It's about girlfriends and boyfriends, or trying to get a girlfriend or boyfriend. It's about playing sport, joining clubs and societies, amateur dramatics and having fun. It's about Freshers' Fair and Rag Week. It's about getting 'blotto' after finals day and waking up in the morning wondering why you've got a traffic cone on your head and an 'L' plate sticker on your back. In short, university is about growing up.
Priti Patel's 'new normal', as endorsed by Cambridge, would take us into a dystopian world in which we never learn to socialise. Where to hug and to hold hands, to kiss and embrace, to flirt and to establish new face-to-face friendships and relationships, is no longer possible.
Kraftwerk's 'We are the Robots' would be the soundtrack to this far-from 'Brave New Socially Distanced World'. It's a great track, but is it really how we want to live our lives? Moreover, how will the human species endure if young people can't fall in love and have sex – which, again, is hard to achieve with the 'two-metre' rule.
Those who enrol at Cambridge for the 'online' academic year 2020/1 may well get a tick for their sums, but they'll be missing out on something far more important: the human factor. And don't forget, a 'virtual' year at university will still cost £9,250. That might be fine if you are reading English Lit, but what if you are studying Archaeology? How is that going to be achieved from a distance?
Also on rt.com
UK politicians who urged us all to 'follow the science' now turn on the scientists for being WRONG. But will the people buy it?
Consider, too, the devastating impact on the local economy of Cambridge's decision. One wonders what will happen to university catering and cleaning staff. Will they be 'furloughed' for a year, or simply laid off?
A couple of years ago we were hearing how Cambridge had the fastest growing economy in the UK. But the likely reduced number of students is bound to have an adverse effect on local businesses. Pub landlords and coffee shop owners in the city, already facing a grim future, will probably be jumping off bridges.
Sometimes you have to pinch yourself that all of this is happening. That anyone is even proposing it. But Covid-19 has been the game changer. It attacks the upper respiratory system, but it has also addled brains. It's clear that fears about the virus are being used to try and implement radical – and I mean radical – changes to our economies and the way we live, and have lived for thousands of years. But here's the rub. These changes, which are inherently anti-human, in seeking to present 'social distancing' as normal when it is in fact totally abnormal, pose a far greater threat to mankind than the virus itself. And you shouldn't need a degree (online or otherwise) from Cambridge University to realise this.
Think your friends would be interested? Share this story!
The statements, views and opinions expressed in this column are solely those of the author and do not necessarily represent those of RT.
You can share this story on social media: