This week's elections showed that if Democrats hope to defeat Trump, they must abandon their draconian Covid-19 policies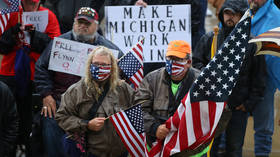 In the US, the fight against Covid-19 has become a political battleground. And the Democrats' insistence on limiting Americans' hard-won civil liberties doesn't look like a winning tactic.
It might be a good time for the Democrats to remember that although it has been many years since the first Americans made the arduous trip across the vast Atlantic Ocean to escape the British Crown, that same 'revolutionary' spirit remains latent inside many. But now they find themselves trapped in their homes and even deprived of their livelihoods by power-hungry leaders.
Although many Americans have shown a willingness to comply with the stay-at-home rules as a necessary way of defeating the coronavirus, that cooperation will quickly disappear if they come to the conclusion that their leaders are abusing their political powers with foolish and even draconian demands.
First signs of a red wave?
This week, the state of California was rattled by a major political trembler, a seismic indication that the Democrats have dropped the ball when it comes to battling Covid-19. The rumblings reverberated across the country as Republican Mike Garcia, a former military pilot with no prior political experience, handily defeated his Democratic opponent to win a congressional seat in Southern California.
Not since 1998 have the Republicans managed to flip a Democratic held seat in California, which has become –between the bright lights of Hollywood and the pulsating energy of Silicon Valley– the most aggressively liberal state in the union. And it certainly did not go unnoticed that Hillary Clinton had won the contested district by nearly seven points in 2016.
And it did not end in California. In the distant Midwestern state of Wisconsin –dismal 'flyover' country, as it were– Tom Tiffany easily won another House seat for the Republicans in a special election.
Tiffany's win, however, came with a preponderant footnote. One day after the Republican victory, Wisconsin's conservative-leaning Supreme Court shot down Democratic Governor Tony Evers' stay-at-home order, which he had just extended until the end of the month. Trump hyped the surprise decision on Twitter as nightspots across the state filled up fast with parched patrons, many without facemasks.
The Great State of Wisconsin, home to Tom Tiffany's big Congressional Victory on Tuesday, was just given another win. Its Democrat Governor was forced by the courts to let the State Open. The people want to get on with their lives. The place is bustling!

— Donald J. Trump (@realDonaldTrump) May 14, 2020
Amid this moment of long-awaited liberation from lockdown, the Washington Post let slip with a comment that can be best described as creepy. The citizens of Wisconsin were celebrating, as Gov. Tony Evers (D) knew, "the apparent end of his power over them — at least for now," the Bezos-owned paper crowed. Say what?
Liberty canceled
For many Americans, that comment captures what the battle against Covid-19 has come down to: a naked power grab on behalf of some politicians who have lost all sense of proportion and logic when it comes to imposing their anti-virus regulations. Not only summer, but liberty itself has been canceled.
By way of example, consider the measures put forward by Michigan Gov. Gretchen Whitmer, who banned travel between private residences and ordered stores to shut down the sale of seeds and gardening supplies. She also banned the use of motor boats on her state's waterways (though that has now been overturned), cutting deep into the local economy, not to mention leisure time.
Did any of that help to stop the spread of the virus? Doubtful. What it did seem to do is drive up tensions at a time when millions of Americans are unemployed while enduring 'house arrest.' Nobody should have been surprised when thousands of Michigan citizens showed up at the State Capitol in Lansing on April 15 to vent their anger and frustration.
Also on rt.com
Thousands DRIVE to Michigan capitol in protest over governor's strict Covid-19 lockdown (PHOTO, VIDEO)
Meanwhile, back in sunny California, the city of Los Angeles woke up to the news that stay-at-home orders will continue for another three months. Specifically, don't think of trying to get some sun on the beach to help with lockdown paleness: "Face coverings will be required when not in the water, and sunbathing won't be allowed… Coolers, chairs, umbrellas and any of the other accessories that typically dot the shoreline should be left at home," the LA Times sums up the 'new normal' rules.
Incidentally, Los Angeles County, the epicenter of the coronavirus in America's most-populous state, has just 1,300 deaths out of a population of about four million. Yes, every life is precious, but an increasing number of people seem prepared to accept the risk of those odds, especially as it is becoming more difficult for them to meet the monthly rent payment and grocery bill.
Let them eat ice cream
Granted, it's not only the Democrat-controlled states that have seen the 'natives getting restless,' so to speak. Earlier this month, Texas hair salon owner Shelley Luther was sentenced to a week in jail for keeping her salon open in defiance of Republican Gov. Greg Abbott's lockdown orders. Amid huge public outcry, Luther was quickly released after Abbott said prison sentences could no longer be punishment for defying social-distancing regulations. At least the Republicans seem to be learning from their mistakes.
Meanwhile, the Democrat Speaker of the House Nancy Pelosi was happy to have an on-screen Marie Antoinette moment, showing off her collection of top-shelf ice cream, filling a freezer which was probably worth more than several US school tuition loans combined. That's her way of "dealing" with the lockdown.
It's this sort of tone-deaf attitude from so many Democrats that could see them losing voter support in a critical election year. If current political trends continue, the Democrats' apparent enthusiasm over excessive rules and regulations will cost them not only the US presidential elections, but the House as well.
The statements, views and opinions expressed in this column are solely those of the author and do not necessarily represent those of RT.
You can share this story on social media: