London's Covid-19 R number is well below critical at 0.4, with only 24 new cases a day. NOW why can't we have our lives back ?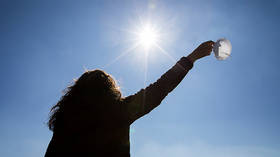 While rates of infection around the UK vary wildly, the capital has managed to hit a low of fewer than 24 cases a day. Now the clamor is growing to ease up on the lockdown and get back to normal life.
With fewer than 24 new cases of coronavirus appearing in London each day now, surely, for the love of man, it's time we moved back to normality, pronto.
From the outset, it's been drummed into us that it's the science that matters. The science said that the R number – the crucial indicator of how many new people one coronavirus sufferer would infect – needed to be less than one, and holding, before any easing of restrictions would be considered.
In Germany, where their line in the sand was R1 – having three consecutive days above that figure this week – they're even kicking off the Bundesliga again tomorrow. Why not here?
If London can consistently return an R number of around 0.4 then it's hard to see how the 9.3 million people who live here can be expected to stick to what have become increasingly disjointed lockdown measures that no one seems to either understand or be interested in policing.
The economic damage is clear. With our European neighbors Italy, France and now Germany all officially in recession, and we're trailing several weeks behind them, we can only speculate what exactly that particular economic trainwreck will look like when it pulls into Blighty.
So let's get a move on. People want to return to work. They need to return to work.
We're not all stupid, mouth-breathing face-sneezers looking to jam up against fellow commuters in the rush hour and spread a killer virus.
We're happy to maintain our two meters of personal space. We get it. People do keep their distance. This is Britain, remember.
We can have neighbors for years and never speak to them, content to keep them at arm's length and they us. Social distancing is already a way of life, we are born into it.
So trust us, crank up the trains, buses and tube and we'll get on with it. We might choose to wear a face mask or stagger a journey but at least this means we get up in the morning, have breakfast and head off to work, just like we did in the good ol' days.
That sense of routine is sorely missing. Monday feels like Thursday, and Friday feels like Wednesday for many of us stuck at home.
Please, let's get the kids back to school in London. Whoever thought the parents of Britain would take to homeschooling like ducks to water was imagining things.
The kids are not diving into their geography tasks with relish or asking what's next with their English homework. They are doing what kids do, on Facetime.
They're playing, arguing, shouting, singing, laughing and celebrating the fact they haven't been to school for two months. And that's the lucky ones.
Also on rt.com
End the lockdown, cut the green crap… Here's five things the UK government should do now to get us out of the mess they created
For those families not flush with iPads, laptops and broadband internet, the going is even tougher. It's impossible to explain why the kids cannot play in the park when the Sun is shining and others seem to be doing as they please.
One thing we have learned from the pandemic lockdown is that homeschooling just doesn't work when the parents are expected to work and organize the household simultaneously.
A working parent can't be their child's kitchen-table educator and someone's valued employee at the same time. And the bosses of Britain must be getting a bit annoyed with a virtual workforce that arrives late, turns up for a Zoom call in sweatpants and an old T-shirt, and is hard to engage in any serious sort of work for the best part of the day as the kids wander in and out of the spare bedroom asking for help with their math, or inquiring what might be for lunch.
For anyone who has spent time working productively from home, they'll know that constant interruptions are both irritating and massively counter-productive, and stir up guilt that maybe you should be spending more time with the family and not be too focused on work. This is not good for your bank account. Or your mental health.
The exchanges on those neighborhood smartphone apps many of us use are becoming increasingly desperate. Frustrated, guilt-ridden parents admit the kids are not schooling themselves but simply playing, and the only relief mum and dad are getting is that evening drink, or two or three, that allows them to relax and forget this nightmare for a bit.
Also on rt.com
UK moves to relax Covid-19 restrictions but Brits beg to #KeepTheLockdown, despite being cooped up since March
For single people, the elderly, the lonely and the poor, it is an even more miserable hell. We have all clung to the mantra "It's the science that matters" and having locked ourselves indoors, stayed out of the shops, parks and churches, we have been successful in hitting an R number well within the range required before normal life resumes.
And while we're happy to turn out on Thursday evenings to clap for a cause and are delighted the killer grip of Covid-19 is loosening, the latest infection statistics in London finally offer our leaders a chance to make a real difference and give us some hope that this pandemic is passing.
So come on PM, it's time. Let us people go.
If you like this story, share it with a friend!
The statements, views and opinions expressed in this column are solely those of the author and do not necessarily represent those of RT.
You can share this story on social media: