We're fighting a First-World Problem War: West's 'soft middle' is making a meal of lockdown 'suffering' and needs to grow up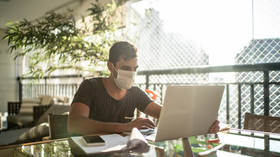 While millions are caused real pain by the pandemic, too many well-off metropolitan types are whining about shockingly trivial stuff to show how they're 'struggling'. They need to get some perspective and wind their necks in.
Let's get this straight: The Covid-19 pandemic is a BAD thing. Consequently, many, many people have good reason to scream out their problems – through peaceful protest, social media, radio phone-ins or by stripping naked, climbing a 5G mast and shouting at its antenna in the hope that it will broadcast their pain to everyone with a phone.
Unfortunately, some people, of a certain type, are screaming about embarrassingly 'First-World' problems – and their voices are louder than most.
Also on rt.com
Becoming unemployed during the pandemic has taught me, a woman, that 'being a man' sucks
You don't need much of an IQ to understand that millions of livelihoods going down the toilet, a rise in domestic violence, families being separated, an imminent global recession, and the small matter of tens of thousands – and counting – of agonising, unnecessary deaths cannot in any sane way be seen as a positive.
I also understand, from very real personal experience, the effect being had on many people's mental health, for all number of reasons: isolation, insulation, frustration and other 'shun' words.
But when what I'll call the 'soft middle' tell the world VERY LOUDLY that they're "struggling" with not being able to go to the pub or the f**king garden centre because they really want some f**king begonias, or that the national shortage of '00' flour has them in tears, or that they can barely cope without being able to drive to the f**king seaside... well, it's a bit tragic.
This 'soft middle' are people who are financially comfortable. They've got gardens, they've got cars, they've got f**king pizza ovens. They've got social and support networks to Zoom with and, while it's understandably saddening that they can't be physically close with friends and family, at least they've got friends and family.
Also on rt.com
Class divide: Nearly TWO-THIRDS of British working class unable to do jobs from home amid Covid-19 crisis, new data reveals
They seem oblivious to the people with no income or no home. The vulnerable people who can't get a visit from a social worker. The people imprisoned, by rules and by fear, in small one-bedroom flats on the 10th floor of a tower block. The families trapped in overcrowded, inhumane housing, supplied by slum landlords who will boot them into the gutter without hesitation.
These people don't have the dilemma of what to watch on f**king Netflix.
It's as if the 'soft middle' want to 'join in' the suffering. That this is their generation's chance to have a struggle that they talk about for the rest of their days, like your Nan and her endless war stories. It's as if they think this disease will define them: The 'Covid Generation'. Perhaps they even want that?
I understand that all suffering is relative. I blew a gasket last week because I'd bought some really cheap paint brushes and they were ruining a painting I was doing of Miami Beach for my newly-refurbished bathroom. And you don't want to hear the language I used when I opened my tube of 'burnt umber' acrylic paint to discover it had separated in the heat and was unusable (you try creating a convincing shade of 'damp sand' without it).
Also on rt.com
Disabled school children, like my teenage daughter, are being badly failed by the UK government & its lockdown strategy
But I don't go on social media pretending that any of this is a serious problem.
I hate buzz phrases and I really hate 'check your privilege' but, for the only time in my life, I'm going to endorse it. So, 'soft middle': Check your privilege. Don't be defined by a bug because, if you are, you're going to look very silly when your grandkids ask, "What did you do in the pandemic?"
Instead, enjoy your good fortune and hope that this is as bad as life ever gets for you.
Think your friends would be interested? Share this story!
The statements, views and opinions expressed in this column are solely those of the author and do not necessarily represent those of RT.
You can share this story on social media: