Elon Musk comes clean as the Bond villain that he is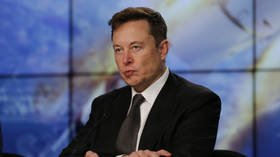 Elon Musk has taken Gordon Gekko's "greed is good" mantra to a whole new level with his "FREE AMERICA NOW" tweet – clearly ignoring the fact that the USA is currently suffering from a third of all coronavirus cases in the world.
Elon Musk strikes me as someone who could've easily ended up being typecast as a nasty villain in bad B-movies if his ego-fueled ambitions had led him down a different career path instead of becoming one of the richest entrepreneurs on the planet.
The billionaire certainly came across as the bad guy during the Tham Luang cave rescue when he called one of the mission's key advisers, Vernon Unsworth, a "pedo guy" and then brazenly urged him to sue over it. The mind boggles still at how Musk didn't lose that particular libel case.
He might not have chased the Hollywood dream but Musk clearly relishes being in the limelight just like your typical publicity-hungry movie star. And if Hollywood did ever make a movie about the actions of prominent global figures during Covid-19, they would need to look no further than Musk after he made the news for all the wrong reasons with his dubious tweets about the pandemic.
Also on rt.com
Elon Musk steals even more of the night sky as he launches another batch of his planned 40,000 satellites
Another usual suspect for the starring anti-hero role in all this would be Amazon's founder, Jeff Bezos, who I recently described as being "the world's most selfish man." But I'm now seriously reevaluating this stance in light of Musk's antics – or perhaps I can now justifiably go one step further and ask: Is Musk the most dangerous businessman on the planet?
The South-African born entrepreneur once described his own estranged father as a "terrible human being" – but in Musk's case, does it indeed take one to know one? How else would you describe his electric-car company's recent decision to lay off 280 staff – mostly janitors and bus drivers, according to reports – while most tech giants such as Facebook, Google, Apple, and Microsoft all committed to keeping their workers on during the pandemic.
It would be quite understandable if Tesla was losing money hand over fist – just like the majority of multinationals during what is transpiring to be the worst economic crisis since the Great Depression – but Musk is about to pocket $650 million in profit, according to the latest figures. Talk about being shameless.
Also on rt.com
'How do you still exist?' Musk unloads on CNN after claims his ventilators were never delivered to California hospitals
The savage cutbacks – by laying off those workers instead of paying their measly $15 an hour rate for an estimated 12 weeks of the lockdown – will only save approximately $2.016 million. It is small fry compared to his total worth of almost $40 billion.
At this point, the most sensible course of action for most Scrooge-like types would be to count the money and run – or speed off in an electric-car in his case. Our anti-hero here could have quite easily sailed off into the sunset on his own private luxury yacht with servants that he most certainly wouldn't have dared to furlough. But, in his infinite wisdom, Musk sought the spotlight, yet again, on Wednesday with his melodramatic tweets to "FREE AMERICA NOW" and "Give people their freedom back."
He then later doubled down on his radical views by claiming: "The extension of the shelter in place or – frankly I would call it forcibly imprisoning people in their homes against all their constitutional rights in my opinion – is breaking people's freedoms in ways that are horrible and wrong and not why people came to America or built this country."
It would've certainly been a very valid point if he was talking instead about Spain with its extreme lockdown that has prohibited any form of public exercise since March 14 – with children there only allowed to venture outside again last Saturday, and with adults finally getting back some freedom this weekend.
Also on rt.com
Elon Musk's coronavirus PR stunt goes awry after promising to manufacture ventilators, but only 'if' there are shortages
But, let's not kid ourselves here, it has been a "soft" lockdown approach in the USA – one which many Americans have blatantly disregarded anyway judging by their packed beaches. You have to admit that Musk's tweets about freeing America were OTT when compared to the dire situation in Italy or Spain.
It's curious how Musk has waited until right now, at a time when the coronavirus pandemic is sweeping across the US like wildfire, to make his public call for an end to the lockdown. It's very hard to understand why anyone would claim the "coronavirus panic is dumb" when the US has just topped one million confirmed cases – nearly a third of all cases worldwide. The death toll there has now topped 60,000, which is more than the number of Americans killed in the Vietnam War from 1955 to 1975.
It doesn't take one of Musk's own rocket scientists to figure out what is going on in his narcissistic mind. It's hardly a coincidence that he is spouting dangerous nonsense at the very moment his precious company Tesla "said forced shutdowns and limits on deliveries had clouded its forecast for coming months," as the BBC reported yesterday.
Also on rt.com
'There is no future,' muses Ford CEO Jim Hackett after pocketing $52mn
After several years of losses, Musk's company had miraculously just made its third quarterly profit against all the odds during the pandemic – but it's likely to nosedive again the longer his factory in California remains shut with a stay-at-home-order running until May 31, which could be extended. Musk has described it as a "serious risk" to business – and it's clear this self-interest is his only motive to "FREE AMERICA NOW."
It's nothing short of irresponsible to keep the money-making show on the road. Looking at Musk now, he reminds me of the nasty Gru from the 'Despicable Me' franchise – but even this supervillain had a heart when it came to looking out for his Minions. You certainly couldn't say the same about Despicable Musk.
Like this story? Share it with a friend!
The statements, views and opinions expressed in this column are solely those of the author and do not necessarily represent those of RT.
You can share this story on social media: