'There is no future,' muses Ford CEO Jim Hackett after pocketing $52mn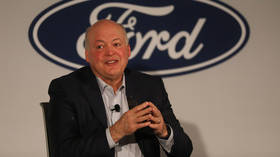 Ford's Q1 sales plummeted to a paltry 1.1 million cars. While that's still more than the total ever sold by Tesla, Elon Musk is recording magic profits, while the multinational automaker has bombed, recording a $2 billion loss.
Ford CEO Jim Hackett is grossly overpaid, relative to his performance. His total compensation for 2018 was $17.8 million. Compare that to Ford's median employee pay of $64,316.
On January 2, 2018, Ford's share price was around $13.20 per share. On December 31, 2018, its stock price closed out at about $8.08 per share. If you were an investor in Ford's shares, you would have lost 39 percent. Jim, however, made that cool $17.8 million – a nearly 7 percent increase in pay from 2016.
So, did those shares improve from Jan 2019 to April 30, 2020? If you stayed the course with Ford under Hackett, you would have lost another 42 percent, but his pay was cut by only 2.2 percent to $17.4 million. Poor Jim.
On Ford's first-quarter-earnings conference call, Hackett got philosophical, proclaiming, "There is no future," while trying to explain Ford's whopping $2 billion loss and perhaps an even bigger $5 billion dollar loss to come for FY 2020. Jim's comment may well become as famous as Nietzsche's "God is dead."
Of course, Nietzsche didn't pocket $52 million in compensation for 2017–2019 to ease his angst. Neither did Ford's shareholders or employees, who are lined up for a 2020 culling.
How could anyone possibly criticize the chief executive of Ford for a $2 billion loss in Q1? Hackett didn't follow his 2014 predecessors, Alan Mulally and Mark Fields, by doing substantial stock buybacks that ultimately weakened Ford's balance sheet. Instead, during Ford's Q1 earnings report, he provided analysts with a historic philosophical lesson, a kumbaya moment, of "two truths."
As he explained, the "first truth" revolved around safety: "The communities you live in and, amazingly, all the other humans you interact with – their safety guarantees your safety."
His "second truth" was "There is no future if we don't have an economic system that is always on. We didn't realise there was an off switch. We knew it might go into a recession – more like a dimmer switch – but off…! Now, as we bring these two truths together, they compete. Turning the economy back on challenges the question of whether it is safe enough." He continued: "[We're] managing this paradox and confirming we have control of the business in a very difficult time." OMG. Too funny.
So, what is the paradox, Jim? How, under your leadership, Ford tanked and may go bust, but you get to laugh all the way to the bank with over $50 million in your pocket – a paradox that could result in more than 200,000 lost jobs? That's a grim third truth, Jim.
According to Ford's quarterly earnings report of March 31, 2020, Ford debt, excluding Ford credit, was $30.5 billion, including automotive debt of $30 billion. These balances were $15.2 billion and $15.3 billion higher, respectively, than on December 31, 2019, primarily reflecting the draws on its credit facilities. An additional $8 billion in unsecured debt issuance in April 2020 is not included in these amounts, making the debt $38.5 billion.
This year, the stock has plummeted another 42 percent, and Ford's credit status has been downgraded to junk by the nationally recognized statistical rating organizations.
Hackett needs to channel ancient Chinese philosopher Sun Tzu to whip up an electric-vehicle program at Ford that can garner tax subsidies and green credits while generating carbon-emissions credits – just like Elon Musk does. The market cap of Tesla, Inc. is around $145 billion, while Ford's is a meager $21 billion.
In California, the carbon-emissions-credit markets are booming. Hackett might even be able to steal some of Musk's green thunder and have hundreds of millions of dollars shower down upon him and Ford for being green and mean, like St. Elon of Fremont.
Maybe there is no future, but heck – he's $52 million ahead of the game.
Think your friends would be interested? Share this story!
The statements, views and opinions expressed in this column are solely those of the author and do not necessarily represent those of RT.
You can share this story on social media: