Why Spain's handling of Catalonia is NOT a way to 'beat' Scottish independence as Labour's Lisa Nandy suggests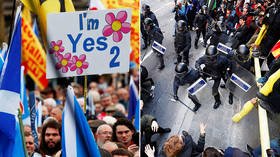 Labour leadership contender Lisa Nandy has lit a match under the Catalan independence issue, angering Catalans and Scots alike. It's business as usual for Britain's chaotic Labour Party.
If there's one thing that Labour's leadership contest isn't short of, it's farce.
Corbynista Rebecca Long-Bailey isn't being attacked for her off-the-wall economics, but because a section of the Labour membership don't want a Catholic as leader. If accusations of anti-Semitism and offending Hindus weren't enough, they would seek to take on Christians too. Not the best look to win votes.
The knighted, Oxford-educated, posh, Remain-backing Keir Starmer somehow seeks to win back Northern working-class Leave voters. He's likely to win: Labour's 'progressive' brand of politics doesn't extend to their own membership. Every time a man has stood against a woman in any Labour leadership election in history, the man has finished on top.
Jess Phillips, best known for swearing at Diane Abbott, threatening to knife her own leader in the front, and claiming to have grown up in a 'naked household', has a hat in the ring.
Then there's Emily Thornberry, who famously disparaged the English flag, yet flies an EU one in her office window.
Also on rt.com
'Beyond belief!': Labour leadership hopeful enrages Scots after using Catalonia as example of how to 'beat divisive nationalism'
Now, the other candidate – Lisa Nandy, the candidate who's so forgettable she's likely to become a future 0-point answer on the quiz show Pointless – has waded into the Catalan and Scottish independence debates with an open mouth. Catalonia, apparently, shows the UK a thing or two about how to "beat narrow and divisive nationalism with a social justice agenda."
This rather odd characterisation of the Catalan situation omits the repeated election of pro-independence Catalan governments and the jailing of pro-independence leaders. The Spanish government dusted off never-before-used emergency powers under Article 155 of their Constitution to suspend the Catalan government and fire top Catalan police officers perceived as being pro-Catalonia, whilst under new leadership the police have been accused of excessive brutality against protesters: hardly the "social justice agenda" which Nandy describes.
There's another key difference between the UK government's opposition to Scottish independence and the Spanish government's intransigence on talks with Catalonia. The UK gave Scotland huge devolution, whilst Catalonia has less power than the Basques do. And, of course, Scotland was given a similar opportunity to make the decision on independence through a referendum. They voted to stay in the UK.
Lisa Nandy's comments come hot on the heels of Boris Johnson's refusal to permit a second Scottish independence referendum, much to the disquiet of the Scottish government. An imminent second referendum in Scotland would in my opinion be illogical: when people vote in a referendum, they take a once-in-a-generation decision. The politicians calling for another Scottish referendum today accepted that it would not be repeated.
Also on rt.com
Scottish referendum rejected: Johnson sought to put Sturgeon in the box, but she's a jack-in-the-box
There will come a time when, if support for Scottish nationalism remains substantial, it will be appropriate for the question to be put again – but that will not be for at least another decade.
Conversely, Catalonia has had no such legitimate democratic means by which the people can express their will. They attempted to hold a referendum, which the Spanish government ruled illegal, confiscating ballot boxes. 90 percent of those voting wanted independence, though that's only half the story: most pro-Spanish voters simply boycotted the poll. A full referendum in Catalonia would be on a knife-edge.
The situation in Catalonia is a complex one. There are always two sides to the story, but frankly, I'd have expected better from recent Spanish politics than factions competing to see who could be toughest on Catalonia and win more votes in the rest of Spain. When Lisa Nandy wades into foreign policy with such ill-considered comments, stoking anger in Catalonia and Scotland alike, she's creating a problem. How are the general public supposed to see her as a potential future Prime Minister, when her words are likely to spark fury and ignore what's actually going on?
Also on rt.com
Tyranny of the minority: The Сatalonia litmus test proves European elites ignore referendums
Ironically, I've never been particularly pro-Catalan independence – I just believe in democracy so much that I want the Catalan people to have the right to decide their own destiny. It's that self-determination thing that the European Union always bangs on about, yet turns a blind eye when it's pro-EU Spain that's not respecting that right.
The new Spanish government is trying to calm the situation down and is entering talks with Catalan leaders. It's a coalition led by Pedro Sánchez of the PSOE, the sister-party of the British Labour Party – which Lisa Nandy is hoping to lead. I can only imagine the face-palm moment from Spain's new prime minister when he realised that an obscure, soon-to-be-forgotten British politician was making his job so much harder.
Like this story? Share it with a friend!
The statements, views and opinions expressed in this column are solely those of the author and do not necessarily represent those of RT.
You can share this story on social media: