Impeachment circus begins in earnest, and will change nothing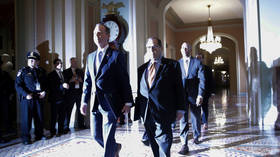 The impeachment trial of President Donald Trump has begun. After years of Democrat hyperbole, it kicked off with a series of pompous theatricalities that will likely do nothing to change its final outcome.
Thursday saw the culmination of a process that began in August, when an anonymous intelligence agency whistleblower first complained about a possible 'quid pro quo' between Trump and Ukrainian President Volodymyr Zelensky, based on a July phone call. Put short, Democrats allege that Trump pressured Zelnesky into reopening a corruption investigation against Joe Biden's son, Hunter, using military aid as leverage. Trump and Zelensky deny the allegations, with Trump accusing the Democrats of running a partisan "witch hunt."
Also on rt.com
Pelosi announces impeachment managers, House votes to send articles to Senate for trial (VIDEO)
Of course, the impeachment of Donald Trump really began on November 9th, 2016. Grounds for impeachment touted by Democratic Congressmen since then have ranged from Trump's alleged violations of the Foreign Emoluments Clause, to his supposed collusion with Russia, to even more laughable charges like "Associating the Presidency with White Nationalism, Neo-Nazism and Hatred" and "ignorant" name calling.
Politico even laid out possible grounds for impeachment in an April 2016 article - months before Trump even became the Republican nominee.
When the House voted to impeach Trump in December (strictly along party lines), Speaker Nancy Pelosi - clad in black to signify the gravity of the proceedings - had to shut down applause from her Democratic colleagues, reminding them that the vote was a "sad" occasion.
The same pretence of solemnity was maintained on Wednesday night, when her hand-picked team of impeachment prosecutors physically walked the articles of impeachment to the Senate. All seven prosecutors - who supported impeaching the president long before the Ukrainian shenanigans were revealed - remained stone-faced on the funeral march.
But none of this matters. The Republican-controlled Senate will almost certainly vote to acquit Trump. No concrete evidence of wrongdoing was revealed during the House Intelligence Committee's inquiry, and none of the second-hand witnesses to Trump's infamous phone call with Zelensky revealed any smoking gun evidence. Senate Majority Leader Mitch McConnell has ignored Democrat pleas to admit more witnesses and more evidence, arguing that the House's case be tried as is.
Meanwhile, Republicans ridiculed Pelosi for sitting on the impeachment articles for four weeks, despite Democrat claims that Trump posed a "clear and present danger" to national security, and Pelosi's insistence that removing him was an "urgent concern."
Any doubt that impeachment was a partisan affair was removed by Pelosi on Wednesday night, when she handed out souvenir pens to reporters after signing the articles, posing in front of a lectern with a placard reading "#defendourdemocracy" on it. McConnell described the signing ceremony as "The House's partisan process distilled into one last perfect visual. Not solemn or serious. A transparently political exercise from beginning to end."
McConnell is not above partisan games either, and has openly pledged to work with the White House to see Trump acquitted.
Which begs the question, what was it all for? If Trump is acquitted, the Democratic Party has no political capital left to launch another impeachment campaign, even if Trump blatantly commits the "high crimes and misdemeanors" necessary to trigger an actual, bipartisan impeachment effort.
Trump then also gets to claim victory, with an acquittal justifying his cries of "witch hunt" and "presidential harassment," further solidifying his base and embarrassing the Democrats in front of undecided voters. Pelosi stated on Sunday that regardless of the trial's outcome, Trump is "impeached for life," but Trump is louder and brasher than Pelosi, and will milk an acquittal for all it's worth.
Even as the trial against him formally opened on Thursday, the president celebrated the passage of his US-Mexico-Canada Agreement, his second trade win in two days. His approval rating also rose to 51 percent, the highest it's been since he was impeached just over a month ago. All of this strengthens his argument against the party he's taken to calling "Do Nothing Democrats."
Also on rt.com
US Senate passes US-Mexico-Canada trade deal in another big win for Trump
Trump's continued tenure in the Oval Office will be decided by voters this November, not by a piece of flashy political theater beforehand. The trial will be a PR battle to see which side can serve more fodder to their hyper-polarized bases before the inevitable result, and Trump looks set to win that showdown. After all, Nancy Pelosi is a lifelong lawmaker. Trump was a professional wrestling promoter - and participant.
By the time the House voted to impeach Trump, the inquiry had cost an extremely conservatively estimated $3 million. Clinton's impeachment in 1998 cost more than $45 million, adjusted for inflation.
By the time the current impeachment circus leaves Capitol Hill, the partisan pay-per-view will have cost the American taxpayer tens of millions of dollars, slowed the passage of actual consequential legislation, drowned out media coverage of Trump's 2020 rivals, and potentially secured the president a second term in office.
All that over a lousy phone call.
If you like this story, share it with a friend!
The statements, views and opinions expressed in this column are solely those of the author and do not necessarily represent those of RT.
You can share this story on social media: