Rock 'n' Roll Hall of Fame just inducted Whitney & Biggie. A travesty or recognition it's not all about white boys with guitars?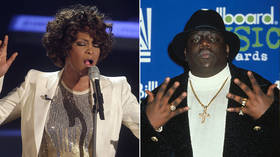 Whitney Houston, Depeche Mode, The Doobie Brothers, and The Notorious B.I.G. are among this year's Rock 'n' Roll Hall of Fame inductees. A worthy list, but here are the deserving names that are still missing.
Let's deal with the most obvious objection first – that at least half of the newcomers have nothing to do with the letters on the giant glass pyramid in Cleveland.
Rock 'n' roll was born of genre-mixing and "cultural appropriation." The rock 'n' roll anti-tradition tradition is a part of an Americana that has flowered and spread the world over, influencing cultures everywhere, and likewise bearing the influence of other cultures as well.
Also on rt.com
'Respect': LA Lakers pay tribute to deceased rapper Juice Wrld (VIDEO)
More than a music genre, rock 'n' roll is a cultural and musical movement. It began in the 1950s, as black American gospel music merged with more aggressive rhythm-and-blues beats. Rock 'n' roll has drawn on such musical traditions and cultural influences as gospel, blues, country, soul, and jazz. It has incorporated elements of classical orchestra music, while involving a broadening palette of technological innovations.
It's therefore wrong to limit rock 'n' roll to the genre of 'rock' music that emerged out of rock 'n' roll in the late 50s, early 60s. On the same note, it's wrongheaded and chauvinistic to decry the inclusion of such genres as rap, hip hop, R&B and other pop genres in the category. Though Gene Simmons declared rock dead when rap and hip hop joined its ranks – in the Rock 'n' Roll Hall of Fame and otherwise – established rock performers and fans likely said (or thought) the same about Simmons' group Kiss when its form of glam, shock, and heavy metal music – mixed with blood, gore and comic-strip costuming – hit the scene in the 70s.
In fairness, the begrudging and late inclusion of Kiss, and the continued exclusion of other eligible and worthy heavy metal bands – Iron Maiden and Jethro Tull are still out – is a sore point for bands and fans alike. And this is only one of the 'underrepresented' groups.
Also on rt.com
Kanye enters the culture war with 'Jesus is King' – and it's a rebellion
There are veritable rock 'n' roll legends, who not only fit in with the existing inductees generically and otherwise, but should've been included "long ago." While "there's always next year," some of the continued omissions to date are becoming downright glaring.
Among those most conspicuous for their absence are legendary women.
The more-than-well-deserved induction of Whitney Houston this year only underscores the snubbing of Carole King's. King is already inducted, but as one of the belittlingly named "non-performers," for her Brill Building songwriting.
King's award-winning and critically-acclaimed 'Tapestry' (1971) is iconic, as well as being one of the best-selling albums of all time. On 'Tapestry,' King sang and played on every song. Her performance is uncannily simple yet profound. The album held the record for most weeks at number one by a female solo artist for over 20 years – until surpassed by none other than Whitney Houston, whose The Bodyguard: Original Soundtrack Album' was released in 1993.
Including King and others would help remedy what some argue is a wide gender gap in the recognized pantheon. Only eight percent of its inductees are women. Again, there's still time, but in the case of Roberta Flack, Diana Ross, Grace Jones, Dolly Parton, and Buffy Sainte-Marie, the time should have come by now.
And while it is fitting that Biggie has joined his West Coast rival Tupac Shakur, in the hall, there are still major hip-hop pioneers missing – from Gil-Scott Heron to Outkast.
But, as with all human affairs, rock 'n' roll, nay, especially rock 'n' roll, is a messy business. And it is, after all, only rock 'n' roll. As a matter of artistry and cultural tradition, the symbolic importance necessarily makes the recognition of its artists and aficionados a matter of real importance – and much subjectivity. Though whether that's a good enough reason for STILL not inducting Kraftwerk is less clear.
Like this story? Share it with a friend!
The statements, views and opinions expressed in this column are solely those of the author and do not necessarily represent those of RT.
You can share this story on social media: