Chelsea Clinton has made $9 million from one board seat. Let's see how this go-getting multi-millionaire worked for her fortune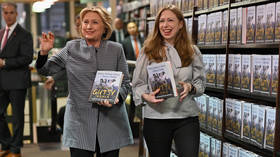 Chelsea Clinton's charmed life (surely not based on nepotism & name recognition alone!) continues without impediment, in full view of an American public that just doesn't seem bothered.
As reported by Barron's, Chelsea Clinton's stock in the internet conglomerate IAC/ InterActiveCorp has recently been valued at $9 million. That's on top of the $50,000 annual retainer she receives, and the $6 million windfall she secured for becoming a board member in 2011.
That board membership at IAC is but one of many extremely lucrative posts that the daughter of Bill and Hillary has lucked upon since college.
Also on rt.com
Friendly media paints Hunter Biden's drug addiction as a plus to prop up his father Joe
After graduating from Oxford in 2003 with a master's degree in politics, Clinton habitually assumed roles at organizations run or owned by her parents' friends.
The younger Clinton's grafted wealth began with a post at McKinsey & Company, landed thanks to Barry Diller, a billionaire, Clinton family friend, and major campaign donor.
Diller also helped the young Clinton to the post at IAC and the one at Expedia. Marc Lasry and Sonia Gardner, founders of Avenue Capital Group and major contributors to Hillary Clinton's Senate re-election campaign, helped her to a job there.
Here's my estimate of Chelsea Clinton's career by the numbers – or at least looking at the posts that have been widely publicized:
- 2003-2006 - manager at McKinsey & Company (consulting firm) - $50,000 – 120,000/year
- 2006-? - "undisclosed capacity" at Avenue Capital Group (hedge fund) - $100,000/year plus bonuses
- 2010-2013, vice provost at New York University, Global Network University - ?
- 2011-2013 part-time "Special Correspondent" at NBC News - $600,000/year
- 2013- co-founder, co-chair at Of Many Institute, New York University - ?
- 2011-present – Vice Chair at The Clinton Foundation - ?
- 2017- present - board member at Expedia - $250,000-299,957/year in cash and stocks for attending six meetings
- 2011-present - board member at IAC - $50,000/year plus $6 million to join and $9 million in stocks
I take anything relating to Chelsea Clinton's sinecures personally.
As a professor at New York University for several years before Chelsea Clinton was handed the position as a vice provost of NYU's Global Network University, I was particularly disgusted and demoralized by the handout.
Also on rt.com
I was a liberal NY prof, but when I said the left was going too far, colleagues called me a NAZI & treated me like a RUSSIAN SPY
I had earned a PhD from Carnegie Mellon University and had 17 years of experience in higher education under my belt – including at Case Western Reserve University, Carnegie Mellon, the University of North Carolina, and Duke. Clinton, on the other hand, had a mere master's degree, zero experience or knowledge of higher ed, and no other academic credentials.
Yet she was made a vice provost of NYU's most important initiative.
In an interview about her roles at NYU, Clinton breezily admitted she took the job to pay for her PhD studies, that she was curious about "how academia works and specifically how NYU works," and claimed she worked "really hard" on a job that she held concurrently with the one at NBC, where she made $600,000 for four appearances.
Clinton's tenure at NYU began under the corrupt administration of NYU President John Sexton, whose exploits included the university's founding of a finance company that granted and forgave mortgages of top administrators and favored faculty, including Sexton himself. Sexton and his buddies were gifted multi-million-dollar first and second homes, including vacation hideouts in the Hamptons and Fire Island. This embezzlement, among other crimes, led to votes of no-confidence by the faculty of five NYU schools, and to Sexton's retirement from the position in 2016. Sexton, who in addition to two homes received $1.3 million per year in salary while president, receives $800,000 per year as part of a retirement package – for his fine "service" to the university.
Did Clinton lose any money or her good name over being entangled in all this? What do you think?
Meanwhile, the starting salary of a professor in my department – working full-time lecturing, marking and researching – was approximately $55,000 per year in 2008 and had reached around $60,000 by 2012. Full professors earned around $80,000. I retired a full professor in January 2019.
No wonder I feel resentful.
But what annoys me more than any financial disparity between me and Clinton, is how the media has blithely applauded every new appointment of this golden child, maintaining the fiction that this is all the result of meritocracy – a young high-flying woman conquering one professional field after another.
Also on rt.com
'We're not allowed to talk about anything wrong in the party': AOC trashes the Democratic establishment
Democratic politicians regularly talk about race and gender privilege, but here is actual provable –and quantifiable– privilege, on a scale that the vast majority of men, or generic white people could not even imagine for themselves. And all we get is the occasional unflattering article or grumble from a former official with nothing to lose that lets Clinton complain about being the subject of "vitriol." What can you do?
Now, let's talk Hunter Biden.
If you like this story, share it with a friend!
The statements, views and opinions expressed in this column are solely those of the author and do not necessarily represent those of RT.
You can share this story on social media: