Iran's Khamenei appoints Soleimani's deputy as new head of Quds Forces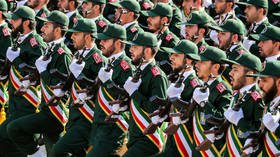 Brigadier General Esmail Ghaani was appointed to lead Iran's elite Quds Force after its previous commander, Major General Qassem Soleimani, was killed in a US airstrike on Friday.
The unit's program "will stay exactly the same" as it was under Soleimani, Iranian Supreme Leader Ali Khamenei said, as quoted by Tasnim News Agency.
Ghaani has served as Soleimani's second-in-command.
Soleimani, who had led the Quds Force for more than 20 years, was killed in a US drone strike at Baghdad's airport on Friday morning. Abu Mahdi al-Muhandis, the deputy head of the Iran-backed paramilitary Popular Mobilization Units (PMU), and eight other officials had died with Soleimani.
Khanemei promised "harsh revenge" on those responsible for the attack, and said that the death of one of his top military leaders will only bolster resistance against Iran's rivals in the Middle East.
The Quds Force is a unit within the elite Islamic Revolutionary Guard Corps (IRGC) that specializes in operations abroad.
Also on rt.com
'Trump just threw a dynamite stick into a tinderbox': US Democrats savage US strike that killed Iranian Quds chief Soleimani
Think your friends would be interested? Share this story!
You can share this story on social media: