Ripping the heart out of Labour's heartlands: How Johnson snatched working-class towns from under Corbyn's nose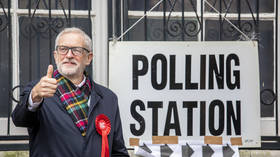 No wonder working-class towns are abandoning Labour: the 'threat' of Thatcher is 40 years old; the threat of Jeremy Corbyn becoming prime minister was real and present only yesterday.
Go to any working-class community and you'll find old-fashioned Labour supporters speak of the Thatcher government in such negative terms that they still hate the Conservatives even today, 40 years on. They pin 100 percent of the blame on the Conservatives for the decline in manufacturing and the loss of the coal-mining industry. In the meantime, they've forgotten what they're actually fighting for.
When I was elected in the North East, I spent time in Blyth Valley – a deprived but incredibly warm and friendly community which had voted Labour ever since the constituency was created. Last night, my defining moment of the election coverage was seeing them vote for the Conservatives. My family come from Scunthorpe, a town which has voted Labour every time for the last 32 years – until people woke up this morning to find they'd elected a Conservative MP with a landslide. This election has been a tidal wave of blue.
Also on rt.com
Labour's failure to realise this was a 2nd Brexit referendum hands Britain to Boris
It's difficult to say whether the fear of Jeremy Corbyn or the fear of Brexit being betrayed was the greater driving force – but the combination of the two provided a level of motivation I've never seen. Former Commonwealth title-winning boxer Ross Burkinshaw, who had never voted before in his life, rushed back home to vote for the Conservatives. He told me that he'd been undecided between the Conservatives and the Brexit Party – a true ABC voter, Anyone But Corbyn. From reported connections with the IRA to voting against banning Al-Qaeda, as an ex-soldier he saw Corbyn's threat to national security as very real. Traditional Labour working-class voters felt likewise: this Islington iteration of Labour means nothing to them. Even Dennis Skinner, in Bolsover, was swept away by the wave. Labour had forgotten to tend to its heartlands. The scale of the defeat could have been even worse: many voters chose the Brexit Party instead of Conservatives; some Lib Dems shifted tactically to Labour.
Labour responded with negativity. It threatened that Conservatives would sell off the NHS. But like the boy who cried wolf, they did so once too often: they'd made similar claims of Tory threats to the NHS in 2010, 2015 and 2017. For most of the time the NHS has existed, it's been in Conservative hands. This time, the claim wasn't believed – or if it was, the threat of Corbyn and losing Brexit was seen as even bigger. Labour's economic claims weren't just exaggerated (parties do that all the time), but so exaggerated that nobody was really surprised when they announced an extra £60 billion spending commitment (double the size of the EU 'divorce bill') during the campaign that wasn't in their manifesto. £60 billion doesn't just appear from behind the sofa.
Also on rt.com
Conservatives gain enough seats for outright majority in UK Parliament
The Conservatives have their landslide. They've lost many of the affluent, so-called 'blue rinse brigade' and replaced them with patriotic, often nationalistic, working-class voters. These new Tories will be 'right-wing' on social issues: tough on crime, immigration and determined to see Brexit – but much more 'left-wing' when it comes to economics. They face a serious challenge to keep those voters next time, when Labour may well be led by someone less radical than Jeremy Corbyn. Yet Labour also face a challenge to win them back.
Corbyn was the catalyst; Brexit was the lightning-rod. The nature of British politics has fundamentally changed. The only question is whether this realignment is temporary or permanent.
Think your friends would be interested? Share this story!
The statements, views and opinions expressed in this column are solely those of the author and do not necessarily represent those of RT.
You can share this story on social media: