NATO's attack on Kaliningrad could prompt Russia's nuclear strike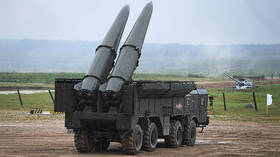 An attack by NATO on Russia's westernmost exclave Kaliningrad – a scenario that's been speculated about in the media lately – would lead to a nuclear apocalypse and affect even countries not involved in a hypothetical conflict.
International media have recently made regular publications on how Kaliningrad – the Russian outpost in Europe – could be 'captured'.

Such publications serve the interests of NATO members' military and industrial complex, according to Kaliningrad's governor Anton Alikhanov.
"Neighbouring countries dream of hosting military personnel because it's all about money. Now, to be honest, Kaliningrad is only building up its defense infrastructure in response to mounting offensive capabilities in the Baltics, Poland and elsewhere. It is not about an 'aggression,' these are merely reactive measures," he told RIA Novosti.
Earlier this year, General Jeffrey Lee Harrigian, Commander of the US Air Forces in Europe and Africa, said that the Pentagon had designed a plan to take down the air defense system of the Kaliningrad Region in case of Russia's 'aggression'.
"We train to that. We think through those plans all the time, and… if that would ever come to fruition, we'd be ready to execute," he said as cited by the Breaking Defense.
Richard D. Hooker, Senior Fellow at the US-based Jamestown Foundation, offered his scenario of a potential conflict between Russia and the alliance in the Baltics. Russia would definitely lose the Kaliningrad Region, he stated.
Also on rt.com
NATO expansion towards Russian borders 'one of the potential threats' to us but Moscow is ready to talk – Putin
According to China's Eastday.com, NATO could seize the Russian exclave in two days.
Let's start with Gen. Harrigian's comment. First of all, there is no intelligence that Russian troops are gearing up for an offensive in Kaliningrad, and the Allied Joint Forces Command is fully aware of that. It means there are no signs of strategic and operational deployment of assets in the region.
The Russian military's activities in Kaliningrad are in no way beyond those characteristic of the peaceful time. NATO does not have any intelligence reports suggesting that Russian troops have moved to the wartime posture or that there has been any operational deployment to this theater or any strategically significant movement of forces or concentration of top-priority strategic reserves.
There is absolutely no sign that missile, artillery or electronic warfare support units have been moved to designated positions in the Kaliningrad Region and made combat ready for a strike. No troops have been sent to stand ready in operational areas of deployment. Zero aircraft has been relocated to any of the frontier airfields. In fact, Russia simply does not have enough assets on station there to launch an offensive, and every NATO expert in operational and strategic planning knows that.
Regarding the Pentagon's plan to take down the air defense system in Kaliningrad in case of Russian 'aggression', this is just one of many operational objectives, or even a part of it, that military planning should envisage.
Also on rt.com
Trump berates Macron for 'nasty statement' about 'brain-dead NATO', chides allies for not paying enough
If NATO is indeed working on a defensive operation to protect the regions that border on Russia's exclave in the Baltics, the general should at least shed some light on the contents of that mission. Among the key objectives, the alliance should deploy its troops and prepare for defense, disrupt the adversary's air offensive, block the advancement of the assault groups of Russia's ground forces, stand ready to fight to defend designated tactical zones, carry out counter strikes, locate and destroy airborne and sabotage units, as well as guarantee the security of its critical infrastructure. That is supposed to be one big plan, and it looks like General Harrigian has laid his eyes only on about half a page from it.
As for Richard D. Hooker's report, it appears that he (as well as others) failed to grasp that a hypothetical showdown between Russia and NATO would not be limited to the Kaliningrad Region alone.
With NATO's conventional weapons surpassing Russia's capabilities (and in some aspects the gap is substantial), it's safe to assume that Moscow wouldn't just stand idly by while its forces are being crushed. It would immediately respond by using both tactical and strategic nuclear weapons.
Therefore, Western military commanders and experts are fundamentally wrong in their thinking that the battle for Kaliningrad would remain some sort of local action, without any spillovers.
Also on rt.com
NATO at 70: Sclerotic & bureaucratic zombie should be pensioned off
No doubt, Russia would be quick to demonstrate its resolve in using nuclear weapons. And in this type of war, Moscow would act decisively, with high precision and accuracy. In other words, as soon as the first shots are fired in the Kaliningrad Region, Russia will start using all weapons of mass destruction, first and foremost, strategic nuclear arms.
It is clear, however, that any use of weapons of mass destruction would have disastrous ramifications for the combatants and other states. The very first nuclear strikes would bring tremendous casualties that would only be multiplied due to the detrimental effects of post-strike factors. It would be impossible to continue any kind of regular conventional fighting after a nuclear exchange.
Now, a few remarks on the message posted by China's Eastday.com. It says that if NATO and Russia went to war, the bloc could seize the Russian region in a matter of two days. Our Chinese comrades are a little off with their timeline. The operation would not actually take this long, and the result would be very different. It would take Russia no longer than 40-45 minutes to launch a nuclear strike, and after that we would be able to do only one thing – discuss the peculiar aspects of the modern nuclear apocalypse.
To sum it up, the battle for Kaliningrad would under no circumstances remain an isolated military conflict. It would become just an episode of a global nuclear war. And even the countries not involved in this conflict would suffer the consequences. Unfortunately, these are the effects of using strategic nuclear weapons.
And all the experts and planners who draft scenarios of a war limited to a specific Russian region should keep this important factor in mind.
Think your friends would be interested? Share this story!
The statements, views and opinions expressed in this column are solely those of the author and do not necessarily represent those of RT.
You can share this story on social media: