Ukraine's most powerful oligarch states the obvious: Ukraine has to turn back towards Russia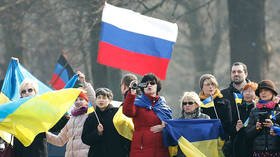 So, here we are, almost six years since the first "EuroMaidan" protests in Kiev, and Ukraine's most prominent oligarch has finally voiced the unmentionable: the project has failed.
"You all (the West) won't take us," Igor Kolomoisky told The New York Times. "There's no use in wasting time on empty talk. Whereas Russia would love to bring us into a new Warsaw Pact."
Even the dogs on the street know Ukraine is no closer to European Union membership than it was in 2013. Thus, Kolomoisky was only stating the obvious in an interview which has shocked people who are a bit slow on the uptake. That said, it's also somewhat hyperbolic to suggest Moscow wants to create a new "Warsaw Pact."
"Widely seen as Ukraine's most powerful figure outside government," according to the newspaper, the mogul's position as patron to new Ukrainian President Vladimir Zelensky is an open secret. And it's reasonable to assume that viewpoints he expresses run at least somewhat parallel to the beliefs of his protege.
Also on rt.com
Is this man the puppet master of Ukraine's new president or an overhyped bogeyman?
Who, of course, can't say this kind of stuff out loud, and may instead be waiting to see the reaction to the trial balloons flown by the billionaire. Internally, that is, because Zelensky has already made it clear he's less interested in Western opinion than his predecessor, Petro Poroshenko.
"We have to improve our relations," Kolomoisky said, comparing Russia's power to that of Ukraine. "People want peace, a good life, they don't want to be at war. And you (meaning the United States) are forcing us to be at war, and not even giving us the money for it."
Observers willing to be objective in evaluating Ukraine can clearly see the Americans have been using the country as a geopolitical tool against Russia. And on the cheap, to boot.
Marshall Spam
Instead of furnishing it with the kind of economic assistance once given to Cold War allies like West Germany and South Korea, it has drip-fed Kiev with barely enough funds to keep its head above water, all the while attaching stringent conditions on the little it's willing to provide. Meanwhile, Ukraine is bleeding people, with millions gone abroad, mostly to Poland and Russia.
This isn't what was pledged in 2013. Back then, Ukrainians were promised a roadmap to "European" integration. But here we are, six years later, and Brussels, engrossed in Brexit, has effectively washed its hands of the situation. With visa-free travel, something which benefits EU states looking for cheap labor as much as it helps Ukrainians, one of the few bones thrown to Kiev.
Also on rt.com
Ukrainian military & rebels begin new disengagement attempt in Donbass as low-intensity fighting continues (PHOTOS)
Of course, Russia's influence hasn't helped smooth the path. However, it was obvious before Maidan that the West's zero-sum-game, us or them, attempt to wrest the country out of Moscow's orbit would meet pushback. Not least from the millions of Eastern and Southern Ukrainians who didn't support the process. Their agency, of course, is essentially denied in Western discourse, which solely paints events in those regions as "Russian aggression."
Kolomoisky knows things are rather more complex. And he can hardly be accused of being a Kremlin patsy, given how in 2014 he took on the governorship of his native Dnipropetrovsk region, then close to the front lines of the war between Kiev and rebels supported by Moscow. As the NYT acknowledges "he financed a pro-government militia that held the battle lines before the regular army could deploy enough troops to keep the separatists at bay."
READ MORE: 'NATO will be soiling its pants': Ukrainian tycoon seen as power behind president calls for 'new Warsaw Pact' with Moscow
Now, he accuses the US of fighting "war against Russia - to the last Ukrainian," using his country as a proxy to weaken its primary geopolitical rival. "Give it five, 10 years, and the blood will be forgotten," Kolomoisky told the NYT. "I showed in 2014 that I don't want to be with Russia," he added. "I'm describing, objectively, what I'm seeing and where things are heading."
At this point, he argued money from Russia could replace the IMF dosh currently keeping Kiev afloat. "We'll take $100 billion from the Russians. I think they'd love to give it to us today," he insisted. And he might be onto something.
Price of Peace
Let's say $5 billion annually, over twenty years (partially in the form of energy discounts). Okay, the Kremlin would be sure to try negotiate the price down, but it's not a huge amount for Moscow (about a tenth of its annual military budget), and if it resolved the Crimea issue and forced the US away from Russia's borders, many in Russia might feel it worthwhile. Especially since it repairs ties with what is viewed as a "brotherly" nation.
Of course, this all depends on Zelensky being able to maintain stability in Ukraine, keeping ultra-nationalist headbangers under control. And future administrations honouring the deal.
With this in mind, it might be clever for Russia to offer something out of left-field. Instead of trying the failed "zero-sum-game" strategy pursued by the West, Moscow could merely insist Ukraine remain neutral. This would mean abandoning any notions of NATO membership and a compromise could be reached where Kiev might maintain ties with the EU, while also embracing the Moscow-led Eurasian Economic Union. Those who can see the wood from the trees in Ukraine would surely see this as a real opportunity.
Also on rt.com
Ukraine joining NATO would take world dangerously close to nuclear war
It's fair to say Kolomoisky probably personally dislikes the US. He "believes he is a target of the FBI," according to the NYT. Furthermore, it has been reported that the IMF is holding up cash for Ukraine because it believes Zelensky isn't assertive enough in forcing Kolomoisky to return money he's accused of taking from Privatbank.
Nevertheless, Ukrainian politics is governed by opportunism, given it's essentially a competition between a half dozen or so oligarchic clans. Before Maidan, the group from eastern Donetsk (supported by Rinat Akhmetov) held power, then we had five years of West Ukrainian domination under Poroshenko (himself an oligarch), and now it's the turn of south-central Ukraine (both Kolomoisky and Zelensky are from Dnepropetrovsk Oblast).
Whereas Western Ukrainians instinctively look West and their Eastern brethren automatically gravitate East, those in the middle have historically been pragmatic. They look at both sides and weigh up the best option. Kolomoisky has evaluated them and reached the logical conclusion that Ukraine's western pivot has been disastrous for the country. Zelensky may well have formed the same view, at least privately.
Think your friends would be interested? Share this story!
The statements, views and opinions expressed in this column are solely those of the author and do not necessarily represent those of RT.
You can share this story on social media: