System in crisis! Protests rage after desperate French student sets himself on fire over financial pressures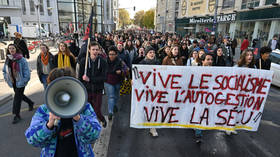 The financial worries of French university students are so bad that one Lyon student set himself on fire in protest, calling out President Emmanuel Macron, the EU, and other politicians for creating a system that breaks people.
After taking a helicopter to a constitutional anniversary last year at the burial site of General Charles de Gaulle, Macron's reverie was interrupted by a group of pensioners who took the opportunity to express concerns about their finances.
In response, Macron said that de Gaulle was right when he said: "You may speak very freely, but the one thing you have no right to do is complain." He advised the protesters to follow this principle.
This sort of uncaring demeanor has earned the former investment banker a reputation for being aloof, arrogant and hopelessly out of touch. It was just the sort of comment that tends to upset people far away from the incident, and was indicative of an attitude that has far-reaching repercussions for a national leader. When you are talking to the very people who elected you and who rely on your leadership to survive, you just don't say it.
While it's not directly connected, we now see the scale of that disconnect between the people and their government with the self-immolation of a 22-year-old Lyon university student, known as Anas K.
In France in 2019, the situation is so bad that we see a young man douse himself in petrol before setting himself alight outside the regional student aid center because he could no longer stand the financial pressures he faced while trying to finish the second year of his bachelor's degree for the third time without a student grant.
Also on rt.com
French minister slammed for twisting 'truth' after fake claim of hospital attack by Yellow Vests
On Facebook, he said: "Even when I had one (a grant), I got €450 per month. How can you live on that?"
Well? How can you?
So without a grant, stuck repeating the second year of his degree and feeling increasingly powerless, Anas K set himself on fire.
And it wasn't just Macron he blamed. It was also former presidents Francois Hollande and Nikolas Sarkozy, as well as National Rally leader Marine Le Pen, the European Union, and the media for "contributing fears that can hardly be qualified as secondary."
His actions have resonated beyond Lyon, with student protests held this week in Paris denouncing the financially precarious conditions across the country for many of its university students.
The Lyon branch of the student union, of which Anas K is a member, described the desperate act as one "against a fascist and racist system that breaks people."
With all its ambitions to reshape the European Union in an image of its choosing, how can France possibly hope for success when it is facing accusations from its young people, the very same people upon whom it relies to build a future, that it "breaks" people?
Union activist Leila Mathias, from Solidaires Etudiant-e-s Lyon, told Euronews: "This government and the ones that came before are responsible, with their neo-liberal, restrictive laws. Unions have warned about such conditions for years. What the government does kills us! We're fighting to be able to live a dignified life."
And it doesn't help when patronizing politicians tell the citizenry simply that they cannot complain. Where in the democracy handbook does it suggest that as a strategy?
Of course they can complain. They can protest in yellow vests, they can shout their fury and, yes, they can even pour petrol over their clothes and set themselves on fire outside government offices.
But if that's what it takes to make their leaders listen in France, then that system is broken and it needs to be fixed now.
Think your friends would be interested? Share this story!
The statements, views and opinions expressed in this column are solely those of the author and do not necessarily represent those of RT.
You can share this story on social media: