Fortnite is a meaningless game – and the only thing getting played is people's dignity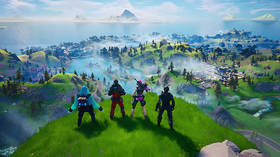 People all over the world should be more like Lady Gaga.
That's not something I ever thought I'd say, but it seems fitting given that she recently admitted to being totally clueless about the online video game, Fortnite.
Taking to Twitter earlier this month, the 'Bad Romance' star caused a mini-ruckus by asking what the fuss was all about – and why it seems to render normal people completely insane.
Also on rt.com
Fortnite is streaming a 'black hole' for 'The End' event, and it's driving people nuts
Her timing was impeccable because it preceded the latest gamer melodrama, which has seen 17-year-old Jarvis Kaye, from Britain, permanently banned from the multiplayer phenomenon after filming himself cheating during non-competitive play (he used aimbots, prohibited software tools that basically give a player superhuman accuracy).
In scenes that resembled a public flogging from the Middle Ages, Kaye then shared footage of himself sobbing on-screen while begging Fortnite creators Epic Games for forgiveness to the baying of spiteful commenters.
Uploaded to YouTube on Sunday, the clip has now been seen more than 4.2 million times, which doesn't just baffle me, but also raises some serious questions about the human race's online viewing habits.
Then, just when I thought it couldn't get any more bizarre, Kaye's 60-year-old mother waded into the fray.
Barbara Khattri, from Surrey, told the mainstream media that her son was 'broken' by the scandal and that she's sharing his 'abject pain, despair and helplessness.'
Oh, pur-lease. I fully appreciate that parents enjoy humiliating their adolescent children, especially in front of others. But, for God's sake, this is in another league.
Furthermore, while we might expected such emotional incontinence from a millennial, baby boomers should know better. Where is her parental wisdom? Her sage sense of perspective? Her self-respect? Clearly not within reach, because if it were, she wouldn't be partaking in a very unedifying spat over virtual reality.
Meanwhile, here in the UK, the cash-strapped NHS has launched its first-ever specialist clinic to help children whose lives have been 'wrecked' by video games.
As part of their treatment, parents will also be offered specialist advice on how to manage their child's addiction and reduce the amount of time they spend online. Call me old-fashioned, but these people seem to have lost the plot.
Maybe it's the Hunger Games-like format which has blurred lines of reality in their minds. Or maybe they've been whipped into a frenzy by a ruthless, mercenary industry. I honestly don't know.
What I do know, however, is that Fortnite is just a meaningless game – and the only thing getting played is people's dignity.
The only way to win is not to play at all.
By Peter Lloyd, journalist and author based in London.
The statements, views and opinions expressed in this column are solely those of the author and do not necessarily represent those of RT.
You can share this story on social media: