Politician who joked about 'putting down' poor people should NOT have apologized – here's why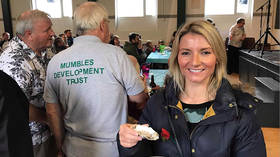 There is a veritable army of political archaeologists who are devoted to digging up dirt about a public figure's past. Their aim is to humiliate their opponent and force them to apologize for a casual remark they made years ago.
Poor Francesca O'Brien, the Conservative general election candidate for the South Wales constituency of Gower. She got caught out for a 2014 Facebook post where she wrote that the people who appeared on the reality TV show Benefits Street, "need to be PUT DOWN". Though she immediately issued an apology, both Labour and the Lib Dems have demanded that she be dropped as a candidate.
I am not sure what I hate more: the demand that a public figure should apologize for something he or she said or the inevitable perfunctory apology of a politician, who is too cowardly to stand by his or her words. Francesca O'Brian obviously believes that the people featured in Benefits Street are, as she put it four years ago "unreal". Yet, instead of offering an explanation for her view, she responded with a perfunctory apology: "I would like to apologize for any upset that I have caused".
It is likely that what O'Brian was really sorry about was that her five year old post was dug out by a political archaeologist.
I have stopped counting the number of apologies issued by British politicians this year. Increasingly politicians have become so defensive that they even apologize for their true beliefs. Former Northern Ireland Secretary Karen Bradley stated that she was 'profoundly sorry' for saying that the deaths caused by British soldiers were not crimes. Poor old Ed Davey of the Lib Dems apologized for writing that his electoral strategy was to 'decapitate that blond head' of Boris Johnson. Presumably both Bradley and Davey believed that what they said is right, and yet chose to hide behind the ritual of an apology.
Also on rt.com
Thought police on campus: What's behind 'consent classes' at British universities
Apology has become weaponized to the point that very few politicians possess the strength of character to stand by their words. Just the other day the Mayor of Middlesbrough apologized 'unreservedly' to the mental health charity Mind for calling someone a "nutter" on the social media. There is something truly scary about a world where people wish to censor others for using the word like "nutter". But what is even more chilling is that the Mayor Middlesbrough felt obliged to grovel and apologize for using a word that the vast majority of normal human beings find unobjectionable.
The issuing of an apology is fast becoming a caricature of itself. The Islington Conservative Party branch issued an apology for a typo it posted on the social media. Instead of writing that people with mental health problems should be nurtured, the tweet stated that they should be "neutered". These days people are not allowed to make a clumsy remark or a spelling mistake without issuing the obligatory apology.
Public life becomes emptied of meaning when politicians are continuously forced to watch their words. When the language euphemism trumps bluntness, dishonesty and evasiveness flourishes. So no more apologies please!
Think your friends would be interested? Share this story!
The statements, views and opinions expressed in this column are solely those of the author and do not necessarily represent those of RT.
You can share this story on social media: