Russia roasted by MSM for leaving moribund Geneva war crimes body... which 3 of 4 other UN Security Council members NEVER joined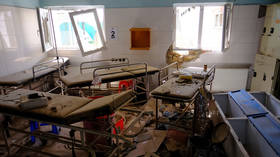 Russia has come under MSM fire for quitting a dysfunctional war crimes NGO – the International Humanitarian Fact-Finding Commission – which the US, China and France never joined to begin with, a detail that eludes attention.
We have all had redundant memberships hanging round our necks that we mean to cancel but never quite get around to: the gym, the library, the dining club we never use.
So when we eventually manage a bit of housekeeping, it makes sense to ditch them, never to be seen again. That's what Russia has decided to do with the Swiss-based International Humanitarian Fact-Finding Commission, a good ol' Swiss construct that draws it members from the international community, but mainly the friendly types who are unlikely to ever find themselves on the wrong side of the Geneva Convention.
Also on rt.com
Media and politicians didn't care about chaos the US caused in Syria for years, but now that Trump can be blamed, they're outraged
The Cook Islands, for instance, but no Saudi Arabia. St Kitts and Nevis, but no Lebanon. And Iceland, but no Israel. And Russia… well, not any longer.
After 30 years of pumping money into the IHFFC, the Russians have finally lost their patience and withdrawn their membership, which this year contributed 5% of the commission's budget. It has caused quite a stir in the mainstream media Stateside, which would be understandable were it not for the fact that the US is not, and never has been a member of the commission of which Russia should apparently be a part.
Under the headline, 'Putin Pulls Russia Out of Convention on War-Crime Probes', Bloomberg screams outrage, with Reuters, Yahoo News and US News all following in a similar vein.It is no surprise that Russia has finally lost patience with this outfit, but the response to this is surprising.
Also on rt.com
Libya was destroyed due to Western leaders' lust to continue exploiting Africa's riches – Gaddafi spokesman
If the United States is not an IHFFC signatory, then who else is missing?China and France for starters who, together with the UK (which is an IHFFC member), sit alongside Russia and the USA to comprise the four permanent members of the UN Security Council.
It seems to be okay for these Big Four nations to sit out the IHFFC because, frankly, it is not an effective institution – but it's not okay for Russia to do likewise with President Putin arguing the commission is "not actually fulfilling its function".
Admittedly, the IHFFC has had something of an image problem. Despite being around since 1991, it only launched its first investigation in 2017. That is 26 years to decide what it should actually do. By any standards, that has to be considered a pretty slow start.
Then it has the problem of clearly explaining to others exactly what it does. What is its mandate? How does it differ from the Commissions of Inquiry set up by the United Nations High Commission for Refugees for instance?
Also on rt.com
Will France, UK, US ever pay for what they have done to Yemen?
The US' lack of enthusiasm for the IHFFC can be understood. Back in October 2015, their bombing of a hospital in Kunduz, Afghanistan killed 42 civilians mistakenly believed to be Taliban fighters. It took a couple of years but eventually the IHFFC awoke from its slumber and asked the Afghans and Americans what happened, only to be told that it was an all just an accident and could not possibly be considered a war crime.
Condolence payments were handed to the families of the Afghan dead, a dozen soldiers were disciplined over the "human error" and Obama declared the matter closed. End of story.
Is that really good enough? Is that all that comes from a global body troubleshooting around the world and raking in Swiss francs by the bucket-load from all four corners?
Surely you should expect a clear mandate, transparent operating procedures and effective outcomes that resolve an issue to everyone's satisfaction.To do that you would need all the big international players onboard, and there lies the problem. Without the marquee names, the IHFFC lacks authority. Without authority, it lacks legitimacy and that, pretty much scuppers any chance of achieving its goals. That makes it pointless.
The statements, views and opinions expressed in this column are solely those of the author and do not necessarily represent those of RT.
You can share this story on social media: