No more Deus vult? Swedish developer reportedly censoring cult CRUSADER KINGS game over 'fascism' concerns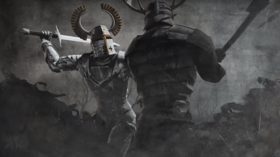 Gamers are outraged after makers of the beloved historical game 'Crusader Kings' said they would cut out a Christian battle cry and introduce other politically motivated changes in its sequel after pressure from campaigners.
Gaming website RockPaperShotgun broke the news that Swedish developer Paradox Interactive is removing the phrase "Deus vult" from the third installment of the game, expected next year, after the phrase gained currency online. After asking how Paradox plans to deal with the phrase, which "has become a vile meme beloved of racists on the internet," the journalist was "told emphatically" it would be left out entirely.
He didn't seem entirely satisfied though, and promised to keep an eye on Paradox "handling the political sensitivities" of their game, "set during a time of conflicts fetishized by modern fascists."
UPDATE: Following the backlash online Paradox Interactive appears to have backtracked, saying that "this issue has been miscommunicated" and insisting that no final decision has been made on Deus Vult or other historical aspects of the game.
Also on rt.com
Christchurch Crusaders rugby team wants REBRAND after Christian religious wars inspired terrorist
For a game that takes place during the Crusades and which relies on historical accuracy, many fans of the multi-million-selling predecessor are worried that the title is retconning reality to appease the perpetually offended, and to avoid causing problems with cultures that may take umbrage with the phrase's usage.
removing deus vult because of few individuals think its offensive is a complete nonsenseit's a historical game, deus vult has nothing to do with modern politics https://t.co/UPJaapQSvA

— The Most Spooky of Clan Rats Kolya (@ImperatorOfPuns) October 19, 2019
After it appeared in 'Crusader Kings 2,' the phrase, which means "God wills it" in Latin, found popularity online and became a meme. It quickly spread and has been used by individuals discussing Islamic extremism to more ironic postings meant to poke fun at different topics. Outside of that, it has also become a common slogan for multiple gaming communities.
The removal of true-to-life historical fact is even more upsetting to people as this censorship is only occurring to appease an outraged mob curated by gaming journalists.
For the past while, they have been pushing an agenda to remove "Deus vult" from gaming entirely. In 2018, Newsweek went so far as to reverse historic continuity with the headline "'Crusader Kings 2' used an alt-right battlecry to promote free Steam download." This piece followed another from Polygon in which the site called out Ubisoft's 'For Honor' for also making use of the phrase.
Also on rt.com
Academics want sex robots capable of withdrawing consent. Even our fantasies aren't safe from the virtue police
As they would acknowledge in their piece, it's used by that game's community in a "lighthearted" manner and has roots in pre-existing video game culture. But some people have adopted it to push hate – and now gamers and developers are being bullied into abandoning and condemning it, instead of trying to re-appropriate it.
It is nonsensical that these social justice warriors are trying to make the Crusades, of all things, politically correct. Especially for a game that features murder, incest, slave trading, and worse. And for a studio that has been steadfast in keeping things as reflective of the time as possible, it's discouraging to see them cave to a gaming medium hellbent on jamming political correctness into any available orifice. Though maybe not so unsurprisingly, 'Crusader Kings 2' features jihads and the line "Allah is great" – and there's so far been no reports of it going away in the sequel. Even though those too, have horrible modern day implications.
The 'Deus vult' controversy might not even be the most ridiculous of the recent social justice agenda incidents. This past spring, it was revealed that Mortal Kombat 11 had removed the 'OK' hand gesture over its supposed alt-right appropriation.
The series' trademark gruesome murders don't seem to be bothering anyone nearly as much. A disconnect once again rears its ugly head here, as 'Crusader Kings' recently released a reveal trailer that focuses on the murder on an infant. That scene is accompanied by a narrator saying that "real strategy requires cunning."
Just so we're clear here, a phrase accurate to the time in which the game occurs is worthy of censorship due to a few meanies on the internet, but the murder of pixelated children is perfectly acceptable and even recommended. Gotcha.
Sophia Narwitz is a writer & game journalist from the US.
The statements, views and opinions expressed in this column are solely those of the author and do not necessarily represent those of RT.
You can share this story on social media: