Christchurch Crusaders rugby team wants REBRAND after Christian religious wars inspired terrorist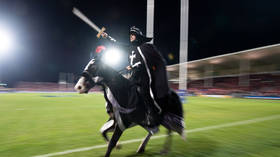 Christchurch Crusaders rugby team has been fighting on the pitches of New Zealand for 13 years, but is now considering a rebrand. After March's mosque shootings, some say the name conjures up images of religious conflict.
The Crusaders' name and iconography – knights on horseback – were adopted as a nod to Christchurch's English heritage. However, New Zealand Rugby (NZR) chief executive Steve Tew said on Wednesday that the symbolism "is offensive to some in the community due to its association with the religious Crusades between Christians and Muslims."
Also on rt.com
Australia threatens tech giants with jail, fines for spread of violent content after Christchurch
As such, the team is now hiring a research company to assist with arebrand. "Maintaining the status quo in terms of the Crusaders name… is no longer tenable because of the association with the religious Crusades that has now been drawn," Tew explained. "That is therefore not one of the options that we will be considering."
Mosque killer Brenton Tarrant daubed his weapons with Crusades-related graffiti before gunning down 50 worshippers at two mosques in Christchurch last month. One of his rifles bore the name Charles Martel, the Frankish Duke who defeated Arab forces at the Battle of Tours in 732, preventing them from marching further north into France.
Tarrant's manifesto also asked "What would Pope Urban II do?," a reference to the 11th Century pontiff who launched the First Crusade to recapture the Holy Land from the Islamic Caliphate. Urban famously declared "Deus Vult," or "God wills it," a catchphrase popular among white supremacists.
Despite the symbolism, Crusaders CEO Colin Mansbridge highlighted the team's positive contribution to Christchurch. "Our challenge is that the name Crusader has come to mean something quite different to many of the team's supporters," he said. "This team is proud of the positive contribution it makes to the community."
Public opinion on the name change is split. At time of writing, 63 percent of respondents on a New Zealand Herald poll said the club "shouldn't change a thing." 21 percent favored completely dropping the name and imagery. Opinion on Twitter was equally mixed.
Oh man I love New Zealand! Those people know how to care about each other and aren't afraid of change like America. Thinking about moving, wanna feel less hate for a changeAfter Mosque Shootings, A Rebranding Debate Over Christchurch's Rugby Crusaders https://t.co/AnI1peB6U8

— Dr. Connie S. (@Psyched55) April 3, 2019
🙄😤😤Just released: The Crusaders brand seems set to change, after last month's Christchurch mosque shootings. If that's the case I'm out 🖕🏼🖕🏼🖕🏼🖕🏼🖕🏼👎 #PCBULLSHIT

— Rod Nui Bannister (@RodNuiB) April 3, 2019
Wow the name crusaders all of a sudden is offensive. What's this world coming to. Maybe Newcastle knights is offensive because knights were part of the crusaders. Next they will say CHRISTCHURCH is offensive because it has links to Christianity. What's next 🙄🙄#JustSaying

— George Y (@rvpredv) April 3, 2019
Christchurch Crusaders aren't the only sports team to come under pressure to rename, in recent years. In 2009, when the relentless march of political correctness was only getting started, the Middlesex Crusaders – a British cricket team – chose to rename themselves 'The Panthers,' after complaints from Muslim and Jewish groups.
In the United States last year, the Jesuit College of the Holy Cross in Massachusetts decided to keep its football team's Crusaders name but get rid of its mascot, a sword-wielding knight in a purple cape. The name change debate erupted after social-justice minded students complained en masse to the college's president.
Think your friends would be interested? Share this story!