Real Ukrainegate: America midwifed the mess, and now wants Europe to pay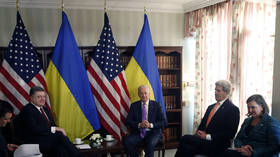 Now that US military aid to Kiev has been weaponized in the rapidly heating civil war in Washington itself, it would be the perfect time to confront the fact that US meddling was primarily responsible for the chaos in Ukraine.
At the heart of the latest "scandal" in Washington is the accusation that US President Donald Trump threatened to withhold some $250 million earmarked for Ukraine until the authorities there opened an investigation into shady business dealings by the son of former US Vice President Joe Biden. Trump denies he made that request, and says he was holding off on the aid because Europe and others ought to help Ukraine more.
"Why isn't Germany, why isn't France, why aren't those other countries paying?" the US president told reporters on Tuesday. "And why are we paying all the time? And nobody's given, I believe, more to Ukraine. You know President Obama used to send pillows and sheets. I sent anti-tank weapons and a lot of things to Ukraine."
It didn't take long for 'Russiagate' enthusiasts to 'fact-check' Trump's claim, whipping out graphs showing the EU aid to Kiev was actually far greater than that coming from Washington.
Trump's other point – that "other countries should also pay because frankly it affects them more. That's a barrier, it's a wall between Russia and the UK" – flew under the radar, even though normally the media would enjoy dragging the president over such gaffes. Perhaps because the admission that Ukraine has been turned into a "wall" between Russia and the EU – which is what Trump clearly meant, in context – hits a bit too close for comfort.
Anyone truly interested in facts rather than partisan point-scoring would have to acknowledge that the US has invested billions of dollars in creating and propping up a client regime in Kiev since Ukraine declared independence in 1991, regardless of the consequences to actual Ukrainians, simply because it saw their country as a bulwark against Russia.
"Since Ukraine's independence in 1991 the United States has…invested over $5 billion to assist Ukraine in needs and other goals," is what Assistant Secretary of State Victoria Nuland told the National Press Club in Washington on December 13, 2013. She had just returned from Kiev, where she had passed out cookies to the Maidan protesters. It was her third trip there in five weeks.
Also on rt.com
​Obama openly admits 'brokering power transition' in Ukraine
Less than two months later, Nuland was caught discussing the composition of a future Ukrainian government on the phone with US ambassador to Kiev to Ukraine Geoffrey Pyatt. In addition to deciding which of the protest leaders and figureheads ought to be prime minister, the conversation contained some unsavory language about the EU, an admission from Pyatt that "somebody with an international personality" should come and "help to midwife this thing," and Nuland bringing up how "Biden's willing" to come in and praise whoever they decide to anoint.
Between the admission about funding, the photographic evidence of Nuland and other US officials joining the protests and the intercepted conversation, it is impossible to deny that the Obama administration was in the driver's seat of what would become a violent coup just days after the Nuland-Pyatt chat.
Also on rt.com
'F**k the EU': Snr US State Dept. official caught in alleged phone chat on Ukraine
Worse yet, this was the second time in less than a decade that the US meddled in Ukrainian politics, the first being the 2004 'Orange Revolution' carried out following the pattern of color coups first tested on Serbia in 2000. According to a Guardian report from Kiev at the time:
...engineering democracy through the ballot box and civil disobedience – is now so slick that the methods have matured into a template for winning other people's elections.
Note also that it doesn't matter whether a Republican or a Democrat sat in the White House. The policy remained constant.
It ought to be clear by now that those billions in "assistance" and the two rounds of election meddling never were about helping the actual people of Ukraine, but about turning that country into an armed camp against their Russian neighbor, and maybe making some cash on the side in the process.
Also on rt.com
Biden's Ukraine ties: Nepotism and corruption or 'conservatives pounce'?
If the end result was undermining the very principles of democracy, freedom and human rights, well so what? It's not as if any US officials involved actually intended to live in places like Serbia or Ukraine – merely to profit from their "transition," the way Hunter Biden did in Ukraine. Besides, if any uppity Ukrainians ever dared to investigate someone who drew a $50,000 monthly salary in a collapsing economy just because of his last name, there was daddy dearest to get them fired, and brag about that on camera.
That is the real "Ukrainegate" – not this hypocritical, manufactured scandal aimed at conjuring something, anything, to get Trump out of the Oval Office because everything else so far, from 'Russiagate' and emoluments to calling him Hitler, has failed.
Nebojsa Malic, senior writer at RT
Think your friends would be interested? Share this story!
The statements, views and opinions expressed in this column are solely those of the author and do not necessarily represent those of RT.
You can share this story on social media: