'Adorkable' or rapist? Uncovered documents challenge Zoe Quinn's abuse story (but #MeToo won't care)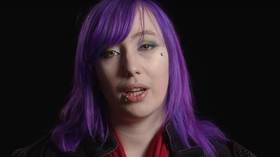 In 2012, feminist activist Zoe Quinn called her romance with game creator Alec Holowka "adorkable". Seven years later, she decried the same relationship as abuse. The troubled Holowka was then disgraced and took his own life.
There is something touchingly naïve about journalists at Canadian alternative news site The Postmillenial going on an old-fashioned internet deep dive to compare Quinn's contemporaneous accounts of her relationship with indie developer Holowka, with her current description. As if they assume that her credibility with the mainstream media and #MeToo campaigners rests on facts, the psychological plausibility of her narrative, or personal trustworthiness, consistency and objectivity.
Nonetheless, it all makes for interesting –if somewhat macabre– reading now.
Also on rt.com
Game creator's suicide after feminist Zoe Quinn accuses him of abuse shows peril of Twitter trials
A quick summary of the accusations. Quinn, already a lightning rod for her originating role in the online culture war Gamergate, made allegations against Holowka, renowned for breakout indie hit Night in the Woods, posted on her Twitter late last month.
She alleged that Holowka "physically confined" her to his apartment in Winnipeg, where she flew out to stay with him, that he'd "degraded" and "screamed" at her, was "mean and violent" during sex, before she was rescued by a friend who "helped her get out" and fly back to Toronto. He also purportedly inserted himself into her career, by taking over the programming of the text game she had been writing, a romantic satire called It's Not OK, Cupid, despite her "protests."
Yet, a podcast from the time suggests a different emotional hue, as the couple bashfully recall their online meet-cute, their shared feminist ideals – such as encouraging more women coders in gaming – and both use "adorkable" to describe their fast-blooming relationship.
Meanwhile, her constant tweets from her time in Winnipeg suggest not a man wrestling in on a woman's project, but endless days of fulfilling and exhausting work done side-by-side.
"When a boy game dev and a girl game dev love each other verrry [sic] much, they smash their heads together and a game comes out," reads a typical message, screenshotted from Quinn's Twitter, which has been locked to outsiders in the aftermath of Holowka's death.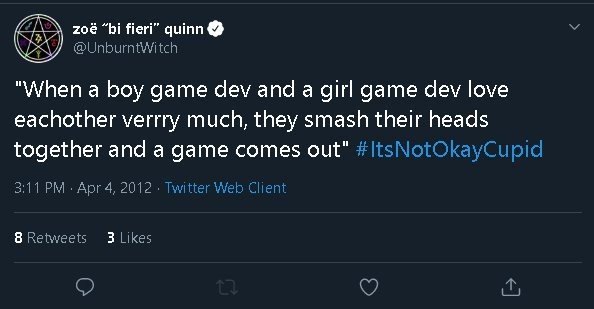 Nor is there any confirmation of Quinn's fear-induced getaway. Instead, she discusses her flight from Winnipeg more than a week in advance, and her public exchanges with Holowka on social media date to well after she had returned to Toronto in May 2012 (when she dumped him by email).
So, what does this prove? Nothing, definitively. Many women in abusive relationships put on a brave face in front of others while suffering in private, and Quinn was careful in her since-deleted messages to mention that Holowka, who by all accounts was plagued by mental illness and mentioned thoughts of suicide, "acted normal in public." Or maybe Quinn did not fully realize the extent of the abuse until she got home, and was able to evaluate her relationship. Or perhaps she lacked the necessary awareness and bravery altogether to process her past until her multi-page Twitter exposé.
But the main point remains; that actual details do not matter. Even by virtue of these emails it had been possible to somehow prove what her plentiful social media detractors had accused Quinn of. Namely, that she had opportunistically misrepresented a failed but not strictly abusive dalliance from years ago, in a bid for attention and sympathy, and thus pushed a man she knew was emotionally unstable towards suicide, the path that Holowka chose on August 31, shortly after being dismissed from his latest project due to the allegations.
What then? Within the paradigm of "Believe all women" that is embraced by #MeToo, it changes nothing. A woman can be in a consensual coupling, but the moment she decides that it wasn't such, she is the victim. A woman can be in a complex, mutually-abusive relationship, but whatever her view of it is the final view. All prior facts can point to a woman being armed with a less convincing narrative than the man she is accusing, and yet her account is, by default, accepted over his.
Sifting through the facts to make a balanced or nuanced judgement –even asking Holowka for his side while he still could give it– is anathema to the #MeToo movement. The entire point is blind, unquestioning faith, an abandonment of truth-seeking.
Also on rt.com
No reason to doubt Ashley Wagner's #MeToo story – but accusing a dead man will always anger people
In fact, there seems to be a perverse and tribal tendency here – the more toxic the person on the movement's own side is, the harder they get defended, as a matter of principle. Despite countless accounts of Quinn's dubious conduct and integrity – regardless of what happened in Winnipeg - each time she gets into a new pickle her supporters double down. Inconvenient facts are tossed away or aggressively countered.
One example: most of the mainstream media has stayed awkwardly silent on Holowka's suicide (despite covering the allegations). A column in Wired bemoaned "male fragility" – the feminist equivalent of the "snowflake" putdown. Apparently, Holowka's very real death was about keeping women "hostage" to male feelings. That hardening, that lack of empathy, that cruelty is only possible for decent people when you are no longer aware of your biases. At best what we will get now is a treatise on how questioning the victim is just another form of male abuse.
There are many scenarios where such self-serving tribalism is harmless – Messi or Ronaldo – or at least socially acceptable – Trump or Clinton. But bringing justice into private lives is not one of them.
By Igor Ogorodnev, senior writer at RT
The statements, views and opinions expressed in this column are solely those of the author and do not necessarily represent those of RT.
You can share this story on social media: