CNN openly backing Hong Kong protesters? Outlet publishes handy 'what to wear' guide for activists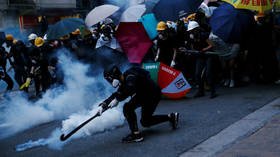 Violent demonstrations in Hong Kong have entered their 12th week, but for any would-be protesters who have not yet taken to the streets, CNN recently published a handy how-to guide.
The CNN guide instructs budding protesters on exactly "what to wear" if they want to stay safe, just like the "seasoned pros" who have been pounding the pavements for weeks already.
The provocative protesters' manual is a clear indication that Western media is not merely providing informative news coverage of the anti-China protests, but actively backing and supporting a violent uprising abroad.
CNN's list of must-have protest gear includes goggles ("obscures identity from surveillance cameras"), black T-shirts ("makes it harder for authorities to identify an individual"), gas masks (also "obscures identity") and gloves (to protect hands when "creating barriers against police").
Also on rt.com
WATCH: Club-wielding mob attacks Hong Kong police as protests turn violent
Yet, by now it has become clear that while Hong Kong protesters may indeed have legitimate grievances against Beijing, they are not quite as saintly as Western media likes to portray them. Videos have emerged of brutal attacks on police by large mobs wielding bats, clubs, metal rods, as well as throwing bricks, petrol bombs and Molotov cocktails.
Why, then, is CNN so interested in helping protesters to obscure their identities?
In contrast to the coverage of Hong Kong, Western media showed far less interest – and certainly published no how-to guides – for France's anti-government 'Yellow Vest' protests, which are still ongoing after 41 weeks.
As the French protests dragged on, many Western news outlets (from Reuters to CNN, NBC to BBC) began referring to Yellow Vest demonstrators as "rioters" instead of "protesters" – and while police in Paris were broadly portrayed as trying to restore public order, Hong Kong police have been depicted only as the brutal barrier between oppression and freedom.
New York Times columnist Nicholas Kristof even managed to whitewash British colonial rule of Hong Kong in his recent breathless coverage of the anti-Beijing protests. British oppressors were better, he implied, because back then, he could cover the region wearing "a jacket and tie" — no gas mask needed.
There is a simple reason for the discrepancies in Western coverage of various foreign protests, however.
A 2017 memo leaked to Politico explains the phenomenon clearly. The US, the document says, should "emphasize" human rights in adversary countries (Russia, China, Iran, North Korea), but give friendly governments (like Saudi Arabia, Egypt and the Philippines) a pass, regardless of how repressive their policies are. Human rights, in other words, should only be a concern if it advances US global strategic interests.
Also on rt.com
Tear gas fills Hong Kong's streets as brick-throwing protesters clash with police (PHOTOS/VIDEO)
This goes some way toward explaining why we see Hong Kong activists meeting with US State Department officials to conveniently discuss "human rights" as the Trump administration wages a trade and tech war against Beijing.
The 2017 memo was striking in its candor, confirming that Washington should"use human rights as a weapon to beat up our adversaries while letting ourselves and our allies off the hook," according to one former official who explained its contents to Politico.
It appears that US media, including CNN, is following the diplomatic agency's lead – and has been for some time.
Western coverage of Hong Kong is reminiscent of its coverage of the 2014 Euromaidan protests in Ukraine, where Washington supported a violent coup – and anti-government protests in Venezuela, where the Trump administration has also openly supported military coup plotters. In Syria, Al Qaeda-aligned jihadists morphed into "moderate rebels" in mainstream Western coverage.
Also on rt.com
Hong Kong activist goes on defensive after being photographed with US consulate official
All the while, anti-government protesters in countries allied to the United States are ignored, actively smeared as troublemakers by the media, eyed with suspicion and sometimes even maligned as working at the behest of foreign adversaries like Russia to "sow discord" or "divide" people.
CNN's 'how-to' guide for Hong Kong's protesters proves once again that Washington can sow whatever kind of violent discord it deems necessary abroad to advance its foreign policy agenda – and the media will be more than willing to lend a hand.
The statements, views and opinions expressed in this column are solely those of the author and do not necessarily represent those of RT.
You can share this story on social media: