How 'bungling Boris' bounced back from his 2016 setback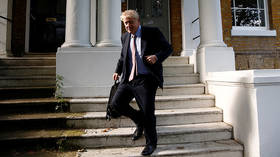 Barring an earthquake, Boris Johnson will become Tory leader and Britain's new PM on July 22, if not before. It's all a far cry from 3 years ago, when his leadership campaign was over before it began. What's been the difference?
We could, quite easily, have already been three years into a Boris Johnson premiership. The Latin-spouting blond-haired Old Etonian was hotly fancied in the race to succeed fellow Etonian David Cameron when the latter resigned following defeat in the EU referendum in 2016. Boris had been one of the leaders of the Leave campaign. The crown was surely his.
Except it wasn't. Instead, the man he considered his trusty lieutenant, Michael Gove, delivered a killer blow by announcing his own leadership bid. "I have come, reluctantly, to the conclusion that Boris cannot provide the leadership or build the team for the task ahead," Gove said.
Humiliatingly, Johnson was forced to use the official launch of his campaign to announce that he would not be standing.
As I wrote at the time, in just three hours 'BoJo' had gone from being co-favorite to being the next PM, to a man whose career looked to be in ruins.
So what's the difference now? There are two main reasons for the Boris bounce back.
First, Theresa May's inability to deliver Brexit. Second, Rupert Murdoch.
Theresa May told us countless times that Britain would be leaving the EU on March 29, 2019. Well, actually someone did count the times she said it and it came to 108. And guess what? Britain didn't leave on March 29. We're still here.
You don't have to be a paid-up member of the Boris Johnson Appreciation Society to agree with him that the whole thing could have been handled better. The more the Maybot dithered, the more Johnson's stock grew.
And crucially, his stock has grown with arguably the most important figure in British politics: Mr Murdoch. Love him or loathe him, Rupert Murdoch remains by any objective assessment, the Kingmaker.
Labour had been out of power for a decade and a half before Tony Blair flew to the big News International conference Down Under to address Rupe's top executives. Blair sought to assure the Aussie media mogul that his 'New Labour' project would pose no threat to Murdoch's corporate interests, and would, in government, be very different from 'Old Labour'. It worked. The Sun switched to backing Labour and the party enjoyed 13 years in power. It was only when the best-selling tabloid switched back to the Tories, in 2010, that Labour rule ended.
Back to Boris. ITV's political editor Robert Peston, revealed in a tweet of June 30, 2016, that a day earlier, at a Times business summit, Mr Murdoch had expressed his doubts about Boris Johnson and had hoped Michael Gove would run.
Gove answered the call, and that was the end of Boris.
It's hard to escape the conclusion that the reason Murdoch had his 'doubts' was Johnson's 'wobbliness' on foreign policy.
Boris, unlike Gove, has never been an enthusiastic neo-con. I remember being at a party of a mutual friend in 2003, just a few days before the Iraq War started, and asking him whether he honestly believed the guff about Iraq possessing WMDs which could be launched and assembled within 45 minutes.
Johnson looked at me and after a short delay replied: "You've got to admit Saddam is not a frightfully nice chap."
The inference was clear. He did not believe the UK government BS (he was far too intelligent for that), but was trying to justify to himself support for the war on the grounds that the world would be better off without a blighter like Saddam.
Unlike others in his party (and some Labour MPs too), Johnson chose not to align himself with the hawkish Henry Jackson Society. Instead, in his Daily Telegraph columns he espoused what could be described as a 'conservative realist' line on foreign affairs.
He had been courting Rupert Murdoch for some time, but probably undid all his 'good work' in this regard by penning a piece for the Daily Telegraph entitled 'Bravo for Assad' on March 27, 2016.
While of course putting in all the obligatory caveats about Assad being "a monster, a dictator," Johnson nevertheless admitted that he could not conceal his "elation" as the Syrian Arab Army recaptured the ancient city of Palmyra from "the terrorists."
Even worse than that, from a 'regime-change' perspective, Johnson also advocated in an article in December 2015, a joint front with Assad and Russia against said terrorists.
Rupert Murdoch must have spat out his Coco Pops reading that one. It wasn't just neocons who were incensed. 'Liberal interventionists' were too.
Also on rt.com
Boris Johnson 2016 vs. 2017: Flip-flop from 'Bravo for Assad' to 'Topple Assad'
But Boris learnt his lesson. From the moment he went through the doors of the Foreign Office as the new foreign secretary in July 2016, he was a changed man. He stopped talking upper-class English and began talking War Party English.
He went from saying "we should work with Assad" to repeating the mantra "Assad must go!" Instead of calling for a WW2-style Grand Alliance with Russia against 'the terrorists', he urged people – against all the diplomatic norms – to protest outside the Russian Embassy in London.
READ MORE: Murdoch's new favorite? Embarrassing snap shows Boris Johnson jogging with Sun editor
Revealingly, when he was coming under some pretty serious flak for stating on German TV that experts from the UK government's Porton Down laboratory were "absolutely categorical" that Russia was the source of novichok used in the Salisbury poisonings, a line not corroborated by Porton Down itself, the Murdoch titles – to quote the Canary website – "gave full support to the position outlined in Johnson's tweets."
In September, the deputy editor of the Sunday Times Sarah Baxter penned a piece entitled 'Give Boris Johnson his shot at leading the Tories. He's earned it'.
While just last Sunday, Boris's campaign got another major boost with an interview in the Sunday Times entitled 'That £39bn is ours'.
Mr Murdoch's 'doubts' about Boris have, it seems, evaporated.
And he's not the only member of the Establishment who now sees him as a savior. Just eight months ago, the billionaire businessman Lord Sugar called for Johnson and others who he believed had told 'lies' about Brexit, to be prosecuted and even imprisoned.
Yet in a tweet last Friday, Sugar declared: "I seriously back Boris Johnson to be the next PM." The stated reason: "Anyone who can stop Jeremy Corbyn from being PM has my backing."
I seriously back @BorisJohnson to be the new PM . The public like him and he will have a good chance of winning the general election in 2021 if not before. Any one who can stop @jeremycorbyn from becoming PM has my backing .

— Lord Sugar (@Lord_Sugar) June 14, 2019
So there you have it. Johnson faces a very tricky time trying to get Brexit past the Commons but the one trump card he has to drill recalcitrant backbenchers – and indeed any other right-wing challengers – into line, is the 'ABC' one. Anyone But Corbyn. There is nothing that terrifies the Establishment (both its 'conservative' and 'liberal' wings), more than the 'Marxist extremist' Jeremy Corbyn entering Number 10, restructuring our neo-liberal economy and taking a less bellicose line on foreign affairs.
The belief that Johnson is the best person to prevent that 'shock to the system' is why BoJo is bouncing so high at present. It's also why this time round his campaign is unlikely to face neo-con torpedoes.
Follow Neil Clark @NeilClark66
Like this story? Share it with a friend!
The statements, views and opinions expressed in this column are solely those of the author and do not necessarily represent those of RT.
You can share this story on social media: