Brexit deadline passes: Brits were promised heaven or hell, not endless limbo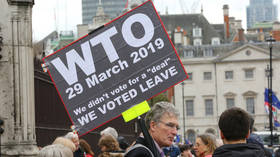 Brits were warned that March 29, 2019 would bring either a glorious new future outside of the EU, or a post-apocalyptic scene of economic collapse. No one promised everything would remain exactly the same.
Yet, here we stand, and that deep-down feeling that I think the majority of British people have had for some time has come true. They've woken up to find that they're still very much citizens of the European Union.
For Brexiteers it's nothing short of a betrayal, for Remainers it may seem like a relief, but at some point they have to accept that surely any kind of Brexit is better than the current state of limbo.
Also on rt.com
UK Parliament to vote on part of May's Brexit deal in last-ditch bid to agree on something
The political process is stuck like a fading vintage Jaguar stranded in 3 feet of mud. The wheels are spinning, the car is going nowhere and everyone standing nearby is left covered in s**t.
The blame lies with parliament and its elected members. 17 million voters gave them a simple mandate, get us out of the EU. That many MPs, perhaps even a majority, didn't agree should be neither here nor there because they are representatives of the people.
It's in the British psyche to assume the incompetence and self-interest of all elected officials, but seeing it actually proven before your eyes is still an unsettling experience. Two years after Article 50 was invoked and three years since the referendum itself, MPs have just held a series of debates to decide on a way forward and the outcome was pure Brexit: they completely failed to find a way forward. 8 votes, 8 blanks.
Insulting behavior towards the result of the referendum has not been hard to find in parliament. There's a faction who wants a second referendum and aims to call it the People's Vote, leaving those who voted the first time to wonder that if they're not people, then what exactly are they.
And on the other side of the argument is arch opportunist Boris Johnson. This is a man who appeared to choose sides based only on which could help him achieve his ambition to become Prime Minister, the cost to the nation be damned. His Machiavellian ambition broke surface this week when he U-turned and said he would vote in favour of Prime Minister Theresa May's doomed EU withdrawal agreement after all, despite months of vicious public and often personal criticism. His change of heart came only after May said she would stand down if she won the vote, opening up a tasty vacancy at Downing Street.
Also on rt.com
'Let my people go': Boris lampooned for ridiculous Moses analogy for PM May on Brexit
Questionable arithmetic has also become a feature of politicians' attempts to block the will of the people and ignore deadlines.
European council president Donald Tusk, one of those who will do all it takes to stop Brexit from happening said this week in Brussels: "You cannot betray the 6 million people who signed the petition to revoke article 50, the 1 million people who marched for a people's vote, or the increasing majority of people who want to remain in the European Union."
The thing is, there's absolutely nothing to confirm there is a growing majority and the "1 million people" who marched in London is a Trumpian take on the 300,000 figure that actually turned up.
And when it comes to that online petition, 6 million is still less than 17 million according to conventional maths, not to mention that quite a few of those who signed it did so from outside of Britain. It's heartwarming to know the Brexit debate is being followed in places like Turkmenistan and Paraguay, but I personally don't believe the 57 people who signed it from the Turks and Caicos should have a say.
As this Brexit deadline passes by, at least there is another one to look forward to on April 12. The EU says if nothing is agreed by then, Britain will crash out with no deal. I have another one of those deep-down feelings though: Brexit won't happen by April 12, but there will be a whole new deadline to miss.
Like this story? Share it with a friend!
The statements, views and opinions expressed in this column are solely those of the author and do not necessarily represent those of RT.
You can share this story on social media: