Oil profits grease Trump administration's move to recognize Israeli annexation of Golan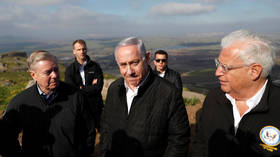 Washington last week gave another sign that the Trump administration is moving towards declaring the Golan Heights to be Israeli sovereign territory. At the heart of the move are huge anticipated US-Israeli oil profits.
In an annual human rights report, the State Department referred to the Golan Heights as "Israeli-controlled," dropping the international norm of citing the contested area as "Israeli-occupied." The change in wording is significant.
The Golan Plateau is considered to be Syrian territory under international law, according to UN resolutions. Israel has occupied the strategically important area overlooking the Jordan Valley since the 1967 Six Day War. In 1981, Israel formally annexed the land, but the self-declared claim has never been recognized internationally.
Hence, the normative term "Israeli-occupied Golan" in UN terminology, not "Israeli-controlled."
Also on rt.com
US report drops references to 'occupation' of Palestine, now it's 'Israeli-controlled'
The Trump administration, however, seems to be edging towards a landmark shift in US policy, which would officially recognize the Golan as part of Israel. A senior White House official was quoted last week as denying there was a change in US policy regarding the disputed territory. But several signs suggest otherwise.
When Israeli Prime Minister Benjamin Netanyahu held his first visit with newly elected President Trump in the White House in February 2017, top of the agenda for their discussions was for the US to reciprocate long-held demands by Israel for Washington to assent to its annexation of the Golan.
Last year, Israel's Intelligence Minister Israel Katz told Reuters in an exclusive interview that he was confident the Trump administration was ready to make a declaration on Golan in his country's favor. "I reckon there is great ripeness and a high probability this will happen," said Katz, adding that the move would be within the "next year." His interview with Reuters was in May, some 10 months ago.
Earlier this month, US Senator Lindsey Graham, who is close to the Trump administration, went on a tour of the Golan accompanied by Netanyahu. Following the tour, Graham told media reporters he would be pushing for Washington to recognize Golan as under Israeli sovereignty.
Several bipartisan members of the US Senate, including Marco Rubio, Ted Cruz and Tom Cotton, have already presented legislation aimed at recognizing Israel's sovereignty over the occupied mountainous area.
READ MORE: Meddling, anyone? Pro-Israel groups spent $22 million on lobbying & campaign contributions in 2018
So, the Trump administration seems primed to overturn decades of US policy on the Golan's status, and deliver another shock to international consensus. Recall that President Trump already showed his favor towards Israel by declaring Jerusalem its capital at the end of 2017. Months later, Trump once again snubbed international consensus by walking away from the UN-backed Iran nuclear accord. That move was also seen as the White House doing Israel's bidding.
For the White House to change tack on the Golan would certainly mark another controversial – not to say illegal – departure from international consensus. A UN Security Council resolution in 1981, including a vote from the US, unanimously condemned the Israeli annexation of Golan and called for the area to be eventually returned to Syria.
However, the Trump administration has shown a zealous willingness to appease Israeli demands at every turn. This is no doubt due in part to the multi-million-dollar donations to the Trump election campaign by Jewish billionaire casino mogul Sheldon Adelson.
Perhaps even more pivotal is the lucrative matter of giant oil reserves reckoned to be under the Golan rocks, as reported previously by Whitney Webb. US oil company Genie, through its Israeli subsidiary, was given exclusive exploration rights to drill the occupied territory by the Netanyahu government in April 2013. Two years later, a major oil discovery was made.
The Economist headlined in November 2015: 'Black gold under the Golan – just one catch.' The business magazine reported how US and Israeli oil experts had found a bonanza but in a "most inconvenient site." Inconvenienced, that is, by international law not recognizing Israeli territorial claims.
It was following the oil discovery that Israeli officials intensified diplomatic efforts to change US policy on the Golan's status. The Obama administration reportedly rebuffed Netanyahu's supplications. But with the election of Trump, Tel Aviv appears to have found a more willing White House occupant.
Another driving influence is the close connections between Trump's inner circle and the Genie Energy company. Former president of the company is Ira Greenstein, a lawyer who is close to the Kushner family through mutual business interests. Greenstein was brought into the White House advisory circle as a legal aide reportedly through his connections to Jared Kushner, Trump's son-in-law. Observers have noted that revolving-door relation is a stark and potentially illegal conflict of interest in the White House.
The cozy overlap of connections include Gary Cohn, a former chief executive at Wall Street bank Goldman Sachs and who until last year served as Trump's economic adviser. Goldman Sachs was reportedly a major investor in Genie Energy. Trump's Special Representative for International Negotiations Jason Greenblatt is also reportedly another major investor in Genie.
READ MORE: Washington using legal cover to conceal economic banditry
If the US were to officially recognize Golan as Israeli territory then that would unlock the legal impasse concerning the area's oil business. As it stands under current legal conditions, oil in the Golan cannot be commercially extracted and traded on international markets because that would violate UN resolutions. However, if Washington were to declare Golan to be part of Israel, then oil could be legally traded with the US – and a lot of investors, including those close to the Trump White House, stand to make handsome profits. The move by the US would also pave the way for other nations under pressure from Washington to row in behind the policy of recognizing Israel's annexation of Syria's southern territory.
What the US is shaping up to do regarding the Golan Heights is flagrantly criminal. The territory was invaded by Israel and has been illegally occupied for nearly 52 years. For the Trump administration to assent to this criminality makes it complicit in an egregious violation of international law – all the more sordid because it appears to be driven by oil profits.
Furthermore is the outrageous hypocrisy of the US. This week, Washington renewed its condemnations of Russia for allegedly annexing Crimea five years ago. Both Washington and its European allies have increased economic sanctions against Moscow to coincide with the fifth anniversary of Crimea voting in a referendum to join the Russian Federation. The US, European Union and NATO have issued hard-hitting condemnations of Russia's "annexation of Crimea."
Washington and its allies ignore the fact that Crimea voted overwhelming in March 2014 to become part of Russia, which it had been for centuries until Cold War politicking by the Soviet Union bequeathed the Black Sea peninsula in an anomalous arrangement with Ukraine. Western claims of Russia's annexation do not stand up to historical facts.
Western pious protests over Crimea don't stand up to scrutiny either. As can be seen from the cynical expediency the US is exercising with regard to the Golan Heights, gradually giving Israel a green light to annex Syria's oil-rich southern territory. Given the rank duplicity, Washington is in no position to lecture others about "illegality of annexation."
Think your friends would be interested? Share this story!
The statements, views and opinions expressed in this column are solely those of the author and do not necessarily represent those of RT.
You can share this story on social media: