'Collateral damage': The Amiriyah shelter bombing in Iraq should not be forgotten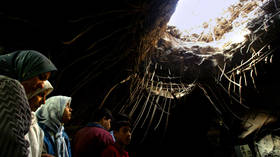 On this day in 1991, over 400 people lost their lives when the US dropped two 2,000-pound smart bombs on a Baghdad air-raid shelter. But because it was the 'good guys' who did it, the massacre is not remembered as it should be.
'Collateral damage'. The first time I remember those words being used was in the first Gulf War. There was plenty of 'collateral damage' in that conflict. In other words, lots of innocent people were killed.
At around 4:30am on Wednesday February 13, 1991, US F-117 aircraft bombed an air raid shelter in Amiriyah, a suburb of Baghdad, incinerating 408 people, many of them women and children.
"Most of the bodies were burnt beyond recognition," the BBC's Jeremy Bowen reported. One poor man said 11 of his family had been in the shelter. Another wept as he said he had lost his wife and children.
The US 'defense' was that they had thought the shelter was a command and control bunker. Iraqi President Saddam Hussein was using his people as human shields. Yet, as a Human Rights Watch report later noted, the Pentagon conceded that the bunker had been used for civil defense in the Iran-Iraq war, and US officials"gave no warning that they considered its protected status as a civilian shelter to have ended."
Award-winning anti-war journalist John Pilger noted the interrogation that Jeremy Bowen received when he reported on the crime. "'Are you absolutely certain it wasn't a military bunker?" he was asked, or words to that effect. Without any trace of irony the White House spokesperson Martin Fitzwater declared "Saddam Hussein does not share our sanctity for human life.'"
Of course, it's always a 'mistake' or 'tragic accident' when the US and its allies commit such terrible crimes, even when it most clearly isn't. And we are always told we have to 'move on' very quickly from these 'mistakes' and 'accidents'.
"Consider the dreadful toll of Iraqi civilian deaths in the intense bombing campaign in the first Gulf War. According to American and French Intelligence reports, over 200,000 died. All this was barely mentioned at the time, even on the BBC and the 'quality' press, and is now all but forgotten," writes David Cromwell of Media Lens, in his book 'Why Are We The Good Guys?'
The Iraqi press called for the US to be tried for war crimes over the Amiriyah strike. But of course it never happened. In 2001, on the 10th anniversary of the bombing, the US-funded Radio Free Iraq broadcast an interview with an unnamed Iraqi who claimed that there was something not quite right about the air-raid shelter. But even he said he did not know whether or not the bunker was a command and control center and admitted he was not in a "position to give an expert opinion."
Two years later, the US and its allies assaulted Iraq again – this time falsely claiming that the country possessed WMDs. The second Gulf War has led to the estimated deaths of a further 1mn people.
What is revealing is how the Amiriyah Incineration has – outside of Iraq – disappeared down the memory hole. Let's suppose that instead of America or one of its allies carrying out the attack it had been Russia, Iran, or another 'official enemy'. Then we'd never have heard the last of it.
We can be sure that it would have been the subject of at least one major Hollywood film and we'd have annual reminders of the heinous crime. To their credit, the British band Radiohead did write a song about the massacre entitled 'I Will' which included the lyric "little baby's eyes," but you need to search very hard for other references in popular culture.
Isn't that shameful?
Because by not remembering the dead of Amiriyah we are saying that those killed by the US and its allies are lesser beings than those killed by its geo-strategic rivals.
It's not just in Iraq where this has happened.
In April 1999, during the war against Yugoslavia, NATO bombed a convoy of Kosovo Albanians, killing over 60 refugees. At first they tried to blame the atrocity on Yugoslav forces. But when evidence emerged that it was a NATO strike – the alliance claimed that the pilot had believed it to be a military convoy. And of course, the blame for this "tragic accident" was passed on to the 'official enemy'.
"NATO regrets any harm to innocent civilians, and reminds that the circumstances in which this accident occurred are wholly the responsibility of (Yugoslav) President Milosevic and his policies," said NATO spokesperson Jamie Shea, sounding just like Martin Fitzwater eight years earlier.
The US-led war in Afghanistan has also been marked by a high level of 'collateral damage'. On October 9, 2001, just two days after the US and UK began Operation Enduring Freedom, four Afghans working for a UN mine clearing agency were incinerated by a US cruise missile as they slept in the agency's building in a suburb of Kabul.
"My brother is buried under here. What can we do? Our lives are ruined," said a distraught Mohammed Afzl as he surveyed the rubble following the US strike.
The bombing of wedding parties became a noted feature of the campaign – 44 people were killed in one such attack in July 2002.
Again, the US tried to blame others – questioning whether it had really been a wedding. It's a tradition to fire celebratory shots in the air at Pashtun weddings, but the US claimed this was "hostile fire," so it was ok to bomb. Later, President Bush expressed his 'sympathy' to the mourning families and his 'hope that such kind of accidents won't happen again'. But of course they did, with great regularity.
Dating back to Amiriyah, we can discern a clear pattern when 'collateral damage' occurs:
a) The hit is described as a 'tragic mistake/accident', made because we were fighting 'the bad guys' (indirectly blaming the 'bad guys' for forcing us to be there).
Or...
b) The hit is blamed on the 'bad guys' directly. We see this happen in Gaza with the 'human shield' claims made by Israel when their bombs kill civilians. Everyone Israel kills is Hamas' fault, not Israel's, in the same way that every death during the NATO bombing of Yugoslavia was the fault of Milosevic.
c) If there is a real outcry, then it's a case of: don't worry, we will hold our own internal inquiry! An internal inquiry which of course ends up exonerating the perpetrators.
What we don't get and what the families of those killed in Amiriyah are still waiting for is justice.
So spare a thought for the 408 today and all the other innocent victims of 'collateral damage', because we're really meant to have forgotten them.
Think your friends would be interested? Share this story!
The statements, views and opinions expressed in this column are solely those of the author and do not necessarily represent those of RT.
You can share this story on social media: