Blackface backlash: Should there be a statute of limitations on punishing the crimes of youth?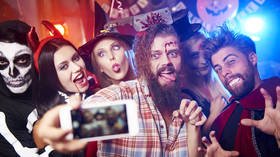 Gucci withdrew a jumper from sale this week, which I have to admit I found disgustingly offensive… it cost almost $900! That is an insult. Oh yeah, and it also looked like blackface.
The high-end fashion house doesn't really come out of this story very well, even apart from charging ridiculous amounts for the "balaclava knit top." If a string of fashionistas really did look at this garment and decide, 'Yeah, that will go nicely in the winter collection,' then that is a truly stunning display of bad judgement. I can't wait for their summer collection of bed sheets you can wear.
Also on rt.com
Racist or no sense at all? Gucci withdraws women's jumper amid 'blackface' row
Surely, no one who has paid even the slightest bit of attention to the social debates raging around issues like blackface could conclude this made a cute little wardrobe addition. If this is a 'no-publicity-is-bad-publicity' stunt, then that is a level of cynicism which stands out even in the fashion industry.
I realize a number of people reading this will already be frothing at the mouth with anger at the mere use of the word blackface. Some may have passed out. It's one of those aneurysm-causing issues which has moved beyond common sense. We've already seen NBC's Megyn Kelly lose her job for simply suggesting that it was deemed acceptable to black up for Halloween when she was younger. This is an episode that will stick with her. Luckily, her $30-million pay-off will stick with her too.
It's absolutely correct in my eyes that blackface should now be deemed unacceptable, but creating dire consequences for simply debating it, talking about it, and even saying the word is a very different slippery slope to be going down. It's not really just an issue surrounding blackface, but about how crimes of thought, language and being young are being punished retroactively.
For clarity (and safety from the online mob) let me repeat, blacking up and wearing blackface today is not OK. Whether you like it or not, over here in the West especially, it has been decided that blacking up is no longer acceptable, not funny and not grown up, so, y'know, just don't do it. The historical reasons are self-evident, go and look them up yourself if they've passed you by, and perhaps email Gucci with your findings.
However, could there be a statute of limitations on how long you can be held accountable for the misdeeds of your youth? Maybe there's room to cut people a little slack for crimes committed when they were younger, living in a different time and when they weren't officially crimes yet. And when they weren't trying to hold down jobs in senior political positions.
I take as a highly imperfect example, the Virginia State Governor Ralph Northam. On his personal page in his medical school yearbook from back in 1984 is a picture of someone at a college party wearing blackface. Northam at first admitted it was him, then later denied it. In the worst attempt at a defense since the Maginot Line, Northam insisted that this definitely, absolutely was not him, and that he had merely confused it with another time he had blacked up. As Michael Jackson. But only a little bit.
Also on rt.com
'Wasn't me, I wore blackface on another occasion': Virginia gov backpedals on yearbook photo scandal
There are now calls for his resignation, but he won't go. But then as I've mentioned, the Northam allegation is an imperfect example in any call for clemency, because next to blackface in the picture is someone else in a Ku Klux Klan costume. I'm pretty sure that was bad judgement even back in the early '80s.
You know what's even more upsetting than the idiots blacking up? The outraged opportunists. The ones who see an opportunity to take it all a little bit too far. A US academic has suggested that Mary Poppins was racist because she got soot from a chimney on her face in the iconic movie. Now that's the kind of claim that should get us all angry.
Think your friends would be interested? Share this story!
The statements, views and opinions expressed in this column are solely those of the author and do not necessarily represent those of RT.
You can share this story on social media: