Act of gangsterism against Venezuela: Trump, Pence, Pompeo star in the Pirates of the Caribbean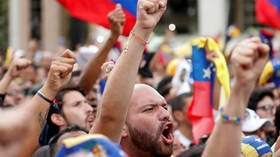 You could scour the bowels of US imperial crimes, from the Mexican-American War to the Gulf of Tonkin in Vietnam, and you won't find a more brazen cynical act of gangsterism than that which is now underway against Venezuela.
Not since Hitler justified blitzing Poland by claiming it had encroached on the frontier into Nazi Germany has a more blatant set of falsehoods been adduced as a pretext for conflict.
In Venezuela, it will quickly become a civil war that will most likely draw in other countries from Cuba to Colombia and Brazil (as I previously predicted here) with incalculable consequences – not least for the world's oil prices.
Also on rt.com
US refuses to withdraw diplomats from Venezuela after Maduro breaks ties
Discerning readers will already be aware that Venezuela has the world's largest oil reserves and is a major producer – and the biggest seller to the American market.
This is not about Maduro, the former bus driver-turned-foreign minister who is now the elected president of Venezuela. If it were, I'd waste my time critiquing his period in office. It's not about Maduro because the US had been seeking to overthrow his predecessor Hugo Chavez for more than a decade before this. Even though Chavez was one of the most electorally successful politicians on the planet in a democratic process described by former US president Jimmy Carter as "the best in the world," US presidents Bush, Obama and Trump routinely called him a dictator.
Before they drop the bombs, they drop the narrative, of course. And the disinformation bombardment in Venezuela has been one of the longest bombing runs in history. Massive sums of US money have been spent on media distortion, subversion, sabotage, military coups, and threats of invasion throughout the Chavez-Maduro era. The gold-toothed Venezuelan emigres who fled to Miami with their ill-gotten gains have long been effectively a coup in the making. The recruitment of neighboring Colombia into "associate membership" of NATO, the propeling of Brazil's Bolsonaro (another NATO applicant) to power, and plans for US military bases there have all been in preparation for this day.
READ MORE: Venezuela divide: Turkey, Russia, China stand against Washington, its Latin America allies
Although many such crimes have been committed across all continents for centuries by the US, none have constituted such comic-opera gangsterism as this latest – more 'Bugsy Malone' than 'The Godfather.'
An almost random figure whose name was largely unknown until this week has disdained to put himself up for election as president of the republic, instead pronouncing himself to actually be the president, and has even sworn himself in! All the "experts" on Syria, Ukraine and Russia are scrambling to studios, practicing in the taxi how to say his name.
And the "international community" recognizes Juan Guaido. This includes US, Canada and assorted American satrapies across the world. They will likely soon be joined by the so-called democratic European Union, NATO and almost certainly the UK. It is a new form, to be sure – usually the hated Latin American presidents are dead, like Allende in Chile, or have fled or been jailed before the coup de grace is delivered.
But Trump is in a hurry.
As investigations come ever closer to the Trump syndicate, as the clock ticks towards impeachment or defeat in 2020, as the war-cell of Bolton and company screech for a victory, somewhere, anywhere, it has come to this. It is a "Wag the Dog" war, and it's coming to your screens soon – today in fact.
Like this story? Share it with a friend!
The statements, views and opinions expressed in this column are solely those of the author and do not necessarily represent those of RT.
You can share this story on social media: