Dead end: UK's Theresa May has led her party & country into an impasse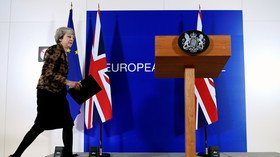 British Prime Minister Theresa May is a politician who holds on to power through defeats. Even though she survived a no-confidence vote held within her own Conservative Party this week, it was also a sort of defeat.
She achieved high office (Home Secretary) thanks to David Cameron, who failed to gain a majority in Parliament at the 2010 election, in spite of the fact that Labour had been in power since 1997 and that the outgoing prime minister, Gordon Brown, was deeply unpopular. Cameron had to govern in coalition with the Liberals.
Theresa May then became Prime Minister in 2016, after Cameron resigned having been defeated, like her, in the referendum on Brexit. She and her boss had campaigned for Remain.
Also on rt.com
'Not open for renegotiation': EU stands by Brexit deal, offers few extra reassurances to May
She then led her party into a catastrophic election in 2017, in which the Conservatives lost the 20-seat majority they had won in 2015 and ended up nine seats short of a majority. This was in spite of the fact that the Conservatives faced a Labour opposition in deep disarray, with a leader (Jeremy Corbyn) who many had thought was unelectable. Since last year, May has clung on to power only thanks to the support of the Ulster Unionists. Without them, she could not govern.
Theresa May's latest election, the one held on December 12 by her fellow Conservative Members of Parliament, was also a sort of defeat. True, she won by two-thirds: 200 votes for her, 117 against. But out of the 200 votes there are more than 150 MPs who belong to the government, either as ministers, deputy ministers or private parliamentary secretaries. These people have to vote with the government or they lose their government job and any chance of future preferment. In other words, over half of the Tory backbenchers voted against May.
Moreover, her re-election as leader has not answered any of the questions which led to the vote in the first place, in particular what to do given that there is no majority in the House of Commons for the deal she has agreed with the EU. Indeed, there is no majority in the House of Commons for any option at all. She has led her party and her country into an impasse.
Her only tactic is to turn this weakness into a strength: like Madame de Pompadour, Theresa May says it is either her or chaos. Après moi, le déluge. Unfortunately, the tactic of turning defeat into victory has –as was inevitable– ultimately created the conditions for defeat.
This is because the deal that she has negotiated with the EU creates precisely the conditions which guarantee that her objective of a free trade deal with the EU, first stated in January 2017 and repeated on many subsequent occasions, cannot be achieved. According to the terms of the agreement –which is in fact only an agreement to continue negotiating– Britain and the EU will seek to sign a free trade deal by the end of the transition period in 2020. But the famous 'Irish border backstop' ensures that the EU has no interest in agreeing to anything.
Also on rt.com
Corbyn plots no-confidence motion with DUP in May's Tory govt before Christmas – reports
If there is no free trade agreement by the end of 2020, according to the terms of the deal she negotiated in November, the whole of the United Kingdom will remain in the EU customs union. It will not be able to leave it until a new agreement is reached. Britain will therefore be in a uniquely weak position and the EU has every interest in getting it there.
London would have to accede to a long shopping list of individual demands from EU states –from the French on fishing, from the Spanish on Gibraltar, and so on– in order to break free from the backstop. It is more difficult to leave the backstop than it is to leave the EU, and May's deal is therefore the longest suicide note in history.
The fact is that Britain and the EU have been negotiating for two years with radically different objectives. Theresa May does not seem to have realized this. London was trying to have the benefits of EU membership (a free trade agreement) without the costs; Brussels was determined to show that you cannot have the benefits without the costs. London wanted to prosper outside the EU, Brussels is determined to show that you cannot prosper outside the EU, for fear that other EU member states might start trying to follow Britain. Theresa May was determined to succeed whereas the EU's priority has been to ensure that she fails.
The EU's strategy has, therefore, been to create a situation in Britain which is untenable, with the openly admitted goal of getting the British, one way or another, to reverse Brexit. This is but a variant of the tactic the EU has deployed many times in the past when it has lost other referendums – in Denmark in 1992, in Ireland in 2001 and 2008, in France and the Netherlands in 2005, and in the Netherlands again in 2016 (in a vote on the Association Agreement with Ukraine which was widely seen as being against the EU in general.)
Also on rt.com
Chancellor Hammond labels Rees-Mogg, Boris & co 'extremists' as Tory civil war gets ugly
On each occasion, the EU simply decided to ignore the vote; either it pressed ahead with ratification in other states so that the countries in question were forced to vote a second time (Denmark and Ireland) or the same legislation was passed by the political class in their respective national parliaments (France and the Netherlands) and against the people's wishes. The same thing is now happening against Britain, and we are now witnessing, in real time, a sixth attempt to strangle democracy.
By running down the clock, Prime Minister May hopes that her deal will be accepted as the only way of preventing no deal or no Brexit. That is why it is essential for MPs to adopt the opposite logic from hers and vote for no deal.
Think your friends would be interested? Share this story!
The statements, views and opinions expressed in this column are solely those of the author and do not necessarily represent those of RT.
You can share this story on social media: