Hunt's EU-Soviet Union comparison & the dumbing down of contemporary political discourse

Neil Clark
is a journalist, writer, broadcaster and blogger. His award winning blog can be found at www.neilclark66.blogspot.com. He tweets on politics and world affairs @NeilClark66
is a journalist, writer, broadcaster and blogger. His award winning blog can be found at www.neilclark66.blogspot.com. He tweets on politics and world affairs @NeilClark66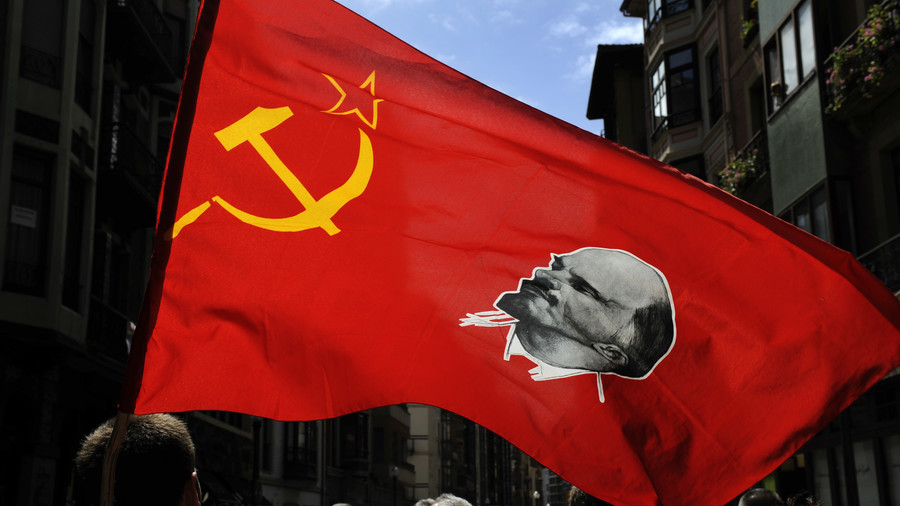 The comparison that UK Foreign Secretary Jeremy Hunt made between the EU and a Soviet 'prison' has been fiercely attacked. The episode shows us how superficial political debate has become today.
For right-wingers, the EU is just like the Soviet Union – a bureaucratic socialist tyranny which doesn't allow anyone to leave. For Russophobic, western-centric Europhile 'liberals', 'centrists' and the 'centre left', it's a disgraceful analogy as the Soviet Union was, along with Nazi Germany, the most evil creation in history, and did nothing good.
How did political debate descend to these kindergarten levels? Is this the price we've paid for allowing Rupert Murdoch to get such a stranglehold over our media?
Nowhere in this 'black and white' discourse is there an acknowledgement that the Soviet Union changed greatly during the 69 years of its existence. In fact, the Soviet Union, and communism in eastern Europe generally, has been reduced to the period during which Stalin carried out his purges and sent millions of innocent people to the gulag.
A balanced analysis acknowledges that the Soviet Union was not just about Stalin, in the same way that Christianity is not just about the Spanish Inquisition.
While we never stop reading about Stalin's crimes, courtesy of Anne Applebaum, Simon Sebag Montefiore et al, it's a different story when it comes to the achievements of the USSR and indeed communism in eastern Europe generally – particularly in the post-1956 period, when a more 'liberal' form of communism emerged. This period has been airbrushed out of history.
The Soviet Union, despite being under siege and threatened by the west for most of its existence, made great advances in science (the first man in space was Soviet and the first woman too), in culture, the arts and education. Culture was made accessible and affordable to all, not just the rich. There was an elevation of cultural and educational standards, not a dumbing down. The same can be said for the other countries which followed communism in central and eastern Europe, as my wife, who grew up in an ordinary working-class household in Hungary in the 1970s and 80s, explained in the Guardian and the Mail on Sunday here.
Which brings us back to Hunt's analogy (which he has subsequently sought to row back from). The truth is that in some ways the EU is better than the Soviet Union, in other ways (as an attempt to bring people together in a multinational, multi-ethnic bloc) it is quite similar, but in other ways, actually worse.
It's better than the Soviet Union in that there is more political freedom (even though that is currently under grave threat in some member states). It is better than the Soviet Union in that citizens of the EU have freedom to travel. I was on a walking holiday in East Germany (GDR) in September 1989, at a time when the communist state was celebrating its 40th birthday. The number one gripe that citizens of the GDR who I talked to had about the system was that they didn't have a world passport. People weren't marching for the GDR's generous welfare system to be dismantled, or for a Thatcherite programme of privatisation to be unleashed, but because they wanted more freedom, and in particular to be free to visit other countries. Had the GDR authorities allowed citizens to have a 'World Passport' earlier, then much of the discontent could have been quelled.
But what about the EU telling member states what to do and making it difficult to leave the bloc? Is it accurate to make Soviet comparisons here? Critics of Jeremy Hunt point to how the Soviet tanks rolled into Budapest in 1956 and Prague in 1968, when there was a danger of Hungary and Czechoslovakia exiting the Warsaw Pact. But 1968 marked the last military incursion of Soviet forces into eastern Europe. The socialist countries, so long as they stayed loyal to the Kremlin militarily, and maintained the communist party's monopoly of political power, were allowed considerable latitude to follow their own economic paths. Hungary, for instance implemented its New Economic Mechanism in 1968, which introduced elements of a market economy. Moscow didn't tell Janos Kadar what to do – in fact the Soviet Union borrowed some ideas from Hungary.
Fast forward to 2018, and we've Hungary being publicly punished by the EU for 'breaches' of core values and its leader Viktor Orban berated like a naughty schoolboy. It's clear that Budapest can't follow the policies it wants to on migration and other issues. The great irony for all the pro-Europe anti-communists in Hungary is that their country actually had more national sovereignty and more freedom of manoeuvre in the 70s and 80s under Kadar's 'Goulash Communism', than it does today. The lack of economic sovereignty comes with a great price tag too – with Hungary's Foreign Minister Peter Szijjarto stating only this week that sanctions on Russia have cost his country nearly $8bn.
Defenders of the EU will of course say that it's unthinkable that other European countries would invade Hungary to enforce compliance, like the Soviets did in 1956. Orban might be berated, but he won't be killed, like Imre Nagy. 'Democratic' Europe, with its unshakeable commitment to its 'core values' simply doesn't work this way. But think back to 1999 and what happened to socialist Yugoslavia – which showed no interest in joining the 'western club'. Member states of the EU, together with other NATO allies, bombed the Federal Republic for 78 days to bring it into line, with the air strikes including a cruise missile attack on Yugoslav leader Slobodan Milosevic's house.
The pretext for the bombing was 'humanitarian', but as George Kenney a desk officer of the US State Department, admitted: "In post-cold war Europe no place remained for a large, independent-minded socialist state that resisted globalisation."
If Budapest 1956 and Prague 1968 can be listed under 'Crimes of Communism', then the bombing of Belgrade (and the rest of Yugoslavia) in 1999 – and indeed the bombing and destruction of Libya in 2011, which EU countries also played a prominent part in – has to be listed under 'Crimes of Western NeoLiberal Capitalism.' Otherwise we're applying double standards. There's certainly plenty of those about.
Look at how the EU, for all its high falutin' talk about support for 'human rights' hasn't led it to take a stance in defence of Catalan leaders being pursued by the Spanish authorities.
And if we're talking about 'dissidents' and their treatment, let's not forget that WikiLeaks' founder Julian Assange has been a de facto political prisoner in the Ecuadorian Embassy for six years now, in the capital of an EU member state. Where has been the outcry from Brussels? If Assange had been a Russian dissident holed up in a foreign embassy in Moscow for six years, he'd have been hailed as a 'free speech hero.' But because it's the West who has been persecuting him, he's ridiculed and attacked by Establishment-friendly 'liberal' commentators.
It might be heresy to state it, but economically, the Soviet Union (at least in the post 1956-period) undoubtedly offered more to the working-classes than the neoliberal, austerity-enforcing EU has done in recent years. The Soviet Union and the other communist countries operated a system of full employment. People came before profit. In the Eurozone, according to the latest figures, there is 8.1 percent unemployment. Youth unemployment though is much higher, standing at around 43 percent in Greece, 33 percent in Spain and 32 percent in Italy. Try telling those desperate young people that the EU is like the Soviet Union. If they know anything about their history, their response is likely to be: "If only!"
If the EU functioned like a 'socialist/Soviet economy,' as rightists claim, then workers would come before the interests of the financial elites and the big corporations. Mass unemployment wouldn't be tolerated. In fact, the EU doesn't implement socialism, but a form of crony capitalism mixed with a level of worker protection. EU directives have been pushing for privatisation, not re-nationalization.
Glib 'the EU is just like the Soviet Union' comparisons – and the standard 'the Soviet Union was a million times worse' response they get from ill-informed 'liberal' commentators need to be challenged. They stand as testimony to how political debate has regressed in recent years. Binary thinking has taken over from reasoned discussions. But we need to have those reasoned discussions if we're not going to descend totally into the anti-intellectual, 'You're just an apologist for tyranny, so shut up,' abyss.
Follow Neil Clark @NeilClark66
Think your friends would be interested? Share this story!
The statements, views and opinions expressed in this column are solely those of the author and do not necessarily represent those of RT.