Will the end of May come in July? Boris' Brexit bombshell threatens to sink Theresa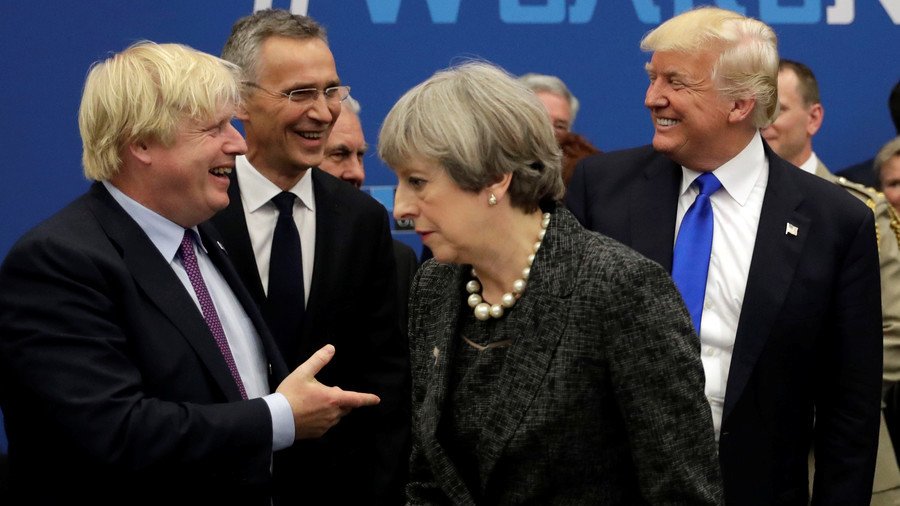 Boris Johnson's resignation as foreign secretary, coming hours after Brexit Secretary David Davis stepped down, has plunged Britain into a full-scale political crisis on the week Trump is due to visit. Can PM Theresa May survive?
According to the old saying (usually attributed to Lenin, but without citation), "There are decades when weeks happen and there are weeks when decades happen."
This looks like one of those weeks. And it's still only Tuesday.
For a start, and let's get our priorities right, England is appearing in its first World Cup semi-final for 28 years on Wednesday. If the Three Lions beat Croatia, which they are the favorites to do, then next Sunday England will line up in their first World Cup final since 1966, possibly – and you've got to love the irony given the Brexit squabbles – against Belgium.
However, due to the very silly politically-motivated boycott of Russia by the UK government (remember, no evidence has yet been produced that the Russian government was behind the Salisbury poisonings), no top officials or dignitaries will be in Moscow to see it.
If the prospect of England winning the World Cup in Russia wasn't a big enough story, we've also got the first state visit of US President Donald Trump to Britain coming up, too.
Then there's the latest development in the Amesbury poisoning case, which saw the death of Dawn Sturgess announced on Sunday night. That tragic news saw the usual suspects' line up to blame Russia, with one MP, Sarah Wollaston, even calling for the remaining World Cup games to be played somewhere else.
Evidence-free Russia-bashing looked like it would take center-stage yet again, but now Boris has intervened.
2018, which is already proving to be quite extraordinary, could be the first year when the end of May comes in July. The beleaguered UK prime minister has been a wounded animal ever since she needlessly squandered her party's parliamentary majority by calling an early election last year.
That dreadful error, and her poor performance in the election campaign, for 'Strong and Stable' read 'Weak and Wobbly', should have led to her stepping down the day after the election. She has survived because Establishment fears of a Jeremy Corbyn-led Labour government were greater than Tory anger with May for leading a lousy campaign.
But the fudges and compromises she has had to make to cling on to power couldn't last forever. May, a supporter of Remain in the 2016 EU Referendum, was entrusted with the task of implementing Britain's withdrawal from the EU. Up to now, she's just about managed to keep everyone on board. However, her so-called Chequers plan last week was, for those Tories who would like to see a clean break with the EU, one step too far.
Boris Johnson, biographer of Churchill, says that the Brexit dream is dying. He clearly believes he is the man who can rescue it. It's 1940 again, in Boris's eyes, and in our 'Darkest Hour', the former foreign secretary and Latin scholar can defy the EU-appeasers – the modern-day equivalents of Chamberlain and Halifax – and lead his country to a glorious Brexitus.
The magic number is 48. If 48 Tory MPs (15 percent of the total), support a no-confidence motion in May, then there will have to be a leadership election. Last night, the BBC's Laura Kuenssberg reported claims that more than 80 Tory MPs were at a meeting of the exquisitely-attired Eurosceptic Jacob Rees-Mogg's European Research Group. Rees-Mogg said on Monday night that he believed Boris Johnson would make a "brilliant" prime minister.
Claims there are more than 80 Tory MPs at ERG meeting tonight after what sounds like largely loyal meeting of all back benchers earlier with PM

— Laura Kuenssberg (@bbclaurak) July 9, 2018
Over in Brussels, the Eurocrats will be rubbing their hands with glee over what is happening in London. The Tories' failure to come up with a coherent Brexit strategy has only strengthened the EU's negotiating position. In fact, it's hard to see how the Tories can resolve their divisions and agree on a package that would please both Jacob Rees-Mogg and staunch Europhile Anna Soubry.
Labour leader Jeremy Corbyn should be the big beneficiary. However, his party is split too, though not as much as the Tories. His position – of supporting Brexit but staying in a customs union – is sensible, but some Blairites would like to see Corbyn come out against Brexit altogether. That, however, would seriously damage Labour's chances of winning the next election. Brexit-blocking might see them increasing their majority in Oxford, but it wouldn't win them back Mansfield or Middlesbrough South and East Cleveland. As detailed here, all six seats Labour lost in the 2017 general election, were Brexit towns.
Even more worrying for Corbyn is the threat of a Labour 'centrist' alliance with 'moderate' Tories, to shore Theresa May up. Let's be honest, quite a few of these 'centrists' seem more alarmed at the prospect of PM Jeremy Corbyn than they do with the continued survival of PM Theresa May.
The scepter of a 'National' government implementing a token 'Brexit' that would in effect keep Britain in the EU in all but name can't be ruled out. That would please Europhiles, but for many others it would be seen as a betrayal. What's clear is that there is no parliamentary majority at present for a 'hard Brexit', and if Boris Johnson does want to go along those lines, he would need to call an immediate general election, should he get the top job.
What a mess it all is. The best thing probably is for all of us to concentrate on the football. Perhaps Gareth Southgate, a very sensible man who didn't boycott Russia, can come back and sort it all out after he's won the World Cup.
Follow Neil Clark @NeilClark66
Like this story? Share it with a friend!
The statements, views and opinions expressed in this column are solely those of the author and do not necessarily represent those of RT.
You can share this story on social media: