Four years after 'Euromaidan,' corruption is still king in Ukraine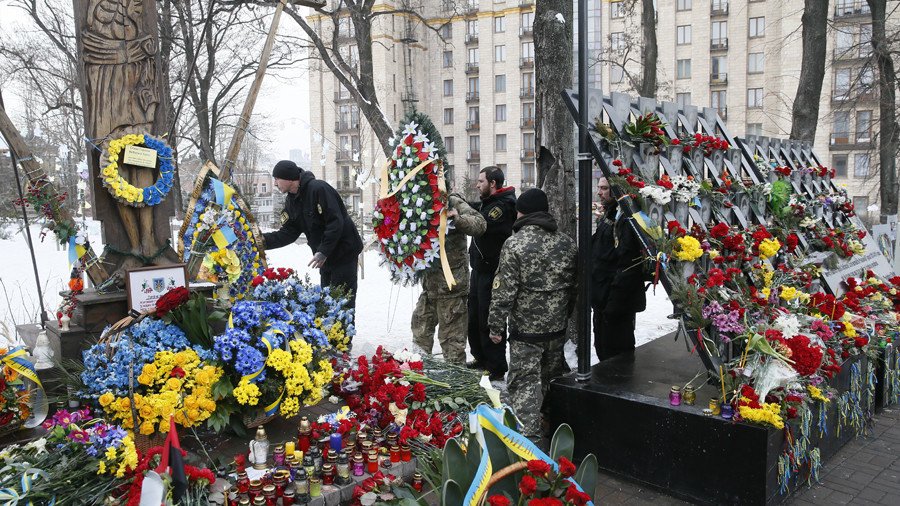 Four years ago this weekend, Ukraine's democratically-elected, albeit deeply corrupt, government was overthrown in a Western-backed coup which set off a chain reaction of events, tearing one of Europe's largest countries asunder.
The "EuroMaidan" movement pledged to wipe out corruption, improve living standards and integrate Ukraine into the west. On all counts, it has failed miserably.
In 2014, Ukrainian incomes were already paltry. But today, not only does the country compete with Moldova for the dubious distinction of having the lowest salaries in Europe, its GDP per capita is now below El Salvador and Libya and wedged between Laos and Vietnam in raw dollar terms. Nevertheless, despite these difficulties, it did manage to rise four places in the Doing Business 2018 ranking of the World Bank.
At the same time, the European Union is increasingly frustrated at Ukraine's failure to reform. Indeed, only this week, Brussels scrapped a €29 billion border checkpoint scheme amid rancor over Kiev's failure to deliver on certain promises. The move came after it emerged that a firm specializing in installing ventilation units had been given the contract, for reasons unknown.
Steal Liberally
And this brings us to Ukraine's main problem: Corruption. Maidan promised to usher in a new era of transparency. But, in reality, the resultant financial collapse didn't curb the hunger of its ravenous officials and business leaders. Instead, after a brief interregnum following the change of power, they simply took a larger share of the smaller pie. Thus, the pain has been inflicted on ordinary citizens, while the elite continue to enjoy the high living standards to which they've become accustomed.
For instance, at New Year's, while the average Ukrainian struggled to put together a celebration on their meagre salaries, the elite partied in style. Instead of showing empathy towards victims of the economic disaster he has helped to create, President Petro Poroshenko "took a secret, vastly expensive, week-long Christmas vacation in the Maldives," according to the Kiev Post. The newspaper alleged that the Oligarch dropped $500,000 on the seven-day vacation for ten people. An amount equivalent to over 189 years pay for the typical worker in his country.
They say a fish rots from the head and Poroshenko's poor example swiftly trickled down, with Prosecutor General Yuri Lutsenko reported to have paid at least $65,000 for a Seychelles trip around the same time. To the astonishment of observers, Lutsenko then claimed his holiday "was nothing excessive," adding "this is something a typical middle-class Ukrainian can afford." Also, as it happens, the cost of Lutsenko's trip amounted to almost double his $36,000 annual declared income.
Of course, the extravagance of the Ukrainian elite is nothing new. And it's been well documented how ousted President Viktor Yanukovich built a palace near Kiev, complete with pet Ostriches and a golf course.
But Maidan was supposed to change this. And the entire movement was based on an almost messianic belief that it would end Ukraine's original sin of corruption. Yet, despite these lofty ideals, the leaders it spawned have more in common with the Borgias than with Saint Francis of Assisi.
Counting Horror
The human toll of Maidan has also been extraordinary. Given the post-coup/revolution regime was dominated by western Ukrainians, an insurgency kicked off in the east and south, with ethnic-Russian locals fearful their culture would fall victim to nationalists. Thus, backed by varying degrees of Moscow support, Crimea, and parts of Lugansk and the Donbas separated from Ukraine. And while the former (where thousands of Russian troops were already legally stationed) enjoyed a smooth divorce, the latter pair have endured a horrible war, with over 10,000 deaths so far. No end appears to be in sight, as Kiev refuses to fulfil its obligations under the Minsk peace agreements, and Moscow shows few signs of softening its stance on how the deal must be implemented in full.
The chaos has brought disillusion and hardship. Today, around 60% of Ukrainians live below the poverty line. Meanwhile, over one million (mostly young people) have moved to Poland since Maidan and, as of last November, 427,240 were seeking asylum in Russia. That is in addition to the 2.6 million Ukrainians already in Russia, half of them 'guest workers.'
On an absurd note, Vice News reported three years ago that many of the leading activists who inflicted Maidan on the Ukrainian people had already left the country within twelve months of the disaster they wrought. Evidently not willing to pay for what they had helped to break.
Sad Truth
Yet, if we are looking for the root causes of Maidan, and the political turmoil that still grips Ukraine (opposition activist Mikhail Saakashvili was banned from the country for three years this week, we need to look beyond labels like pro-Western or pro-Russian. Firstly, because Poroshenko, Yanukovich and company are more pro-themselves than anything else, and because most ordinary Ukrainians don't really care whether their rulers suck up to Moscow, Washington or Brussels, or all three.
Put simply, the central reason for Ukraine's turmoil lies in the disintegration of living standards since independence. According to the European Bank for Reconstruction and Development, every single Ukrainian worker is worse off today than they were under Soviet communism in 1989. Until that changes, the country will hurtle from anarchy to meltdown and back again.
Many naive westerners believe how 'reform,' glacial as it may be, will eventually transform Ukraine into an oasis of transparency. However, these, mostly well-meaning dunces are too ideologically blinkered to fathom the reality: corruption is not just the problem in Ukraine, it is the system itself. The entire social order is based on patronage, back-handers and 'a nod and a wink'. And the only possible chance for rehabilitation would be to smash the entire set-up and start again from scratch.
This was where Maidan, predictably failed. The movement's American 'friends' selected leaders who were previously embedded in the old regime and the current President was himself a member of Yanukovich's cabinet (first as Foreign minister, before moving to Trade).
Maidan was a mistake. But so too has been almost every move Ukraine has made since 1991. Expect plenty more missteps to come.
The statements, views and opinions expressed in this column are solely those of the author and do not necessarily represent those of RT.
You can share this story on social media: