US carrot-and-stick policy to Lebanon could push it into abyss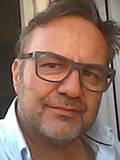 Martin Jay
Martin Jay is an award winning British journalist now based in Beirut who works on a freelance basis for a number of respected British newspapers as well as previously Al Jazeera and Deutsche Welle TV. Before Lebanon, he has worked in Africa and Europe for CNN, Euronews, CNBC, BBC, Sunday Times and Reuters. Follow him on Twitter @MartinRJay
Martin Jay is an award winning British journalist now based in Beirut who works on a freelance basis for a number of respected British newspapers as well as previously Al Jazeera and Deutsche Welle TV. Before Lebanon, he has worked in Africa and Europe for CNN, Euronews, CNBC, BBC, Sunday Times and Reuters. Follow him on Twitter @MartinRJay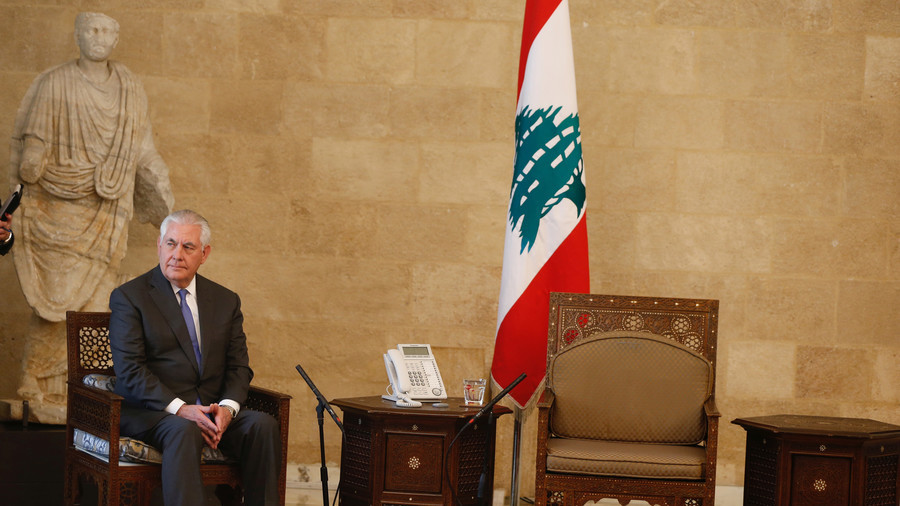 Rex Tillerson's visit to Beirut didn't resolve Lebanon's persistent war threat from Israel, or Hezbollah's perceived threat to Washington. The US has its own agenda for this country, which is spooking Lebanon's president.
It might have been just a miscalculation, rather than a diplomatic faux pas, as Rex Tillerson did in fact arrive early for his meeting with Lebanese dignitaries, but he had to wait a few minutes before a door at Baabda Palace was opened and he was greeted by President Michel Aoun. It couldn't have been an easy moment, shaking hands with Lebanon's Hezbollah-supporting President, but Aoun and Foreign Minister Gebran Bassil both viewed the visit by Trump's own envoy with some suspicion. And they were right to.
The day before, in Jordan, Tillerson appeared to have gone off message while recognizing Hezbollah's political role both in Lebanon and the region, but few in Lebanon held out any real hope that the 65-year-old Texan was going to either resolve Lebanon's gas and oil dispute with Israel, or for that matter its border spat, following Israel's land grabbing as it carries out construction of a wall. Tillerson said that Lebanon's own security was compromised by Hezbollah, which he referred to more than once as a "terrorist" organization when he met Lebanese Prime Minister Saad Hariri. The latter pointed out that Israel's constant threats of attack and encroaching on Lebanon's sovereignty were making a permanent ceasefire hard; earlier, Aoun had asked the US to "play an effective role" in resolving the tension.
But both Aoun and Hariri know that the US has plans for Hezbollah of its own, which will make a mockery of Tillerson's endearing comments about wanting to help Lebanon "prosper." There are two critical plans by Washington that are likely to cause chaos in Lebanon if enacted upon that may come into play at the backdrop of the US pouring money into supporting Lebanon's army, which it believes is the key to redressing the power balance in Lebanon between the state and Hezbollah.
Lebanese banks cleaned up their act for Congress
One, is how far the US goes in targeting Hezbollah's finances. In January, it ratcheted up its sanctions on the Shiite group's key money people. This recent move follows Obama's 'Hezbollah International Financing Prevention Act,' which was expected to both destabilize the Lebanese banking sector and impact Hezbollah, which the US accuses of using Lebanese banks to launder money.
In fact, it did neither - and now the US is eager to find new ways of blocking the flow of Hezbollah's money both inside and outside of Lebanon, as it has yet to find a way of preventing Iran's $800 million dollars from circulating in the banking system. The US money laundering crackdown, aimed at Hezbollah and Shias in general, has actually resulted in Lebanese banks cleaning up their act, with some analysts even going as far to say that Hezbollah knows it can no longer even use the banks. And, given that the US has provided $1.5 billion USD to Lebanon since the beginning of the Syrian conflict (through the banking system), and Lebanese expatriates are sending less money back to make up the $8 billion USD annually that the central bank receives, Lebanon is more committed than ever to working with the US.
Refugee issue
But now, with reports in January that Iran's military budget is about to rise, Washington may be planning another ruse which could destabilize Lebanon and direct anger towards Hezbollah. While Aoun asked Tillerson to assist in the return of almost a million Syrian refugees, he also hinted that he knows Washington is always the ultimate threat to Hezbollah's led government, which is to cut aid to both Syrian refugees and the Palestinians. Such a move could have seismic implications in Lebanon, as an 'intifada' against Israel and the West could easily be carried out in Lebanon itself with 175,000 Palestinians who live in camps that Lebanese security forces fear to enter.
The carrot and stick of Washington – increase military spending to Lebanon's army, while at the same time causing widespread insecurity – seems like a nefarious tactic. But Washington is facing tough challenges when it comes to reigning in Hezbollah. Aoun wants help with repatriating Syrians and the US wants Hezbollah to reduce its regional intervention. Is there a deal there to be made?
Aoun knows that if the US cuts aid to Lebanon, it would be a catastrophe in terms of (local) crime rates, not to mention many turning to terrorism. The situation in the Palestinian camps is at breaking point and there have been a number of ugly incidents in recent months. Lebanon has a lot to lose as the terrorism in Tripoli, which was dealt with in 2014 with the number of key arrests, might return, as hardcore extremist groups already exist in the Palestinian camps. Or, if Palestinians want to fight Israel, they have Fatah and Hamas inside Lebanon who can organize and train them. This is Aoun's worry about the US cutting aid to UNRWA, which he says so far only affects Palestinians in Gaza.
It's a similar situation in the Syrian refugee camps, where this year has been dire, as a funding shortfall was the biggest yet. Most years, the UN falls short of its requests from member states, but this year it was at an unprecedented low, so refugees, in general, are suffering like never before. If a Palestinian-led insurgency got off the ground in Lebanon, many from Syrian camps might join it, as there was evidence in recent years that some from the camps have joined ISIS.
But Tillerson is not the deal maker for this. He is not respected by all the main players, so the Lebanese leaders know he is not the one to cut a deal. But, they also know that, even within Lebanon, Washington's carrot-and-stick game is idiotic at best and dangerously ill-conceived at worst. The more the Americans interfere, the stronger Iran and Hezbollah get. Washington's meddling in the Syria war has allowed the fatuous Tillerson and others to whine about Iran's presence in Syria, rather like an old man complaining about how ungrateful the younger generation is these days. And Aoun and the political elite in Lebanon know only too well that, just as it was in Iran and Hezbollah, in Syria, which wiped out most of the Sunni extremist groups there, the same is the case along Lebanon's border with Syria. Tillerson mentioning Hezbollah as a stoic political entity is what is important about this trip, as it is a coded message that the Americans are ready to talk, which is a milestone in itself. The US program to destabilize Hezbollah and the Lebanese banking system has simply backfired, as Congress under-estimated the resilience of the Lebanese and its formidable central bank governor. It seems Tillerson is going to have to get used to waiting.
The statements, views and opinions expressed in this column are solely those of the author and do not necessarily represent those of RT.