Putin's revenge may see petro-yuan replace petrodollar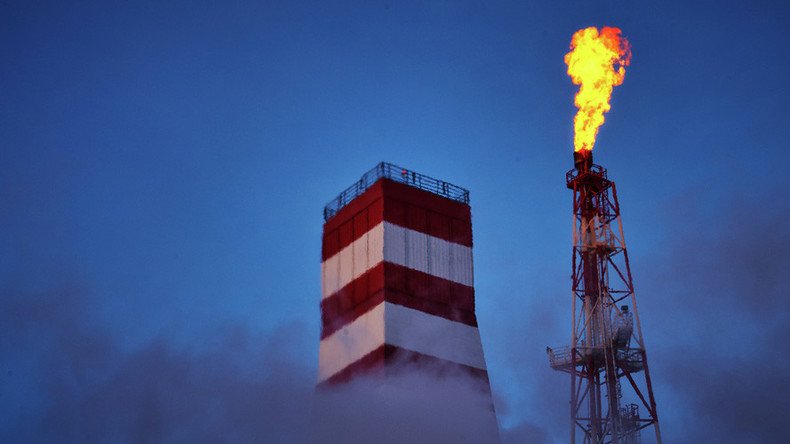 The key to the coming petro-yuan lies in Moscow. And, if the Chinese currency eventually succeeds in usurping the long-standing petrodollar, Washington will only have itself to blame.
News that China plans to launch a yuan-denominated oil futures contract by the end of this year has come as a surprise to many analysts. However, Russia experts aren't startled in the slightest because this move has been coming since Moscow abandoned its quarter-century attempt to integrate with the West, following the 2014 Ukraine crisis. A catastrophe which the Kremlin blames on the United States and the European Union, as part of what it considers to be an attempt to reduce Russian influence in its "near abroad."
READ MORE: US 'Empire of Debt' will go to war to stop emergence of petro-yuan – Max Keiser
Beijing's scheme aims to shift trade in "black gold" from petrodollars to a proposed petro-yuan. Which benefits China by making its currency more attractive internationally and providing greater energy security. However, the biggest winners may well be in Moscow. Because any decline in the dollar's status severely dilutes Washington's ability to wage economic war against Russia, via sanctions.
As the world's biggest petroleum producer, Russia is vital to Beijing's project. And, in turn, as the planet's largest crude importer and most sizable economy (measured by purchasing power parity), China is the only country with the heft to challenge American financial hegemony.
Of course, Vladimir Putin and Xi Jinping can't achieve their aims alone. Because if the petro-yuan is to succeed, other leading oil-drilling nations, will need to come on board. And, while Iran, Indonesia, and Venezuela have indicated their interest in the project, the key is tempting the Arab states to trade in yuan. And this essentially means Saudi Arabian cooperation is the big prize.
Plan of Action
Because, after all, the petrodollar was born in Jeddah in 1974, when the US Treasury Secretary William Simon convinced the Saudis that America was the safest place to park their oil revenue. And this cash flow has allowed the US to live beyond its means for decades.
However, in recent years, relations have become frayed, with Washington's support for its fracking industry crushing petroleum prices and causing severe fiscal pain for the Saudis. Indeed, the primary reason for Riyadh's developing detente with Russia has been a mutual desire to prevent a further slide in energy earnings. As a result, earlier this month, King Salman made a historic visit to Moscow, where the yuan plan was surely on the agenda.
Informed analysts insist the Saudis will have to come on board: "I believe that yuan pricing of oil is coming and as soon as the Saudis move to accept it — as the Chinese will compel them to do — then the rest of the oil market will move along with them," Carl Weinberg, chief economist and managing director at High-Frequency Economics, told CNBC.
The Masterplan
The roots of the petro-yuan lie in a series of "color revolutions" in the former USSR, which convinced Moscow that the West would never treat it as an equal partner. This culminated in a March 2014 speech, in the Kremlin's majestic Georgievsky Hall, where Vladimir Putin addressed over 1,000 Russian dignitaries. But this was no ordinary keynote. Because tensions between Russia and the West were at levels not seen since the Cold War.
Just a few weeks previously, Ukraine's government had been violently removed and, amid the chaos, Moscow had hastily moved to reabsorb its "lost province" of Crimea. A strategically important peninsula, which had been controversially transferred to Kiev in 1954, when the two formed a union-state. At the same time, pro-Russian protests raged in the eastern Ukrainian cities of Donetsk and Lugansk.
Back then, a stern Putin memorably said: "if you compress the spring all the way to its limit, it will snap back hard. You must always remember this."
Indeed, ever since the United States imposed anti-Russia sanctions, first in 2012, ostensibly due to death of an accountant named Sergey Magnitsky, and the European Union, in 2014, in response to the Ukraine crisis, Moscow has been searching for ways to push back at the coercive measures.
The retaliation toward the EU was relatively straightforward: a food import ban, which has had the positive side effect of significantly boosting the domestic Russian agriculture industry, after initially contributing to inflation. However, due to a much smaller interdependency in trade, it's proved harder to get even with Washington. Until now that is.
There is little doubt Moscow is hoping to engineer a US economic crisis to cripple its perpetual foe. Indeed, as CNBC also notes: "Russia and China have sought to operate in a non-dollar environment when trading oil. Both countries have also increased their efforts to mine and acquire physical gold if, or perhaps when, the dollar collapses."
If the Saudis don't play ball, they risk losing further market share. Especially, after new gas and oil pipelines from Russia to China begin operation next year. And there's also the prospect that Chinese investors could boycott the IPO of state behemoth Saudi Aramco next year.
Meanwhile, there are high expectations for the petro-yuan. Because anything that weakens the American ability to wage economic war, and destabilize the Eurasian space, is a major win for the Kremlin. Furthermore, Putin may also consider the end of dollar dominance to be an important part of his legacy as he prepares for a likely final term as Russian President.
The statements, views and opinions expressed in this column are solely those of the author and do not necessarily represent those of RT.
You can share this story on social media: