Trump's art of the deal? Backslide and alienate all stakeholders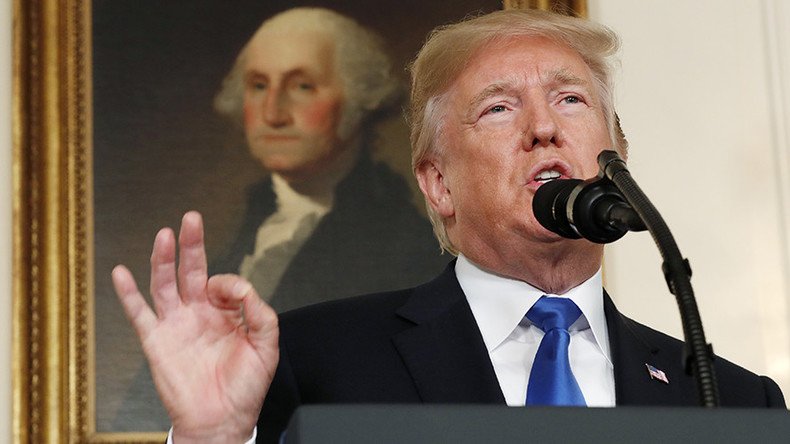 US President Donald Trump never stops bragging about his business genius for deal-making. He supposedly authored a best-selling book about it all. But his latest declaration on the Iran nuclear deal shows his 'talent' for blowing deals up – for no gain.
Trump's much-anticipated announcement Friday to decertify the 2015 international accord was an exercise in alienating all stakeholders in the landmark agreement. Trump's disavowal of the Joint Comprehensive Plan of Action (JCPOA) fell short of withdrawing from it. But the president has put on notice that he's ready to terminate it at any time.
There was near unanimous resistance around the world to Trump's "scalding" speech, as the New York Times described it. Russia, China, and the European powers – the other signatories to the JCPOA – all issued statements rebuking Trump's verbal broadside. All of them said they remained committed to the deal. The European Union's foreign policy chief, Federica Mogherini, sternly stated that the JCPOA was a multilateral agreement ratified by the UN Security Council, which "does not belong to any single country and it is not up to any single country to terminate it."
If Trump ever considers a new edition of his 1987 book, The Art of the Deal, (which co-author Tony Schwartz disputes Trump even made a written contribution), then he might add two additional chapters: Backsliding and How to Alienate all Stakeholders.
Only Israeli leader Benjamin Netanyahu and Saudi Arabia welcomed Trump's disavowal. Hardly a ringing endorsement.
Even within the US there was much resistance to Trump's latest move. Senior Democrat lawmaker Nancy Pelosi called it an "inexcusable" undermining of the nuclear deal. Former Secretary of State John Kerry said Trump was "dangerously creating an international crisis" by threatening to axe an accord that set strict limits on Iran's ability to develop nuclear weapons.
Republican lawmakers have also expressed reluctance to walk away from the deal, even those who were initially opposed to it under the Obama administration. Trump's proposal to throw the matter over to Congress to decide within 60 days on whether to reimpose sanctions on Iran – thereby scuppering the deal – does not seem likely to be passed given the reluctance among Democrats and Republicans to do that.
Within Trump's cabinet, there was much dissent towards his hostile position. Secretary of State Rex Tillerson and Defense Secretary James Mattis were among those advocating for the US staying on board the JCPOA.
General Joseph Dunford, chairman of the Joint Chiefs of Staff, also recommended the US upholding the accord. Dunford testified before Congress earlier this month that Iran was complying with the terms of the deal in adhering to limits on its nuclear program.
Iran's adherence to the deal has been confirmed by the UN nuclear watchdog, the International Atomic Energy Agency. In eight consecutive inspections of Iranian facilities, the IAEA has given Tehran a clean bill of health.
Trump's alienation of parties over his threat to nix the JCPOA extends to heavyweight American businesses. Boeing, the world's biggest plane maker, is nervous about the implications for a $16.6 billion sale of passenger jets it is currently negotiating with Iran's state-owned airline. Bloomberg also reports that General Electric, another American business titan, is apprehensive about the fate of multi-million-dollar investments lined up in Iran.
The question is: why is Trump – the supposed pragmatic business guru – being so recklessly obstreperous over Iran? His jeopardizing of the two-year-old deal makes little sense from an international and domestic political point of view, not to mention formidable American commercial interests.
Not for the first time, Trump's rhetoric was rabidly aggressive, with the usual litany of accusations, primarily that Iran is the world's top sponsor of terrorism. Iran immediately rebutted what it called baseless lies and pointed to America's own record of sponsoring terrorism.
Such was Trump's aggressive tone that Trita Parsi of the US-based National American-Iranian Council warned it was a collision course for war. Not since President George W. Bush's infamous 2002 speech about Iran being part of an "axis of evil" has any American leader been so hostile towards Tehran.
At one point, Trump said: "We hope that these new measures directed at the Iranian dictatorship will compel the government to reevaluate its pursuit of terror at the expense of its people."
He added: "Given the regime's murderous past and present, we should not take lightly its sinister vision for the future."
The curious thing about Trump's announcement was its ideological bombast. He began by referring to the Iranian revolution of 1979 and the American hostage crisis at the US Embassy in Tehran. Trump then proceeded on a tirade of alleged Iranian violations in sponsoring terrorism in the region. Some of Trump's allegations were nonsensical, such as Iran "supporting al Qaeda." His claim that Iran is "guilty of multiple violations" of the JCPOA is plainly false, contradicted by international consensus as well as his own senior cabinet members.
Trump's rant sounded like he had been drilled with boilerplate talking points.
In searching for an explanation as to why Trump seems so bent on ripping up the Iran deal, bear in mind the following:
Trump's political donors include arch-hawks like Sheldon Adelson. The American Jewish billionaire business magnate reportedly donated $35 million to Trump's election campaign. It should be recalled that Adelson once publicly called for the US to launch a pre-emptive nuclear strike on Iran. Thus, Trump is paying back favors to his financial backers in taking such an aggressive stance on Iran.
Another reason is that Trump playing to his voter base. For two years before the November election, he was denouncing the Iranian nuclear accord as "the worst deal ever." He repeatedly vowed to tear it up once in office. While his latest decertification of the JCPOA is not a withdrawal, it nevertheless allows Trump to claim he is delivering on a key campaign promise.
A third factor is the obsession with destroying former President Barack Obama's political legacy. Like Obamacare and a host of environmental regulations, as well as the international Paris Climate Accord, Trump seems to have an obsession with obliterating his predecessor's record. The Iran nuclear deal – which took two years to negotiate – is seen as one of Obama's major achievements.
Still another motive in Trump's position on the JCPOA is that he is using it as a pawn in US foreign policy goals. Trump wants to renegotiate the deal with further restrictions on Iran's ballistic missile development. He also wants to make Iran's regional relations, such as support for Syrian President Bashar Assad and Lebanese resistance movement Hezbollah, to be criteria for continued US participation in the JCPOA.
Iran, Russia, China, and the Europeans have adamantly ruled out any renegotiation of the accord. Tacitly, the other foreign powers do not share Trump's offensive depiction of Iran.
But what Trump appears to be aiming at is to use the nuclear accord and the issue of sanctions relief as a lever to force Iranian subordination to American geopolitical goals in the Middle East.
For someone who fancies himself to be a "high IQ" business wonder, Trump is exposing himself to be a rather unimaginative simpleton.
The statements, views and opinions expressed in this column are solely those of the author and do not necessarily represent those of RT.
You can share this story on social media: